How far will you go to minimize your scent while deer hunting? Maybe you tote your clothing in a special scent-free plastic tub with scent-absorbing stuff inside, or maybe you shell out big bucks for clothing to supposedly block your scent from reaching the air around you. Maybe, like most of us, you buy some scent-killer spray and play the wind just right in deciding where to hunt.
Or maybe you're the kind of hunter who wants a special chamber in which to store and deodorize your gear using electrically-generated ozone. And if that's you, then by golly you're in luck.
Scentlok has just announced the availability of their "OZRenew & Gear Chamber," a freestanding "closet" in which you store your hunting gear and then connect to electricity to power the OZRenew ozone generator.
The OZRenew & Gear Chamber is the perfect solution for keeping your gear fresh and deodorized, any place, any time. This closet was designed to quietly saturate your gear with ozone to seeks out and destroy odor and bacteria. Our innovative CycleClean™ technology allows the generator to moderate output by alternating between active and resting phases, which helps the OZRenew achieve maximum efficiency and battery life.
It runs off a rechargeable battery pack which can be taken afield to use as a mobile phone charger, and a wall charger is included for keeping it juiced up via household AC power.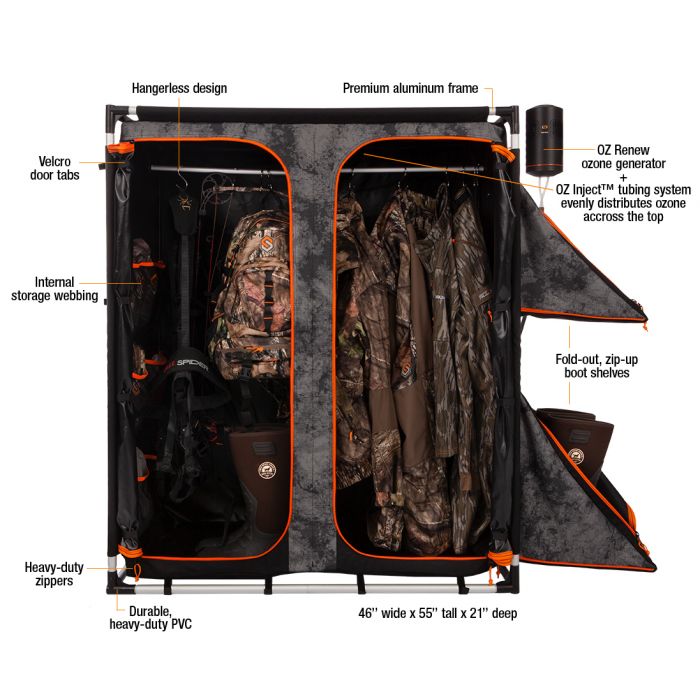 Some item highlights according to the product page:
OZRenew emits powerful ozone molecules directly into OZ Inject™ system for even ozone distribution
Constructed from premium aluminum & PVC
Hangerless design for ease of use anywhere (whatever that means)
Two auxiliary boot shelves zip out when needed and fold up to save space when not in use
FREE boot pucks included, which connect directly to the the OZRenew unit to refresh all footwear
46"W x 55"H x 21"D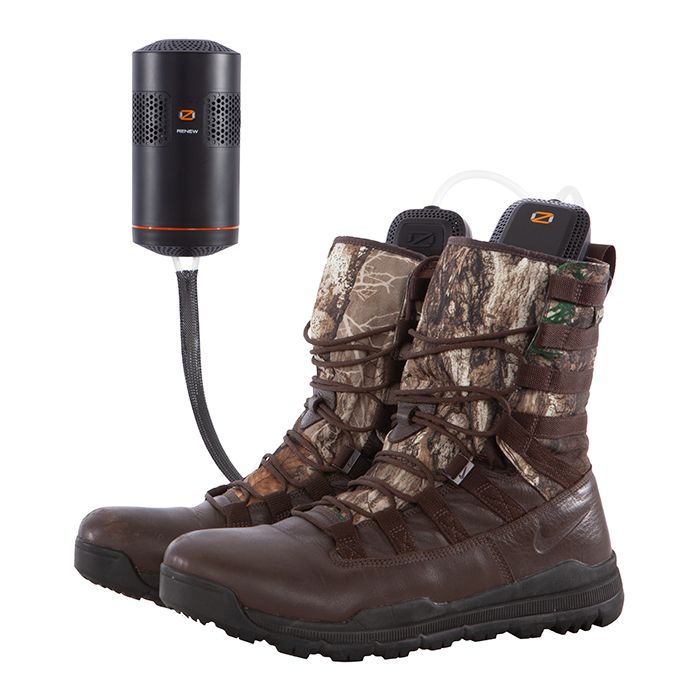 Although the PR photos show the chamber set up in the living area of a nice hunting lodge, they clearly warn you NOT to use this product in occupied spaces. What the? Well, here's a quote from the user manual about that:
The ozone unit is designed to be used in unoccupied spaces only. Upon entering a room that was treated with ozone you should ventilate the area allowing any possible lingering ozone to be cleared out. Never aim ozone directly into your face; it may cause eye irritation or other side effects.

If entering a room where the unit was in use and the room is still filled with ozone (O3 has not fully reverted back to O2), it may cause mild headaches or irritation to the respiratory system. If this occurs, please exit the room immediately. If eyes continue to be irritated flush gently with water. If conditions continue seek medical attention.
So, there ya go. You come back from hunting, take off your gear, and put it in the chamber… making sure the chamber is in a vacant room that's fairly air-tight… or maybe set it up in the outhouse? Just kidding on that last one…
The manual notes that "more than one cycle may be required to eradicate odors" and warns against using it on anything with elastic or rubber:
Exercise caution when using ozone on items with significant elastic or rubber content. Discontinue use on rubber or elastic items if you notice degradation or weakness to the structure of the items.
Moral: Don't ozone your skivvies unless you like it when they droop.
The whole shebang packs up into the included travel bag. Unfortunately, I wasn't able to find out the size and weight of it when stowed.
If you think the OZRenew & Gear Chamber is for you, click here to visit the Scentlok site and buy it for just $379.99.