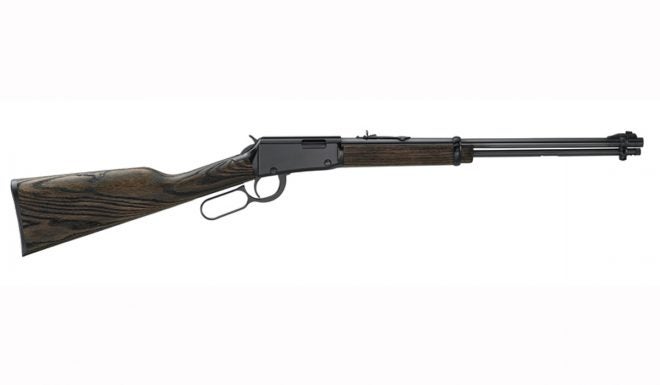 Just when you thought you had all the guns you need, Henry comes out with a handy and attractive lever-action 22 rimfire rifle — with a smoothbore barrel just for shooting "rat shot." They're calling it the Henry Garden Gun.
Why a smoothbore rimfire? Well, 22 LR shotshells have been available for ages and are widely used for controlling pests in confined areas — especially indoors where you don't want big shot payloads or solid bullets flying about. And they say firing shotshells through a rifled barrel tends to open the shot pattern pretty wide, limiting the effective range.
Here's a blurb from Henry:
The Henry Garden Gun is one that belongs right by your side as soon as you walk out the front door to start the day's chores. Tuck it next to the seat of your tractor or riding mower and have it at the ready for when something slithers into view through the grass, dispatch those barn-dwelling birds without dispatching the barn around them, or exterminate the mice that are turning your garden into a buffet.

The use of 22 LR shotshells are favored for tight quarters or enclosed spaces due to their quieter report, negligible potential for harmful ricochet, and an impact that is unlikely to penetrate walls and roofs.
I gotta say, it's a good-looking little gun, and the black-stained ash stocks let you know at a glance it's the smoothbore and not your Henry 22 rifle.

Some specs:
Barrel: 18.5″ Round Blued Steel, Smoothbore (no rifling)
Intended Ammunition: 22 Long Rifle shotshells
Magazine Capacity: 15 rounds
Overall Length: 36.5″
Weight: 5.25 pounds
Receiver Finish: Black
Rear Sight: Fully Adjustable
Front Sight: Blade
Scopeability: 3/8″ Grooved Receiver
Stock: Black Ash
Buttplate: Plastic
Length of Pull: 14″
Safety: 1/4 Cock
Best Uses: Target/Pest Control
MSRP: $421.00
I've known the time when a small shotshell was just what I needed for erasing a rat or venomous snake, but I've never had the need for a dedicated smoothbore smallbore.
If you do, this Henry's for you.