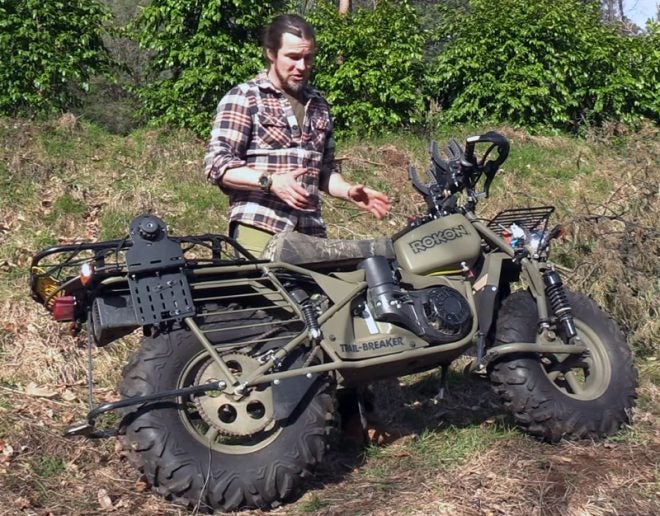 I can't imagine any hunter glimpsing an ad for a Rokon motorbike and not stopping to admire the view… especially if, like myself, you admire rugged simplicity and couldn't afford such toys (er, tools) for most of your life. Even as a kid leafing through outdoor magazines at hunt camp, I would stop and linger lustfully over the Rokon ads.
A quick a word about the name: Company reps told me at the SHOT Show that it's pronounced ROK-on… as in "Rock on!" Even though, like the guy in the video, my first instinct was to give the first syllable the long "o" sound.
And the reason I'm writing this: I wandered across a video review of a Rokon Trail-Breaker, which was just posted a few days ago.
The best feature about these bikes is that they're all-wheel-drive. They're not speedy and they lack the suspension of other off-road motorcycles, but they are known for taking their riders just about anywhere they wish to go.
Another good feature, though pretty common among motorcycles, is dual start. Use a battery or pull the rope on the engine. I mention this because Rokon includes a spare starter rope — that's pretty awesome — and I really wish my Polaris Ranger had a pull rope to use in a pinch.
Another bonus that might not be so obvious is that you can ride across a steep slope while keeping the Rokon upright. Can't get away with that on a 4-wheeler or UTV.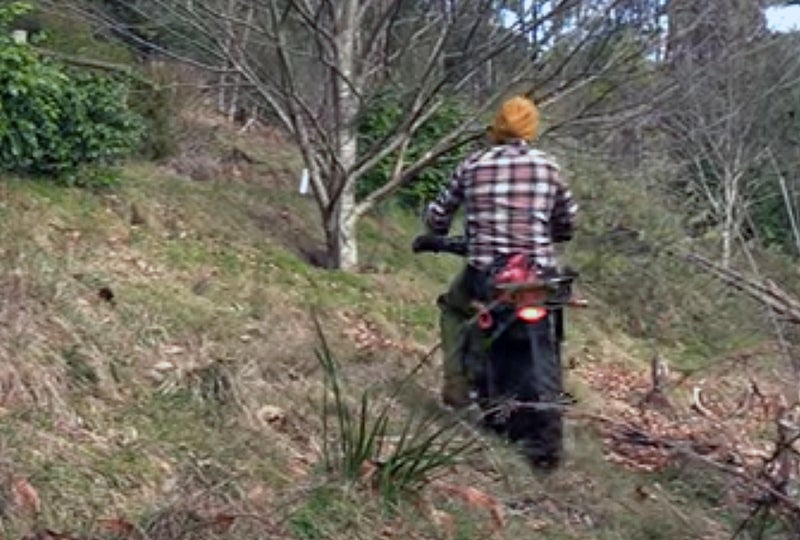 The reviewer shows how you can use the kick stand to pivot the entire machine 180 degrees for those times when you need to turn around in tight quarters. Again, none of my woods vehicles have ever had that ability.
It can carry — and tow — quite a bit of gear as well. And he mentions that after you've gotten used to rocking a Rokon, you will "start to see things differently" as far as where you can go with that bike and what route to take to get there.
My only problem is that after watching the video, now I'm back to wanting a Rokon again! I thought I'd gotten over that. Ah well.
Enjoy the video; it's only 12 minutes.