GOP Senator Rick Scott "Hopeful" New Gun Control Will Pass This Month
Russ Chastain 09.04.19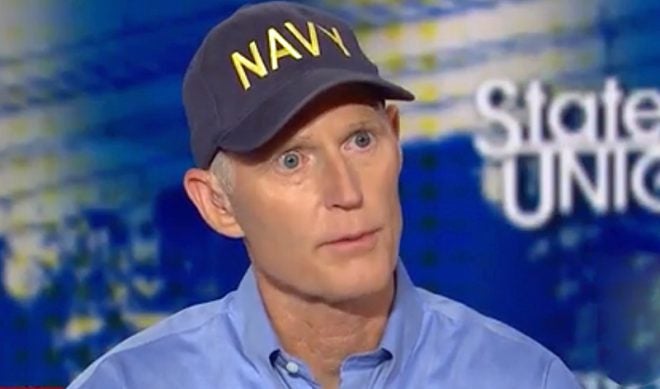 In a move that should surprise nobody, GOP Senator Rick Scott (R, Florida) has voiced hope for more national gun control.
This is the same jerk who crafted and enacted the worst gun control bill in the history of Florida — and then instead of being drummed out of politics he moved on to become Senator for no other reason than that he was not Bill Nelson (his possibly-even-worse opponent for the office, who held it for years).
Wearing a NAVY cap in order to appear patriotic, Scott reveals his utter lack of patriotism in a CNN interview below by saying he's "hopeful" that more gun laws will be passed — quickly.
The CNN "reporter" opens by claiming that gun control is a "solution" for mass shootings. Then she asks:
Reporter: 'Is gun reform legislation doable, this month, when you all come back to work here in Washington?'

Rick Scott: 'I'm hopeful. I think they ought to do what we did… uh, what I did as soon as Parkland happened… the biggest thing that we did was the red flag law. Says that if you are threatening harm to yourself or somebody else, through due process, through the court system, you don't have access to any weapons — not just a gun, but any weapons.'
His claim that due process is involved is pure politics; i.e. it's simply not true. Just look at the case of Jonathan Edward Carpenter (click for details), the Florida man who had his concealed carry license revoked and all of his guns confiscated in a case of mistaken identity under this same law Rick Scott is touting.
We've got a fight on our hands, folks. Click here to learn what you can do to stop red flag laws.
The GOP wants to enact more Federal gun control THIS MONTH. Tell them NO.