Henry Steps Up, Scores Huge With Side Gate Lever Action
Terry Nelson 09.04.19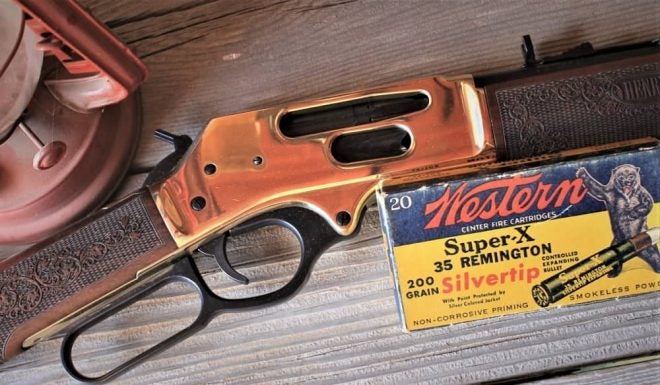 Henry Repeating Arms has introduced yet another new lever gun to their already-long list of quality firearms. New for 2019 is the Henry side gate lever action rifle. The Henry side gate comes chambered for three classic cartridges: 30-30, 38-55, and 35 Remington. All three of these rifles are on the shelves now with an MSRP of $1045 (but the rifle can be found at your local retailer in the $800 to $900 range).
What makes this new offering from Henry so unique is that side gate loading is now standard just like the original Henrys from the 1860s. But the real twist is that the design of this Henry lever gun allows for the best of both worlds: side-gate loading and the removable tube magazine loading that modern Henry rifles have long been known for.
Henry says it best when describing the new side gate model: 
The hardened brass receiver is as reliable as it is handsome with the same yield and tensile strength as steel. The brass accents continue through the rifle with the butt plate and barrel band. The American walnut furniture is set off by intricate, deep checkering that will ensure a firm purchase on the stocks. A semi-buckhorn rear and ivory bead front sight accompanies a 20″ round blued steel barrel to deliver the accuracy you've come to expect from a Henry.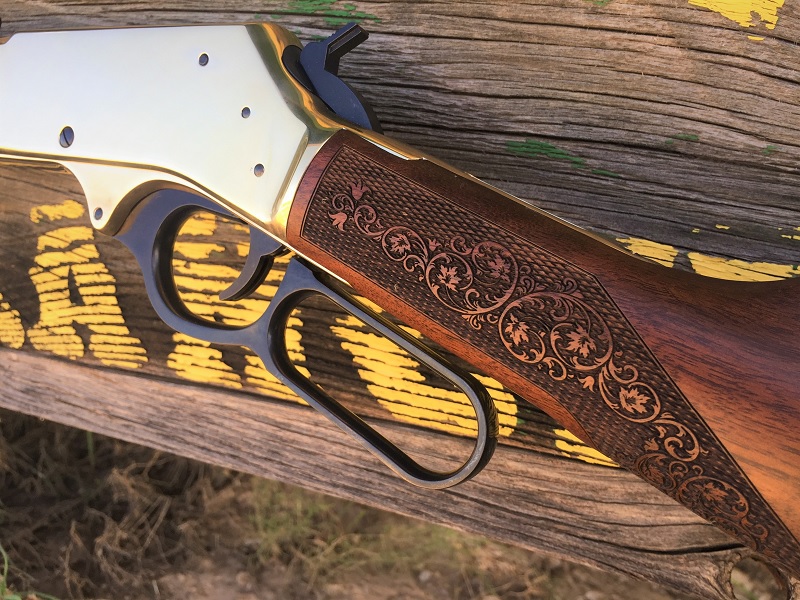 The specifications of the Henry Side Gate are as follows. Except for the twist rate, all specs are shared among the three currently offered chamberings:
Barrel Length: 20 inches
Barrel Type: Round Blued Steel
Rate of Twist: 1:16
Overall Length: 38.3 inches
Weight: 7.5 lbs.
Magazine Capacity: 5 rounds (in all current chamberings)
Receiver Finish: Polished Brass
Rear Sight: Fully Adjustable Semi-Buckhorn w/ Diamond Insert
Front Sight: Ramp with 0.062″ Ivory Bead
Receiver Scopeability: Drilled and Tapped
Scope Mount Type: Weaver 63B
Stock Material: American Walnut
Buttplate: Brass
Length of Pull: 14 inches
Safety: Transfer Bar
Best Uses: Target/Hunting/Large Game/Deer, Elk, Black Bear
Extras: Regular Lever. Swivel Studs
Recently I was able to get my hands on the Henry side gate in 35 Remington. Since many reading this are probably not familiar with the 35 Remington cartridge, it is worth diverting here to speak of its history. This Remington-designed cartridge been around since 1906 and is most popular in a 200 grain bullet although other weight grain loads are currently available, primarily 150 and 220 grain by various ammo companies.
Remington reportedly helped promote the advantage in power that the 35 Remington had over the 30-30 via a series of advertising campaigns in the early 1900s. In one of their advertisements, Remington publicized the ability of the cartridge to penetrate a 5/16″ steel plate, which the 30-30 Winchester could not do.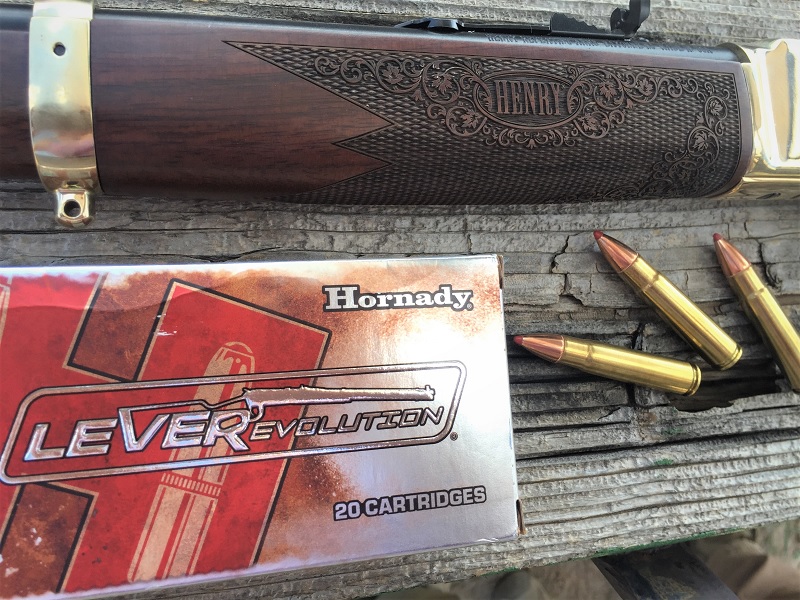 Based on the Henry Big Boy platform, the side gate receiver has a highly-polished brass butt plate and barrel band, with sling attachments fore and aft. A buckhorn rear sight with white diamond insert and a front ivory bead sight allows for easy sighting in low light. Stock is American Walnut with laser cut checkering on the forearm and pistol grip.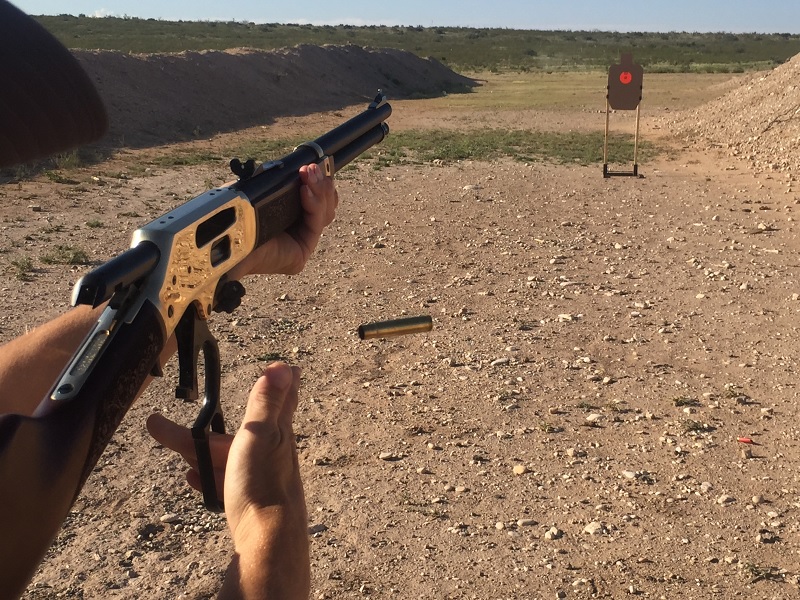 As with other Henry lever guns I found the new side gate to run well. I did note that the shooter needs to assertively work the lever to eject a spent casing once fired.
The 35 Remington is a bit of a thumper in the recoil department and would be good medicine for medium-to-large game in the 200 yard range. Accuracy was more than acceptable as I found after firing five shots at 50 yards from a supported position with a spread of 1.5 inches using Hornady's 200 grain LEVERevolution ammo, generously provided by Lucky Gunner.
I had no problem hitting steel targets offhand out to 200 yards. As mentioned earlier, the rear buckhorn sight with white diamond insert coupled with front ivory bead make sighting on a target quick and easy.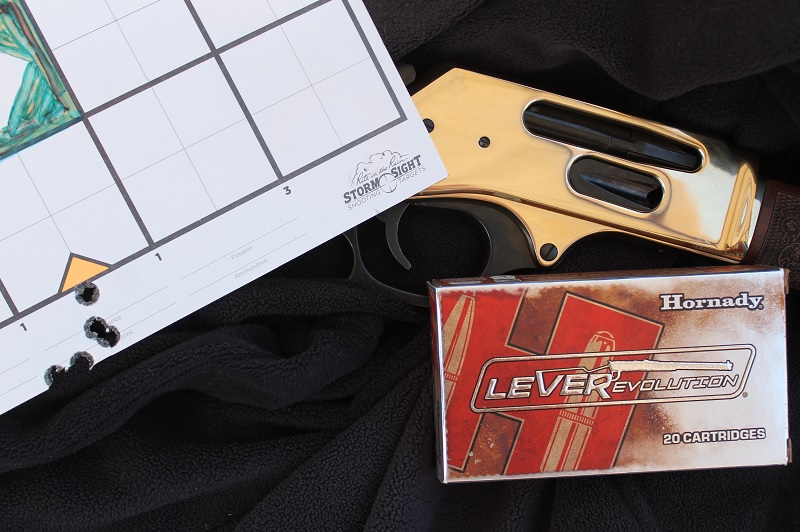 By adding the side gate feature Henry has brought back the nostalgia of an old west lever gun. Add to that the available classic cartridges (30-30, 38-55, 35 Remington), along with Henry quality and lifetime guarantee, it's just hard to beat. Take a look at Henryusa.com.