Ammo Caddy Lets You Tote Extra Ammunition in Style
Russ Chastain 09.05.19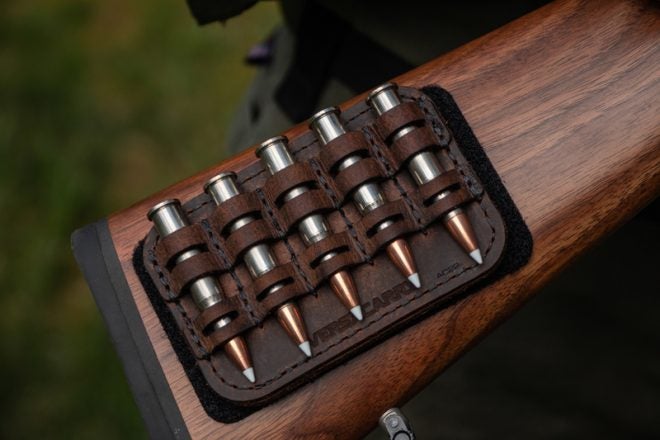 There are few things more useless than an empty gun. After all, even a dull knife can perform some of its intended tasks, but without ammunition, a firearm is just a club, and not a very good one. You never want your shootin' iron to run dry during a hunt, so carrying extra cartridges along is a must. Problem is, that can be inconvenient.
When I started deer hunting, I used an old Ruger 44 Magnum carbine, so carrying extra rounds of 44 magnum was easy — just slip them into a pocket. But once I moved on to 30-06 and 308, I learned the longer cartridges were less pocket-friendly. Years ago, I tried one of those elastic carriers that slip onto your rifle's butt stock, and fell in love.
Sadly, the elastic in those things wears out. I've also used a neoprene model, but that's not ideal either… and it soaks up moisture like a sponge when you hunt in wet conditions. And you have to buy one for each of your guns, because you have to remove the stock from the action (or remove your scope) to install or remove it. What to do?
Well, Versacarry has a cool option: Ammo Caddy, a tough cartridge carrier made of water buffalo hide that can be easily removed to swap it from one gun to another or to attach it to the included belt attachment for carrying your spare ammo on your waist.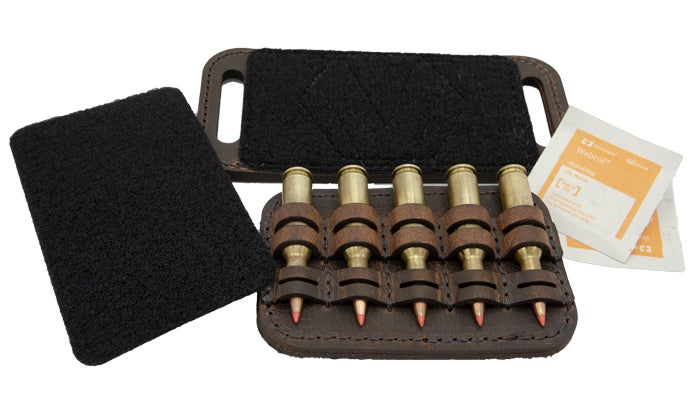 The carrier itself is backed with "industrial strength aerospace Velcro." What's that I hear? People hesitating to put adhesive stuff on their rifle stock? Well, Versacarry assures us that "the rifle finish will be unharmed if the owner decides to remove the system."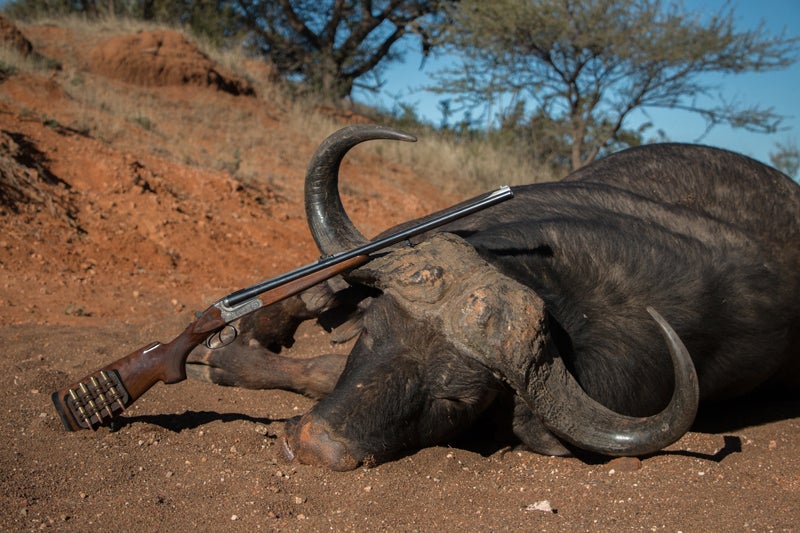 Each Ammo Caddy is hand-stitched in the USA and they're available in 9 different sizes. Here's how the sizes match up with popular hunting cartridges, according to their website:
Size 1 fits:
300 Win Mag
300 H&H
300 Weatherby Mag
257 Weatherby Mag
270 Weatherby Mag
6.5×300 Weatherby Mag
30 Nosler
28 Nosler
26 Nosler
7mm Rem Mag
330 Dakota
Size 2 fits:
30-30 Winchester (30 WCF)
30-06 Springfield
270 Win
280 Rem
25-06 Rem
Size 3 fits:
308 Win
6.5 Creedmoor
7mm-08
Size 4 fits:
Size 5 fits:
Size 6 fits:
Size 7 fits:
Size 8 fits:
Size 9 fits:
Each Ammo Caddy holds 5 rounds except the 12-gauge model, which holds 4.
Want to stick your Ammo Caddy to multiple guns? You can buy new adhesive Velcro from Versacarry by clicking here ($2.99 for one or $5.99 for a 3-pack).