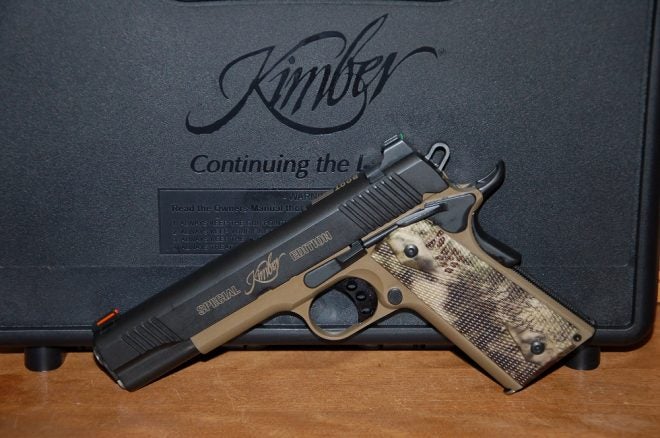 Kimber America has added a new version to their Custom 1911 line with their Hero Custom Model. The Hero Custom includes special detailing, but the highlight of this new model is that a portion of the sales proceeds will go to the Boot Campaign.
The Boot Campaign promotes patriotism, raises awareness, and provides assistance to help veterans restore health and reclaim the highest quality of life. Details of this veteran assistance movement can be found at www.bootcampaign.org. It is a great project for a company like Kimber to undertake by producing a special pistol to raise funds to support this work.
The Hero Custom is distinct from the Custom Models that Kimber regularly produces. The model specifications are similar, including the 45 ACP chamber, stainless steel, match-grade 1911 5-inch barrel, recoil operated, closed breech, single action, and semi-automatic function.
The weight of the Hero Custom comes in at 38 ounces, height 5.25 inches, length 8.7 inches, stainless steel frame, magazine capacity set at 7 rounds. Safety mechanisms include the beavertail grip safety, thumb safety, sear disconnect, hammer safety notch, and Kimber's Series II safety.
Custom features of this Hero Model include a stainless steel frame that is desert tan finished. The slide is Kimber Pro II black matte finished with tan engraving. Fixed combat type sights are fiber optic including a rear sight with two green dots and a red front optic sight. The rear sight is undercut with line checkering to reduce glare.
The 3-hole aluminum trigger is factory set at 4 to 5 pounds of pull. The tan engraving on the slide includes the American flag on the right side up front, "Special Kimber Edition" on the left side, and "Boot Campaign" on the top of the slide just to the rear of the ejection port. "Hero Custom" is rolled marked on the left side.
Other special edition features include Kryptek Highlander grip panels with tan-and-dark-brown scaled appearance. The grips have a semi-soft rubberized feel and are very easy to grasp and grip. The slide is serrated cut both front and rear. The hammer is a commander type round loop, checkered affair.
The kit comes in a lockable plastic case with instructions and a lock. Also included are a package of magazine bottom bumpers to self-install with screws. This is truly a custom Kimber 1911. MSRP is set at $987.00.
While there is undoubtedly going to be collector value in this pistol, it begs to be shot as well. That will come soon with a little trigger time at the range. Check out Kimber at www.kimberamerica.com.