High Desert Rifle Works Now Stocking Blackhound Optics
Adam Scepaniak 09.10.19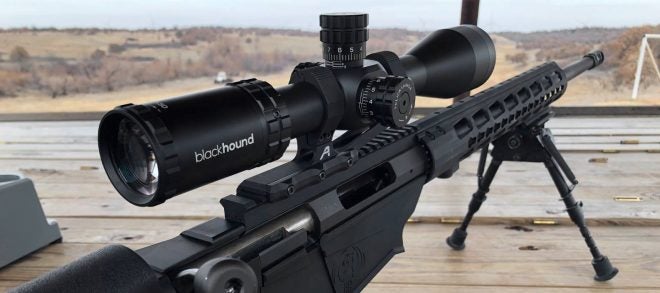 High Desert Rifle Works, based out of central New Mexico, has a tenured history of searching out and providing shooters with some of the best tools, components, and training possible. This reputation carries on as they now are carrying Blackhound Optics for shooters. More specifically, they are stocking 6 offerings from the Genesis series.
These optics have been closely scrutinized to ensure proper tracking, quality of glass, and true adjustments in the field. As with anything, these new Blackhound Optics would not be associated with High Desert Rifle Works if they were not of the utmost quality. The complete Press Release statement High Desert Rifle Works can be read below:
CEDAR CREST, New Mexico – August 27, 2019 – High Desert Rifle Works has become an authorized Dealer for Blackhound Optics, and will immediately offer their customers six accurate, affordable and guaranteed rifle scopes from Blackhound Optics' Genesis Series.

Blackhound Optics exceeded expectations during in-house testing, including reticles that tracked accurately, glass that outperformed its price class, and clear, communicative adjustment components. Due to these testing results, High Desert Rifle Works has concluded that Blackhound Optics provides reliable and affordable hunting and precision rifle opportunities for customers seeking to maximize the capabilities of their rifle – with the confidence and security of a fully-transferable, lifetime guarantee.
Between your 6 different choices in optics from the Blackhound Optics' Genesis Series you are looking at pricing from $279 – $425 making these all very attainable for most shooters. Another valuable point about Blackhound Optics is their warranty. Try as we all might, sometimes our gear can get dinged up and Blackhound Optics has this warranty to stand by their customers:
No matter if you purchased your Blackhound Optic scope direct, or the auction off Hwy 6 – our fully-transferable lifetime guarantee carries our promise to replace your scope (free of charge) in the event of a defect or non-performance.
After extensive research into their quality and effectiveness in the field, High Desert Rifle Works is now stocking Blackhound Optics for any of us who may want to give them a shot. For all of our readers and shooters out there, what do you think? Have you used any Blackhound Optics before? Let us know all of your thoughts in the Comments below! We always appreciate your feedback.