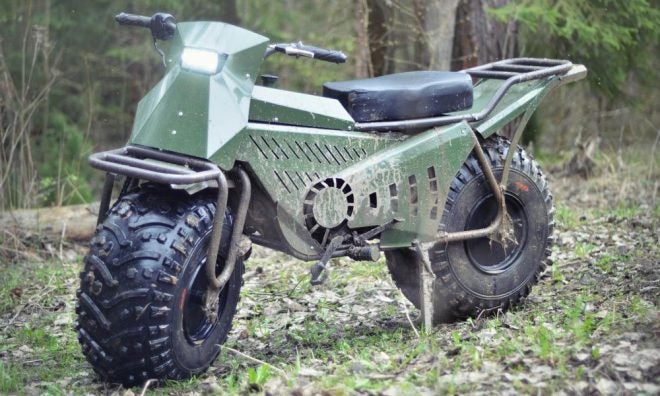 We recently took a look at the old tried-and-true American all-wheel-drive two-wheeled motorcycle known as the Rokon Trailbreaker. Then a friend mentioned that a Russian version exists, and I had to look it up. It's pretty impressive!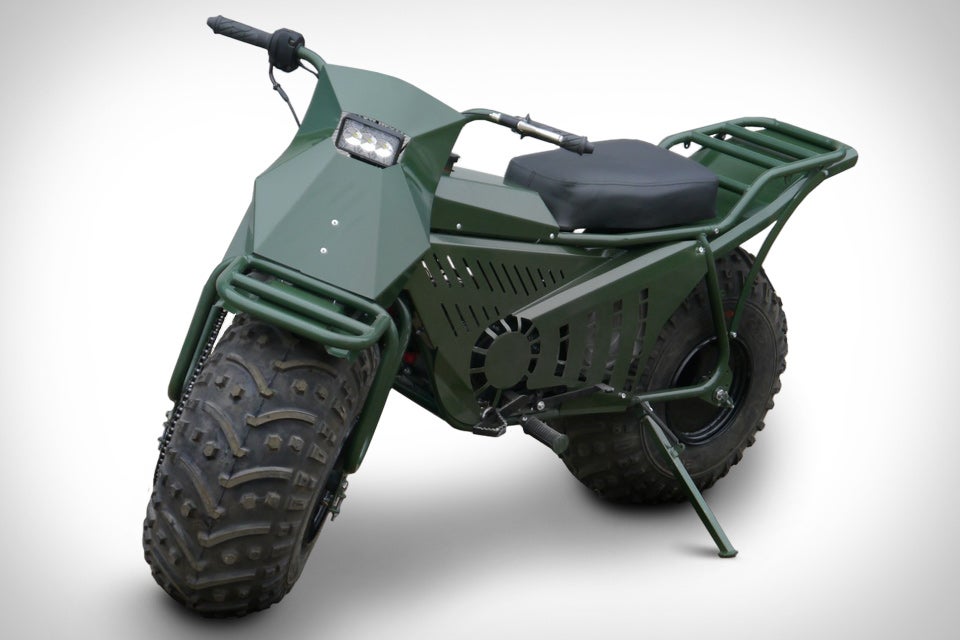 The engine is a 210 CC Chinese-built Honda clone rated at 7 horsepower, and offers both electric and manual start. You only get two forward speeds. The fuel tank holds 4 liters, which they say equates to "about 2-3 working hours."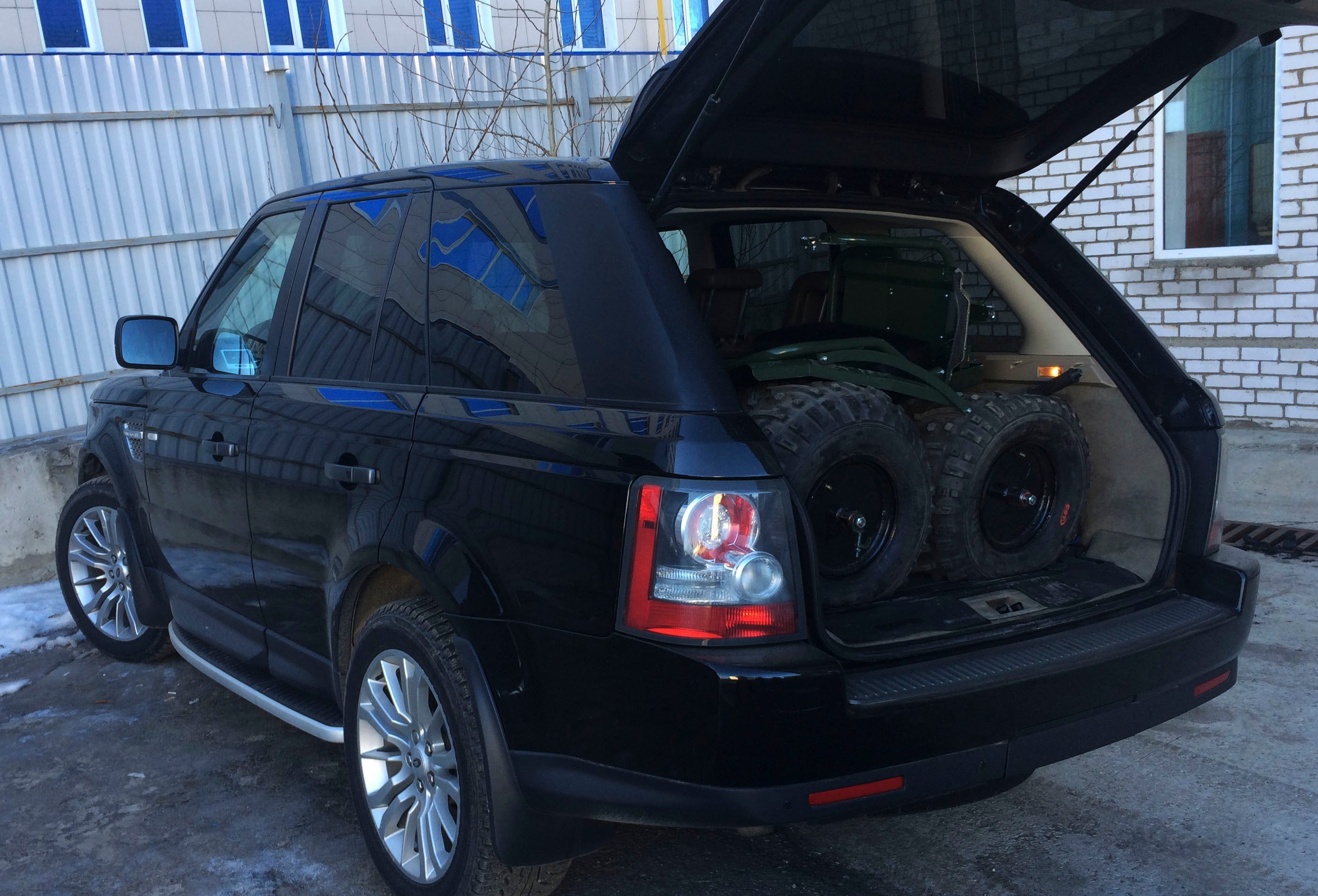 The weight of the machine is about 90 kg, or around 200 pounds. Maximum speed? 35 kph, or 21 mph.
The Tarus doesn't have suspension, so rider comfort depends heavily on the big fat low-pressure tires and the spring-loaded seat.
This video shows the Tarus being used in all kinds of different terrain — and shows how it can be broken down into smaller pieces and placed inside zipper bags for easy transport INSIDE your vehicle. Cool.
From the forest to the beach to even climbing concrete stairs in an abandoned building, the Tarus is surefooted and nimble. It can be lifted right across barriers, or lifted and spun around to reverse direction in tight quarters.
Heck, he even uses it as a ladder to climb a steep slope — and then pulls it up after him to ride off into the sunset.
One thing I must admit: it's apparently not for sull-size guys like myself. The demo rider's legs are folded up like a jackknife when he rides the Tarus.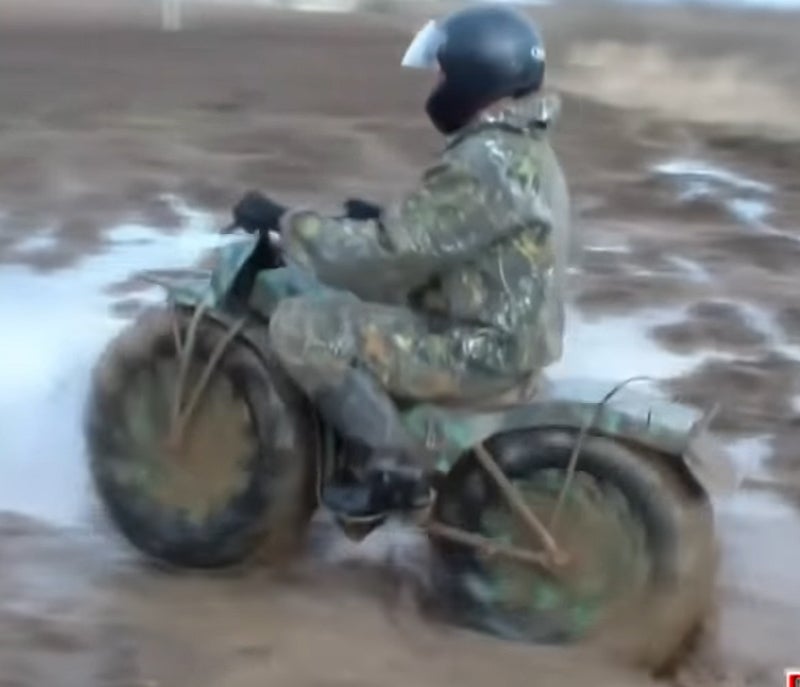 This next eight-and-a-half-minute video is difficult to understand, as the narrator has a heavy accent. It's also difficult for me to tolerate because the music is awful. But It does provide some insight into the machine, and demonstrates its ability well.
Oddly, the narrator repeatedly refers to the Tarus as "four wheel drive." Hmmm…
This guy looks more comfortable, with his legs in a more natural position. But we are told that it's uncomfortable, with the caveat, "It's better to ride uncomfortably than to walk in comfort." And he makes sure to let us know it's not easy riding. It'll take you places no other machine can go (except a Rokon, right?), but you will work at it.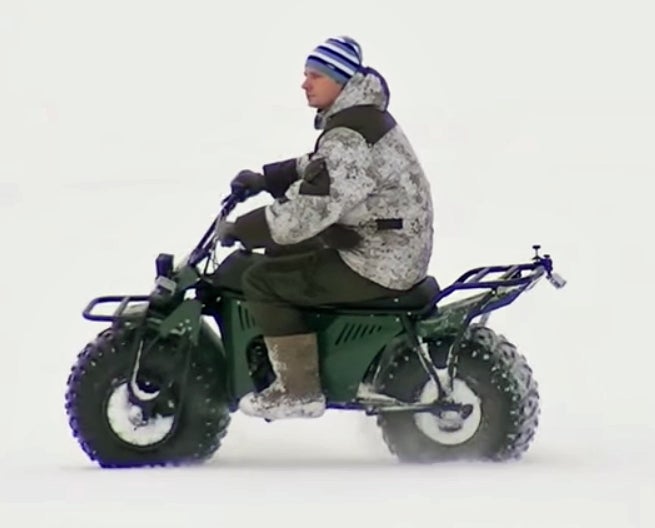 They say the price of the machine is less than $2000 USD — but they don't export. So if you want a Tarus, you might need to do some international traveling.
I can't say for sure how much the Tarus is like the venerable Rokon, but there's no doubt it was inspired by the decades-old Rokon designs. The takedown feature is cool and a real plus for saving space and easing transport.
Check out the Tarus website for more info. And if you find out they're available in the USA, give us a shout. We would love to try one for ourselves.