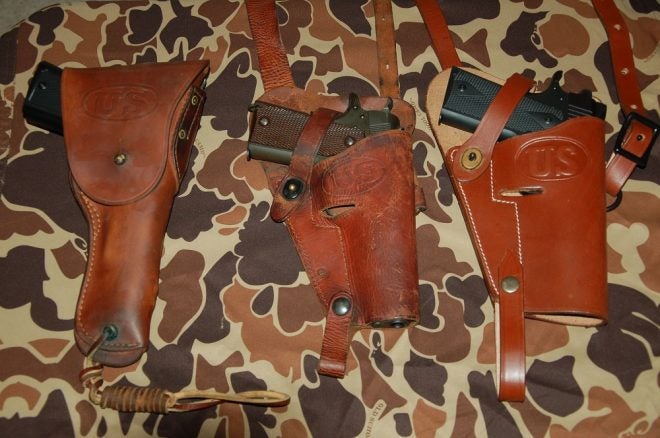 Among all the things sought by military collectors including military surplus gear, firearms, uniforms, and other collectibles, there is a great interest in original military leather and web gear items. As time continues to pass, such specimens of military history are ever dwindling.
In 1944 my father, then 24 years of age, was introduced to his crew of a B-24 Liberator in which they would complete 25 bombing raids over Germany. One of his first tasks was to hand out to each crew member from a cardboard box a 1911 45 ACP pistol housed in a US M3 leather shoulder holster. In those days, flight crew members retained possession of these guns after returning home. In an attached photo you can see that original Colt 1911 and dad's M3 holster.
Many of those M3 leather holsters were manufactured in West Bend, Wisconsin by a company named Enger-Kress. Dad's holster is so stamped, along with the rare date stamp of "44." The Enger-Kress Pocketbook Company began business in America in 1882 by two German immigrants, George Enger and August Kress.
Imagine two Germans owning a company producing war materials for Americans. Their original factory was in Milwaukee, but it burned to the ground. The city of West Bend offered them $20,000 to move the factory there.
The history of the company is quite interesting in that they were among the first to hire women during the war. They also permitted the women to carry work home, which proved convenient for families at the time. The company also provided two beer breaks per day in which young boys brought cold beers on the factory floor. Quite innovative.
During WWII, Enger-Kress manufactured 800,000 pistol holsters, 500,000 machine gun cases, 1.7 million helmet liners, and 1.3 million helmet chin straps. The company finally closed in 2006 having succumbed to foreign products flooding the marketplace.
Another popular military leather holster from the WWII era is the Boyt 1911 holster for hip carry. In 1901 the Walter Boyt Saddlery Company made fine leather harnesses for buggies in their Iowa location. The company became the Boyt Harness Company in 1925.
As WWII beckoned, production turned to making their M1916 belt carry holsters for the 1911. They also produced the M3 holsters as well from 1941-1945. Boyt remains in business today making hunting and outdoor products under a variety of company names.
Military holsters made by Enger-Kress and Boyt can still be found for the collector in various conditions at various prices. Collecting military leather is just another interesting collector hobby.