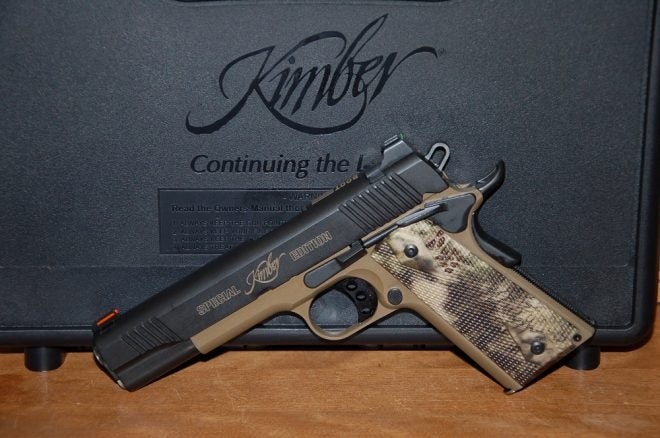 Some of my most-avid shooting buddies, hounds of 1911 pistols, tend to cringe when I mention certain brand names of 1911s. Then the argument starts as the campfire story usually goes. The debate turns hot and heavy about the relative value of a very expensive handgun and whether the cost justifies purchase. It's a good argument to have with people who know their guns.
A number of factors go into computing a manufacturer's suggested retail price or MSRP. When it comes to handguns like the 1911, much of what drives the costs up are the features the guns include.
Custom 1911 features often includes basic machining work, National Match (NM) components, a NM bushing, tight fit and finish tolerances, more-expensive metals like stainless steels, hand fitting and filing, full ambidextrous controls, light/laser rails built into the frame, checkering of the front and back straps, opened ejection ports, unique slide grip serrations, special magazines with slam bump bottoms of various materials, exotic grip panels of wood or synthetic materials like G10.
Usually such top-dollar guns have top-of-the-line adjustable or combat sights, often with night sight features. Today many top-end guns will have fiber optic front sights for extra illumination in dim light conditions. Some may have larger trigger housings. Custom fine-tuned triggers and actions are common. Today, 6-inch barrels and slides are becoming more popular, offering a longer sight plane.
A fair number of custom shop 1911s will have numerous selections for exterior finishes in a variety of colors. These finishes also include combat-hardened finishes to withstand hard use afield and at the range. It seems like more and more features are being offered all the time.
Even so, the everyday guy will question the terminal cost of some of these fancy 1911s. Consider the cost of some of these pistols including the Nighthawk Custom Agent 2 at $4495 or a Les Baer Premier II retailing for $2940. Bill Wilson's 1911s out of Arkansas are equal or higher in price to these. Are they worth it?
In my day an expensive 1911 benchmark was a Kimber. The majority of them run around $1000 with other models going for twice that. That is a lot of money for the average guy to shell out. Even so, 1911s by Colt, Ruger, Springfield Armory, Para-Ordnance, Smith, SIG and others can be found under the magic $1000. There are good used ones, too.
As they say, beauty is in the eyes of the beholder. If a $4500 1911 suits you, fine. I bet though that many of the $1000 or less 1911s shoot just about as well.