Weather. It's the one thing you can absolutely count on when engaged in outdoor pursuits. And quite often, that weather includes rain, snow, or sleet. And even when the sun shines, water's still wet when you're sailing, rafting, canoeing, or fishing.
Solution: Dry storage for all your goodies, of course. And Gill Marine has some good-looking new Dry Bags which promise just that. Here's a quick summary of their features per the manufacturer:
Puncture resistant waterproof fabric with stitch-free welded construction
100% PVC-tarpaulin fabric composition
Roll-down closure for a watertight seal with side release fastening
Flat base improves stability, meaning the bag can be stacked in tight, upright spaces
Semi-transparent, mesh-reinforced window to see what's inside
Detachable padded shoulder strap (50 liter bag only)
Attractive Tango color pattern with GILL logo
There are four sizes available:
5 Liter Gill Dry Bag
The 5L model is the smallest option, weighing in at 0.2 KG (0.44 pounds). MSRP $25.95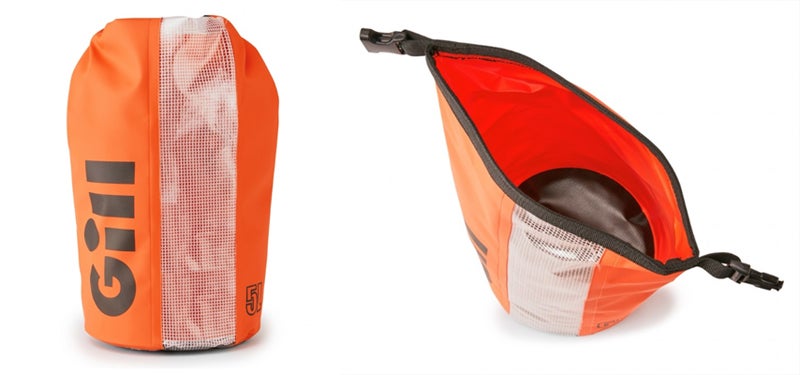 10 Liter Gill Dry Bag
Next we have the 10L model. Weight is rated at 0.3 KG or 0.66 pounds, MSRP $35.95.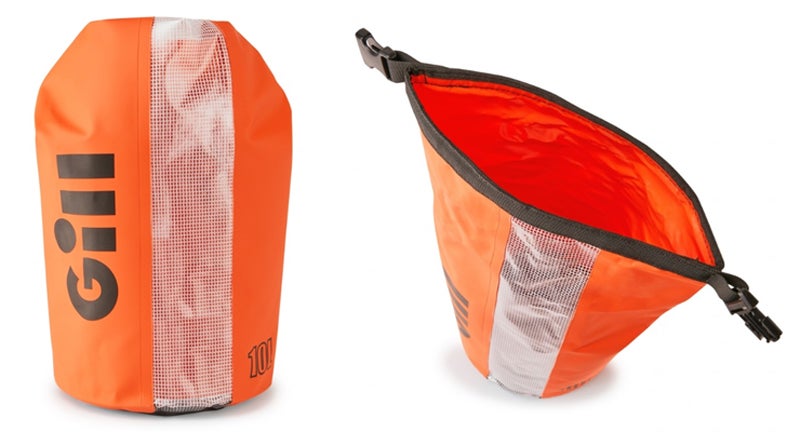 25 Liter Gill Dry Bag
The 25L version is priced at $45.95, and there's no way the weight on the website is accurate because it claims this bag weighs the same as the 10L model. Oops!
50 Liter Gill Dry Bag
The 50L size is the grandaddy of them all, and has the backpack straps to prove it. This one is priced at $69.95 and the weight is spec'd as 0.8 kg (1.76 pounds).
The shoulder straps are detachable, and the latch acts as a handle. Overall it looks simple and practical — and there's nothing wrong with that.
I think they look pretty good, but after all, I do have a preference for orange (and dry skivvies).
Stay safe (and dry), my friends.