Balancing your need for quick access to a firearm and restricting access to unauthorized users has always been a thin line to walk. Fortunately, through technology, Hornady has offered us a superior option. The Hornady Rapid Safe series is designed to be compact and secure, but quick to open. Be advised these are not designed to keep dedicated thieves with power tools out. They will keep your kids out, as well as amateur thieves and non-authorized users.
The Rapid Safe Series incorporates several different models: a handgun variant, a vehicle model, a shotgun safe, an AR 15 wall locker, and a full-sized long gun model that can squeeze under a bed. I own both the handgun and shotgun variants of these safes and they've been part of my home defense setup for more than a year.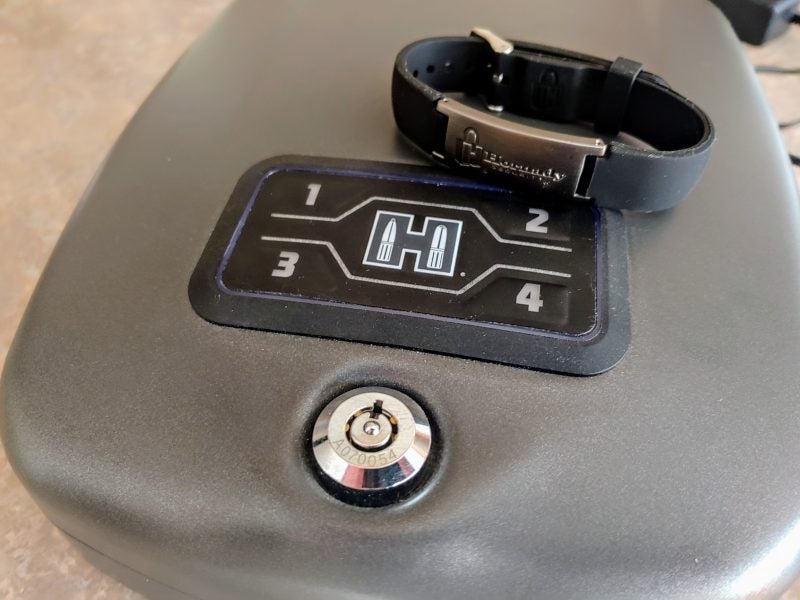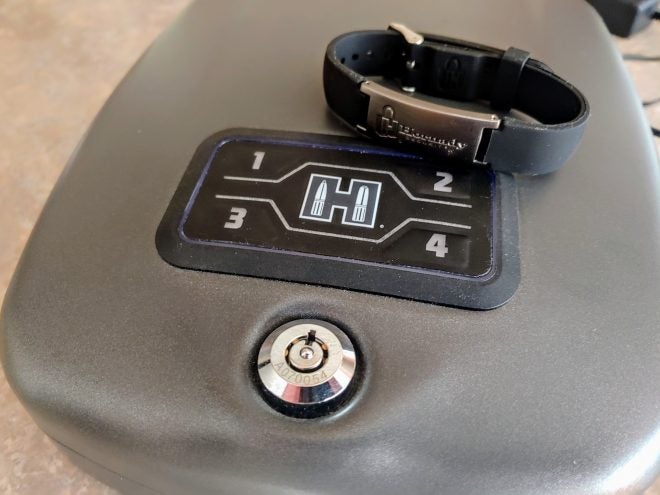 What makes these safes so rapid is the availability of different ways you can open them to get them into action. This includes manual keys, a numbered passcode, or an RFID chip. These RFID chips are truly cool and come in various forms.
There are different options for different configurations. This includes an RFID bracelet, small keychain-sized models, as well as stickers that can attach to anything. The safes don't just open, they explode open so you can retrieve your weapon in a flash.
Rapid Safe Construction
The Hornady Rapid Safe series is made from 14 gauge steel and designed with two internal hardened locking lugs. The safes are rated to exceed ASTM international safety standards for pry resistance, lock strength, drop, pick, and saw tests as well as hinge resistance and a child-proof design.
The Rapid Safe In Action
The pistol safe comes in two sizes, one that accommodates a single handgun and one that accommodate two handguns. I have the single handgun model known as the 2600 KP model. The 2600 KP model is larger enough to accommodate my 80 percent lower P80 Glock 17 with a threaded barrel. The shotgun model comes in one size and allows you to store most standard pump-action shotguns. It latches over the receiver and secures it. Both safes come with the ability to be mounted on a wall and this includes the hardware necessary to make it happen.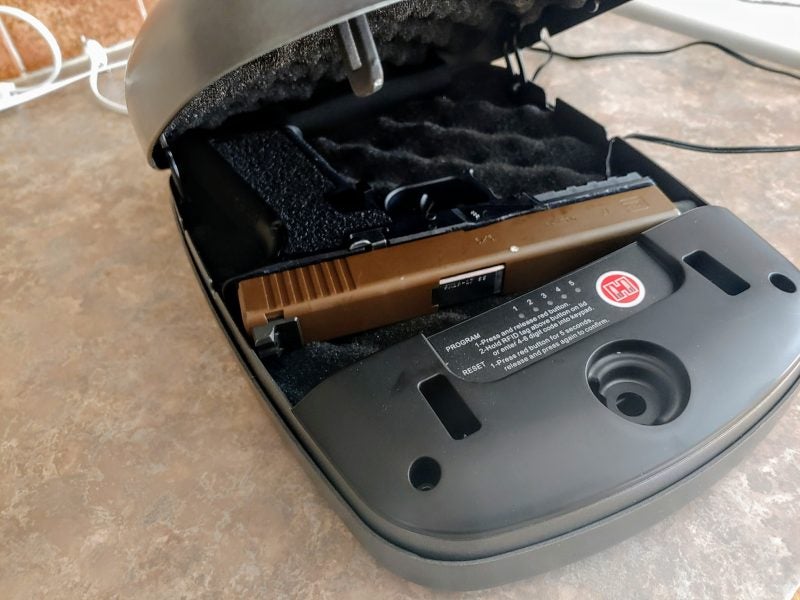 The pistol safe comes with a metal cable to allow it to be secured to a nightstand or wall. The inside of the safe is fitted with soft foam. The shotgun safe does leave the shotgun's trigger exposed, but this isn't an issue. Inside the safe is a bar that fits into the action of the weapon to help prevent the gun from being pulled out of the safe. This means the weapon can only be stored with the action open, making it 100% safe.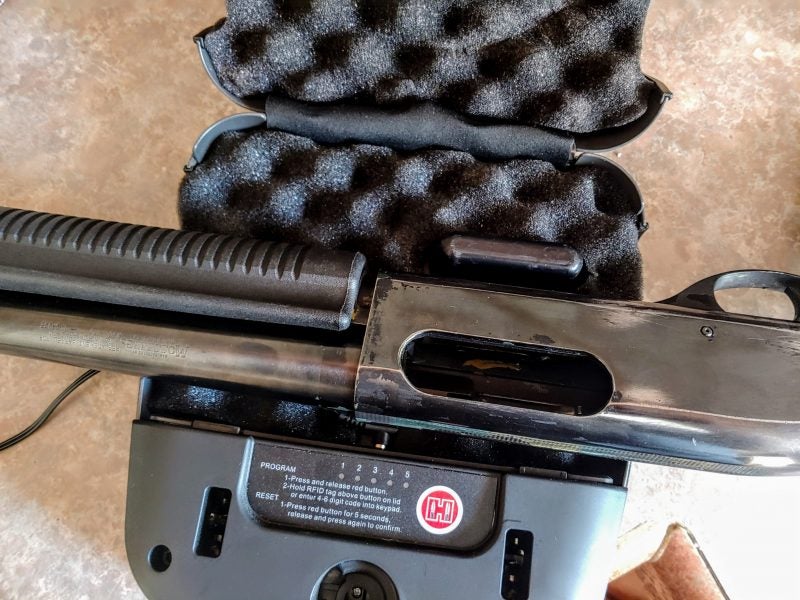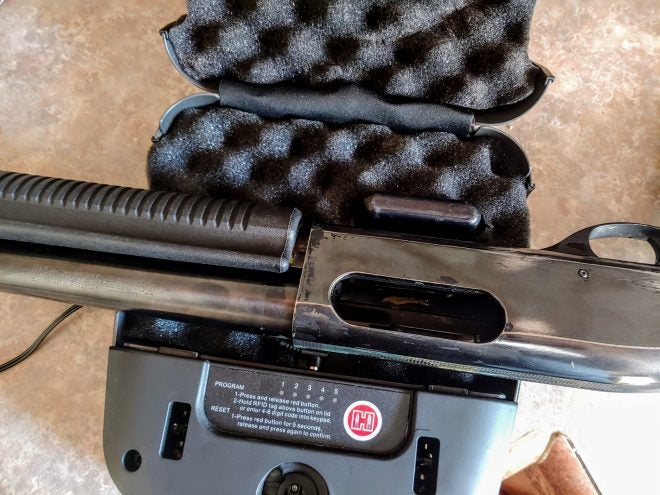 Give it Power!
These safes require some form of power, and this can be the included power adapter or you may use 4 AA batteries as a backup and/or main power source. I prefer to use the batteries as a backup because I am terrible about changing batteries.
Programming a numerical code or pairing an RFID chip is easy to do. It takes less than 2 minutes to do either; simply follow the included directions and you'll be set. The numerical buttons are massive and dimly illuminated so they can be seen in the dark. Their large size makes them easy to reach and dial in.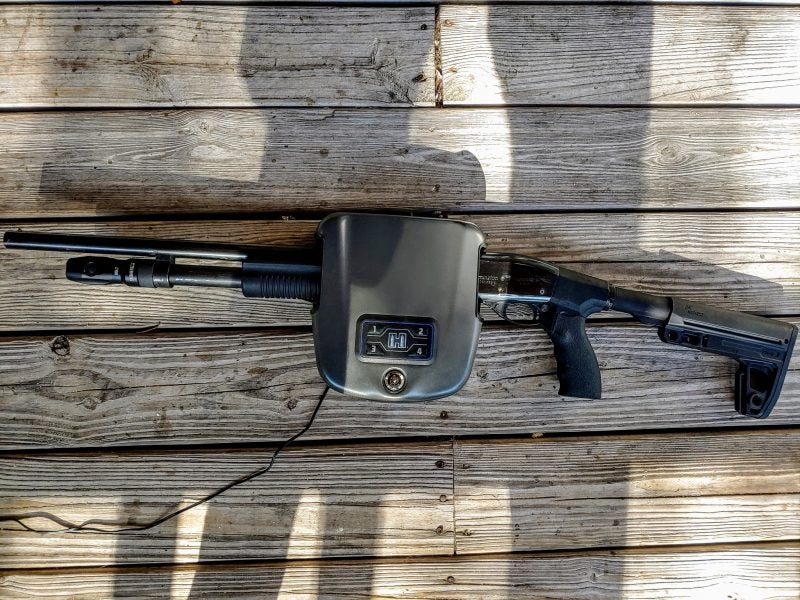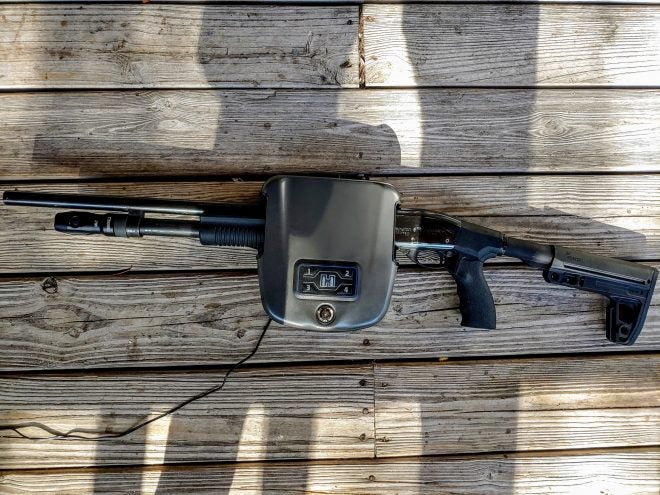 You can program up to 5 RFID chips per safe. I prefer the numbers so I'm not reaching for any kind of key, digital or not. However, I can see the value in attaching an RFID sticker to a cell phone to open the safe.
The Downsides
There are a few downsides to these safes. As with anything electric, there is always an opportunity for failure. I've owned both safes for two years now and have never had any problems with them. The good news is that you always have the option of using the included manual keys to open your Rapid Safe.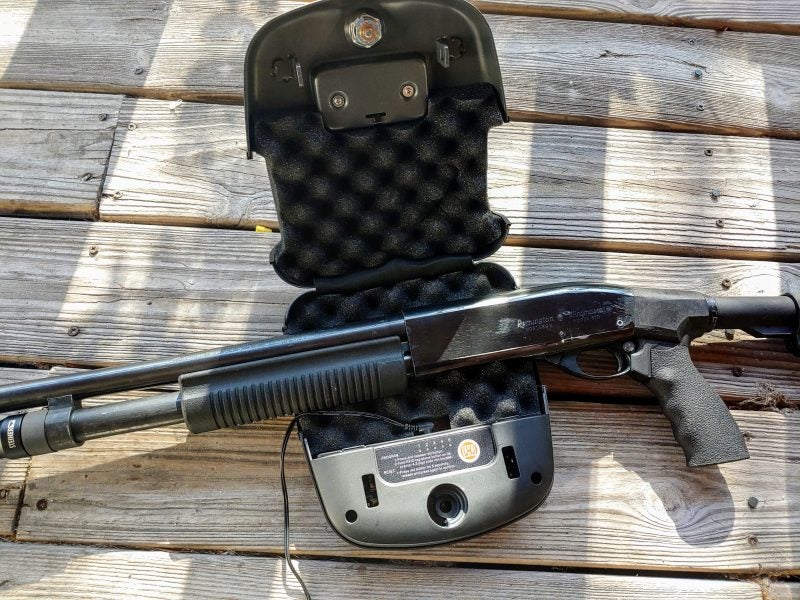 The shotgun Rapid Safe locker does have a few design feature some will not like. It won't accommodate semi-auto shotguns due to their charging handle, it will not allow storage of a shotgun with a light, side-saddle, nor with a pump with an integrated weapon light like the Surefire DSF. Certainly, some downsides to consider if you run a customized shotgun.
Overall, these safes provide an excellent balance of security and speed. They are the best option I've seen in a long time that allows speedy access to a firearm for authorized users. The Hornady Rapid Safe series are solid systems and perfect for home defense.