Experimental Henry Lever-Action Rifle With Triple Magazine!
Russ Chastain 10.08.19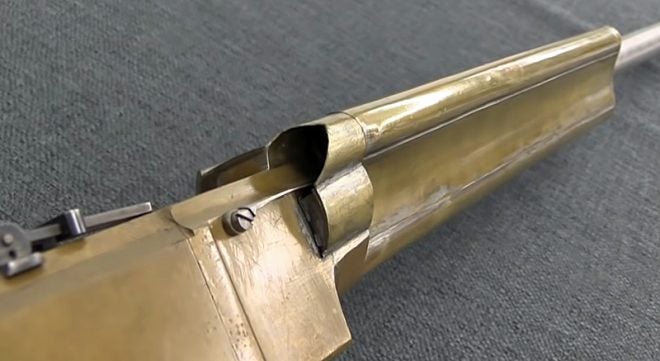 In this video, Ian takes a look at an experimental version of a brass-frame Henry repeating rifle from long, long ago when Winchester owned the company and someone in their R&D department started fiddling around with brass and solder and conjured up a triple-tube magazine for it.
The magazine assembly consists of three brass tubes ganged together with solder, which rotate around the rifle barrel manually. Each one holds (about) seven rounds. It seems to be a pretty good system.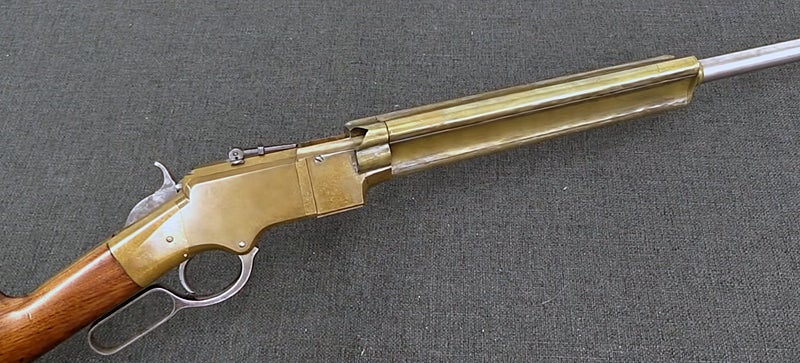 One advantage of this over a standard Henry of the time is the lack of a follower poking out of the magazine tube, to interfere with your supporting hand as you hold the front of the rifle up.
It also serves as a pretty decent forend — something the old Henrys notably lack.
This would be a really fun gun to shoot, but alas, it's sequestered at the Cody Firearms Museum. Heck, I couldn't afford the ammo anyhow.
Enjoy the video.