Self-Installed Precision Barrels for Savage Rifles
Russ Chastain 10.09.19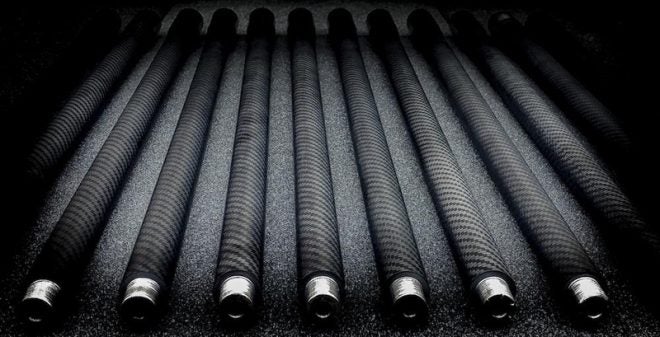 Several years ago, I rebarrelled a Savage rifle from 30-06 to 338-06. Changing the barrel on a Savage "110 Series" rifle is a fairly easy task, due to the clever way they are made — with a locknut to control headspace. This helps Savage create accurate rifles with a minimum of labor and machining as compared to more traditional headspacing methods. To see how it's done, check out my 338-06 article.
The product was a fine hunting rifle which I've carried for many miles and which has provided me with a lot of game.
I recently got a PR email from Helix 6 Precision, touting their pre-fit barrels specifically for use on Savage rifles. Shooters can take a run-of-the-mill Savage bolt-action rifle and add a precision-made barrel without need for a lathe or a chamber reamer.
Here's what they say about it:
Each of our Savage barrels features a hand lapped button-rifled 416R stainless steel core wrapped in carbon fiber using our proprietary process. The final product is a precision rifle barrel that delivers outstanding accuracy and performance.

All Helix 6 Precision barrels are proudly 100% made in the USA. Every Savage barrel is built using a match-grade 416R stainless steel core. We then wrap the Savage barrel with our proprietary carbon fiber layup — our design dampens barrel harmonics for outstanding accuracy. Button rifling and hand lapping improve accuracy while minimizing fouling.

Installing a Helix 6 Precision carbon fiber barrel on your Savage rifle is simple. All that's needed is a Savage barrel nut wrench, a barrel vice with inserts, and cartridge-specific headspace gauges (no-go and go). If this is beyond your comfort level, ask your gunsmith for help.
They're currently listing four (4) of these pre-fit Savage barrels:
6.5 Creedmoor — 26″ long, 1:8 twist
7mm Remington Magnum — 26″ long, 1:8 twist
308 Winchester — 26″ long, 1:10 twist
300 Winchester Magnum — 24″ long, 1:10 twist
MSRP is $995.
Each barrel has a straight taper contour and industry-standard 5/8-24 muzzle threads for muzzle brake or suppressor.
Perhaps the best thing of all is the weight, listed at just 2.75 pounds. There's no way you'd ever achieve that with an all-steel barrel of this profile. This compares with the weight of a lightweight sporter barrel contour of similar length, i.e. a skinny barrel which would be more prone to flexing… so the weight savings with one of these Helix 6 barrels would be notable.
I don't have any experience with Helix 6, but they say these are "the world's ultimate pre-fit barrels for Savage rifles." Have you used Helix 6 stuff or heard much about their quality? If so, please comment below.