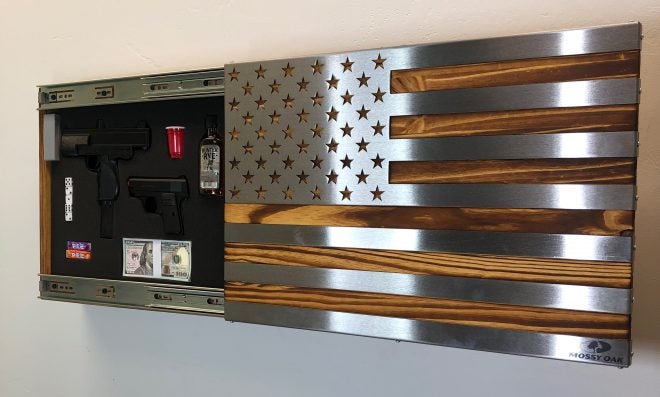 One of the most-enduring posts I have ever made here at AllOutdoor is this one about furniture in which you can hide guns or other valuables. Hiding stuff in furnishings that otherwise appear "normal" can be a great way to make sure you're prepared in case of a home invasion or some other emergency, and it's an idea that many folks really like.
The coolest stuff I've seen lately is from Metal Art of Wisconsin, which offers secure "Freedom Cabinets" featuring Mossy oak camo patterns.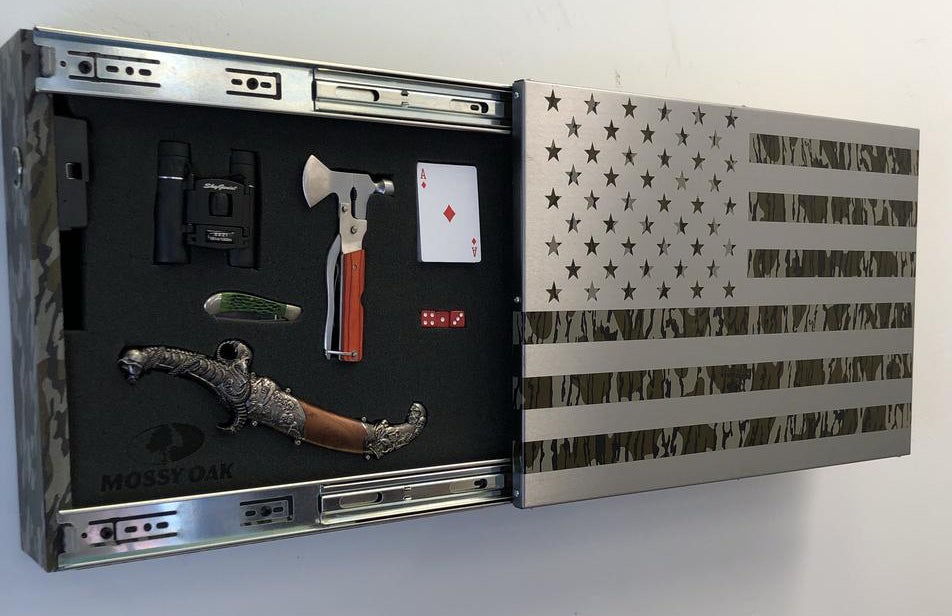 They come with foam inside that you can custom-cut to fit whatever sort of stash you need to secure. Bottle of hooch? Cash stash for the pizza delivery guy? Uzi for greeting someone who knocks with a boot against your front door? No sweat; it'll fit.
From the press release:
Metal Art of Wisconsin is a brand that specializes in designing and manufacturing American-made metal art. It is a family-owned business in Manitowoc, Wisconsin. Its Freedom Cabinet is a wall vault that features Biometric Fingerprint Scanning Technology and is inlaid with 16-gauge steel. Each one is handmade in Wisconsin and comes packed with high-density foam, to secure and contain all you want to hide away. Cabinets are available in wood or steel, and doors are available in wood, carbon fiber or hydro-dipped steel. Prices start around $149 and go up, depending on size and options added.

The camo patterns available on various models are Mossy Oak Bottomland, Shadow Grass Blades, Break-Up Country. In addition, models are available in the Mossy Oak Fishing pattern, Elements Agua.
Numerous options are available. Here are some more details, from the manufacturer's website:
Cabinet comes stuffed with foam that can be configured to store guns, booze or any of your dirty little secrets
Flag is cut from 16 gauge, cold rolled, mild steel (very strong). Ground and polished, then covered in 3 layers of glossy clear coat.
1 to 4 week manufacturing time.
HAND MADE in Wisconsin, USA
This is really cool stuff.
I think I prefer the "Branded" one, which has scorched wood below the steel flag, with a Mossy Oak logo on the steel. Maybe because there's a better chance of hanging that in our living room than one of the camo versions.
Which is your favorite?