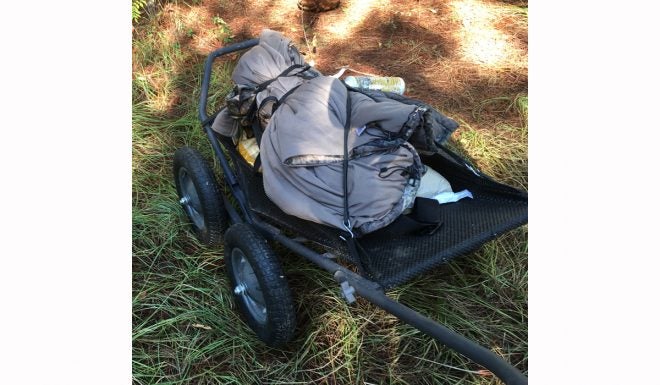 A while back, I ran across a promo for the Crawler Game Cart. I watched some videos and they all seemed pretty good, so I reached out to the company. I ended up ordering one and paying a good bit of cash, so this was no freebie. I shelled out something more than $150 shipped, which is not cheap but is a bit lower than the current price at Amazon ($176.99 currently).
The Crawler's claim to fame is the four-wheel design. On either side, you have two wheels mounted to a length of tubing that pivots in its center. When you roll the Crawler over rocks, logs, or other obstacles, the load remains stable — and it's much easier to pull this cart over such obstacles than it would to roll a two-wheel cart over them. The rotating axle allows the wheels to go up and over a log without your load having to lift up as far as the wheels do.
The downside is that all this ground contact makes it a bit difficult to turn the Crawler when it's loaded. It turns more or less like a Bobcat skid steer.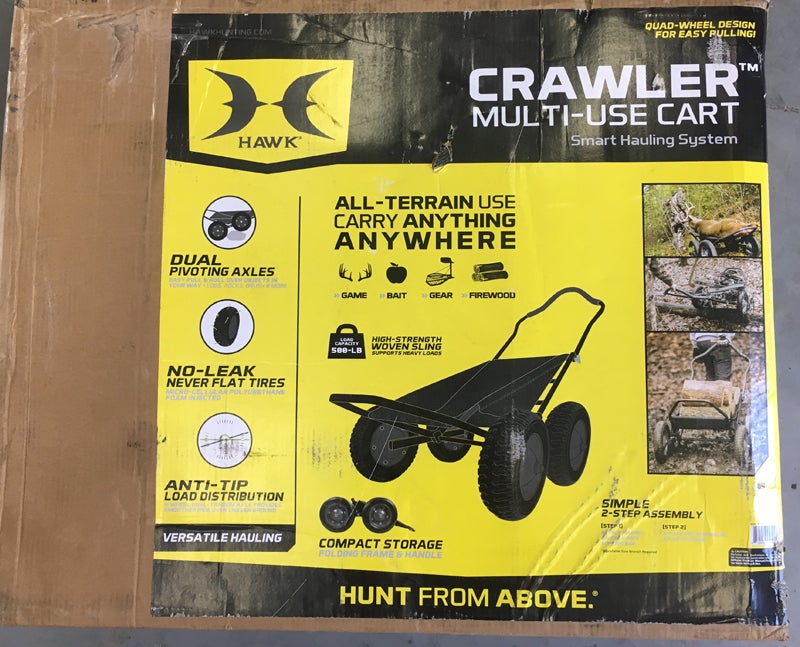 When it arrived, the box was a bit beat-up — and it was telling me lies. It claims to include "no-leak never flat tires" which it says are "micro-cellular polyurethane foam injected." False! These tires contain basic innertubes, which must be aired up occasionally. A bit of Slime would probably cure the deflation thing but we really shouldn't have to worry about that. Strike one.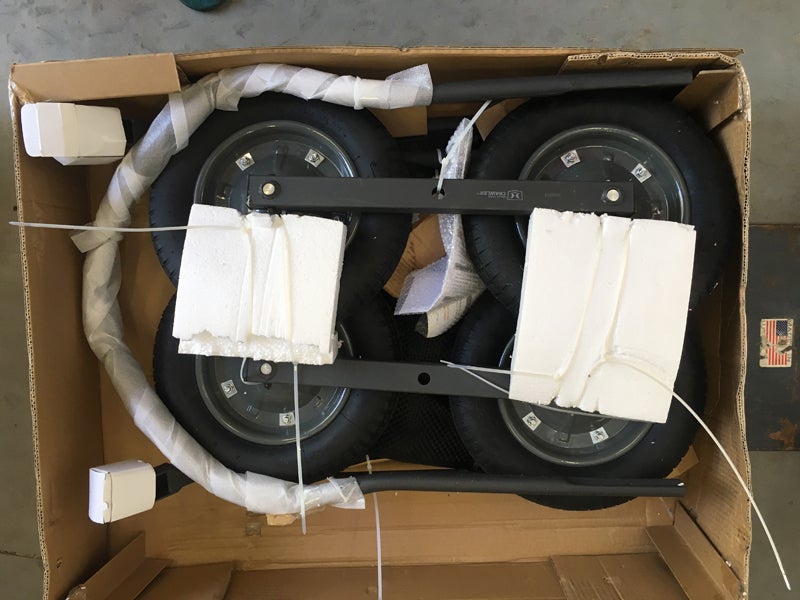 In my notes, I said, "Assembly was a bit stupid and there aren't enough bolts to do it right."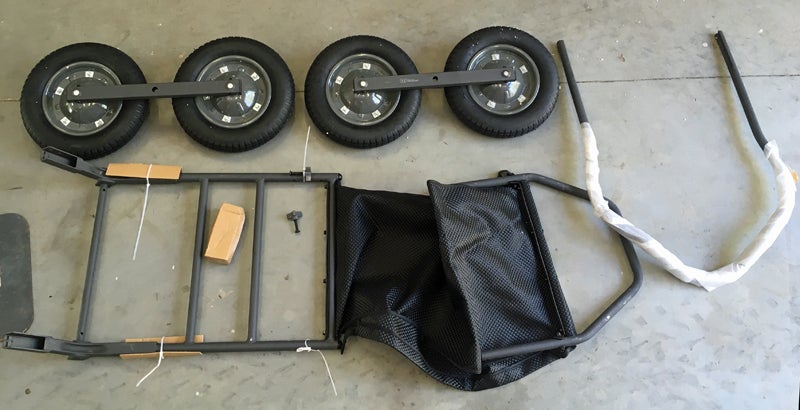 I also noticed some rusty scars on the steel.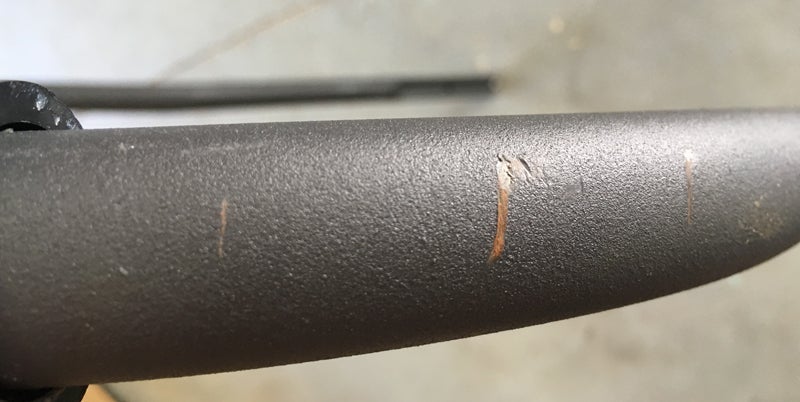 The Crawler came with enough holes to allow the fabric "sling" to carry a load well, but they left out a couple of bolts. So when you placed any load in it, the frame wanted to fold up — like so: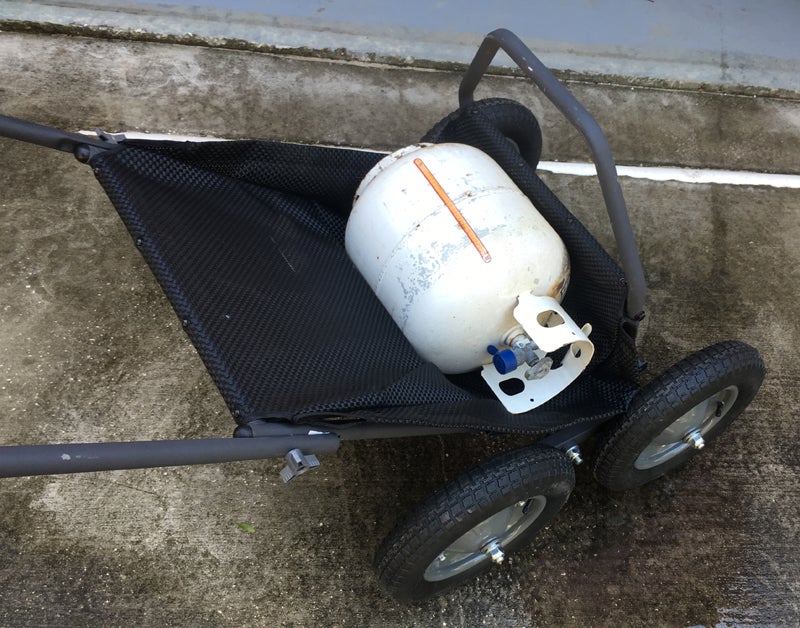 To cure this, I added a pair of bolts with knobs. Then had to reverse a couple other bolts for knob clearance.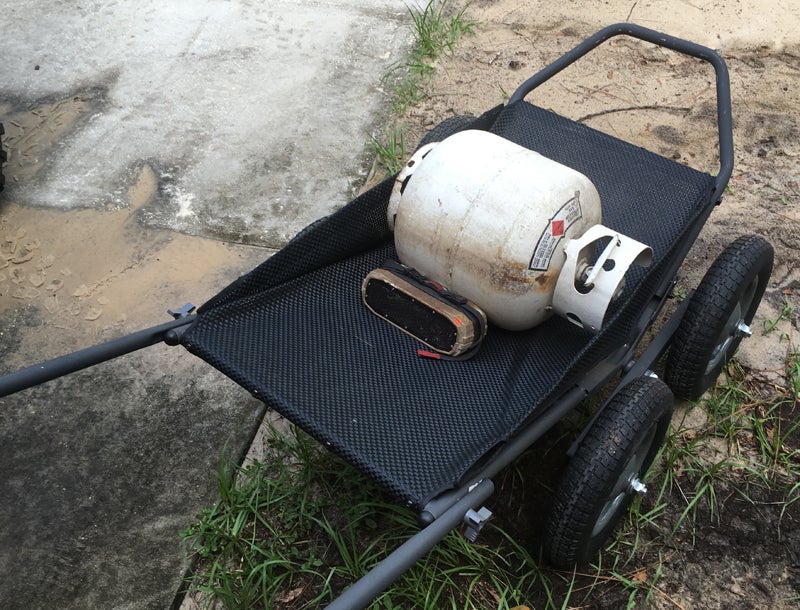 Once I added my bolts, it carried a load like it ought to.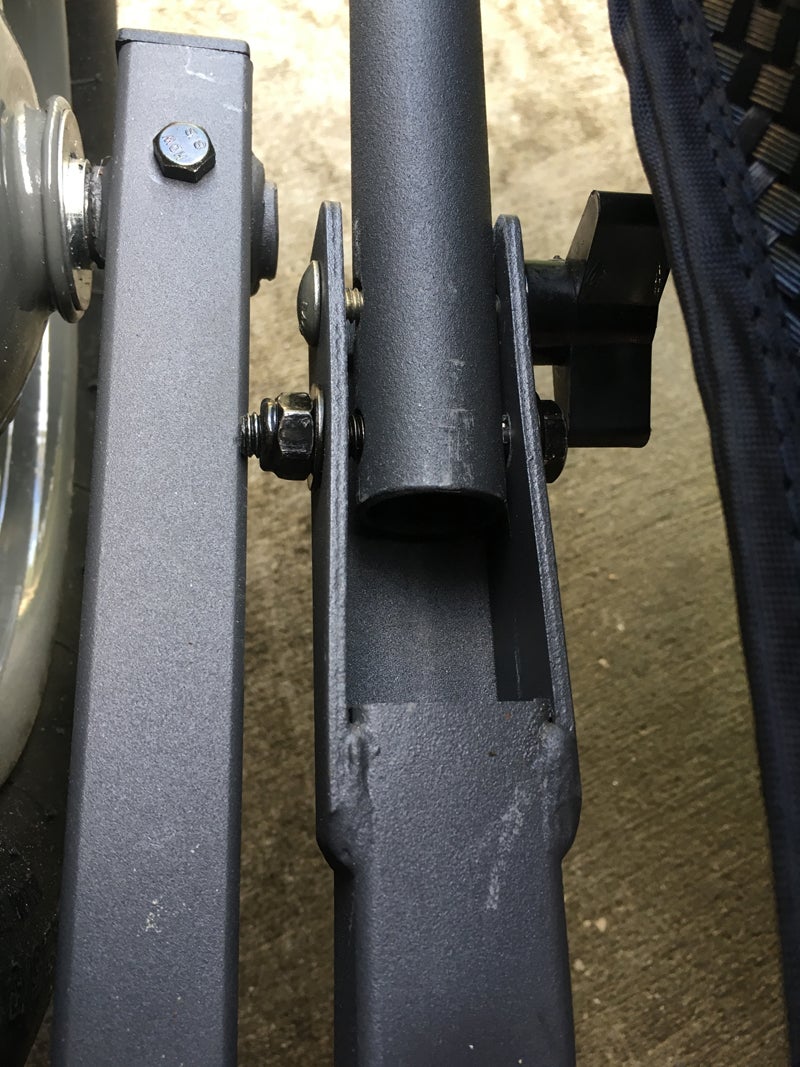 On one side, the bolt I had to turn around interfered with the axle mount rotating (which it must do on uneven ground). So I ground off the excess bolt.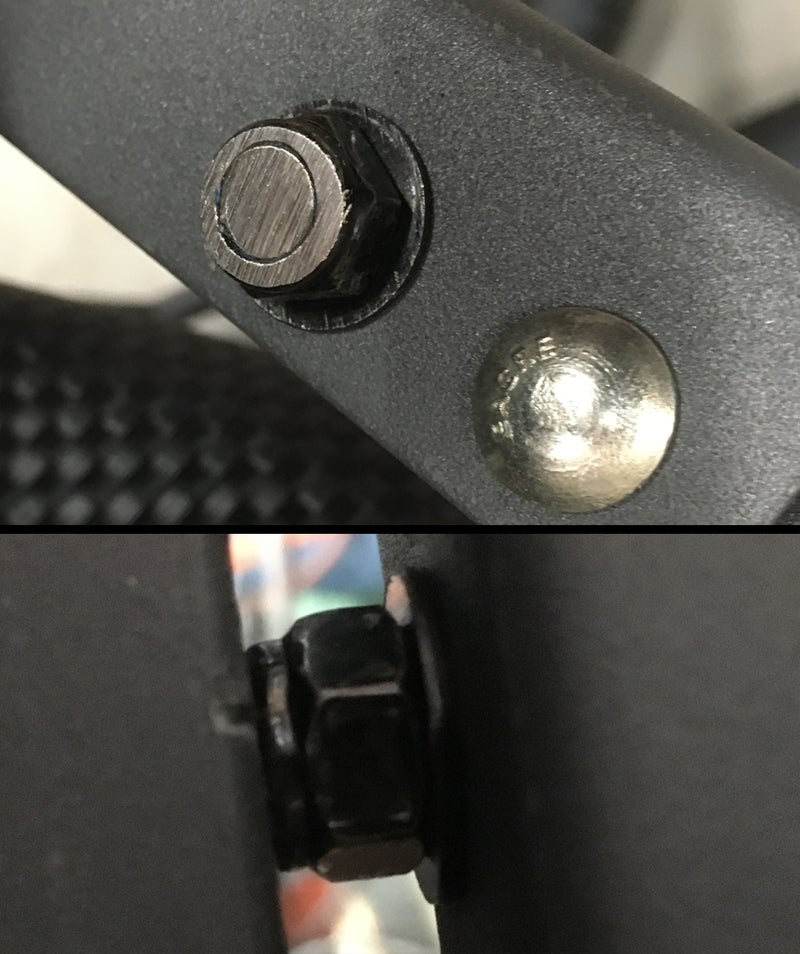 After all this, my longest test haul at home was with two 40-pound bags of salt. I loaded them up and commenced to drag them through some woods, purposely finding logs and other things to roll over. In my notes, I wrote, "It really does roll over logs and stuff pretty smoothly."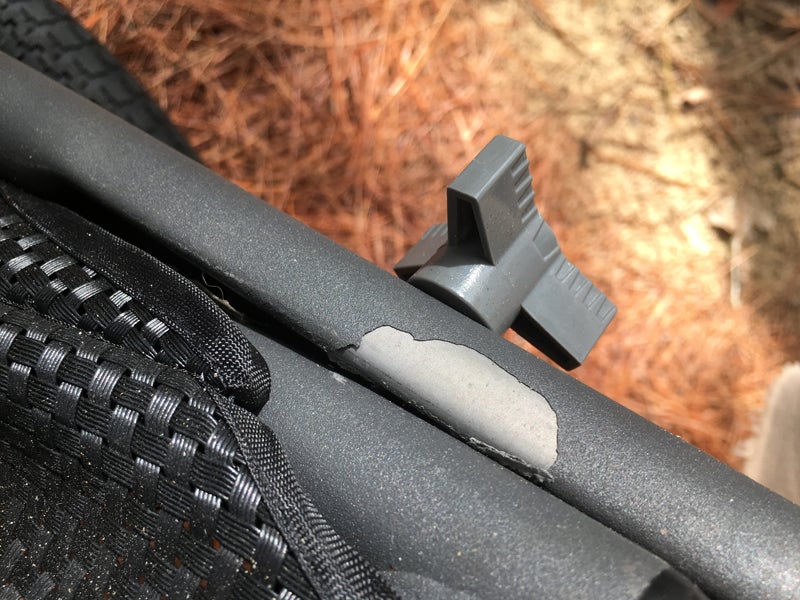 Then I folded it up to take it to hunt camp, and noticed a big hunk of finish had fallen off. Dang it!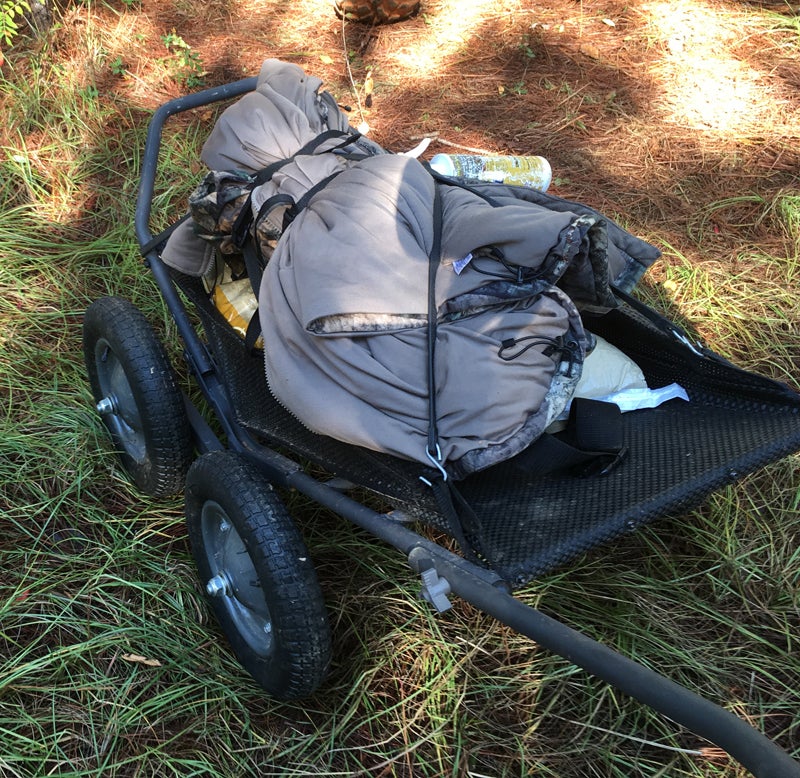 The Crawler rolls over obstacles well, and allows one person to haul a pretty good load. At one point I loaded three filled five-gallon buckets of water onto this cart to water my chestnut trees. That's 120+ pounds, which it carried just fine — so long as I had the pneumatic tires aired up.
Loading the Crawler reveals another design flaw — it will not sit level without help. While loading, you'll want to prop up the handle on something (a truck or UTV tire or trailer hitch, maybe a tree stump) so the cargo sling will remain level while you load it. If you don't, your stuff will slide right off before you can strap it down.
Once it's built and completed with some of your own hardware (Amazon reviewers also experienced missing hardware issues) the Crawler game cart is cool, rugged, and useful.
It's also high-priced, poorly packaged, and routinely lacks enough hardware for proper assembly… so it'll do the job, but not without some help.