It's no secret that I have opened a lot of bottles in my day,  mostly beer bottles once I get back to camp and the guns and bows are safely stowed away. When that gets boring, it can be fun to find new ways to do it, which is how I ended up with a Noogie "brass knuckles" opener last year.
Enter the Jurassic Croc, a smaller tool that does even more.
Available in aluminum or titanium, the Jurassic Croc will probably see most of its use opening bottles and cans (you can use the wedge portion opposite the "mouth" to pry up the pop top tab on aluminum beverage cans), but it can also be used as a philips screwdriver.
The wedge "pry bar" can be used as a flat head screwdriver in a pinch, or to pry open a paint can, and there's also a cutter on one edge which they say is "sharp enough to cut open those amazon boxes you keep ordering, but not sharp enough to cut your hands or pockets."
They say this thing is TSA safe, so you can actually have some sort of tool with you while you travel.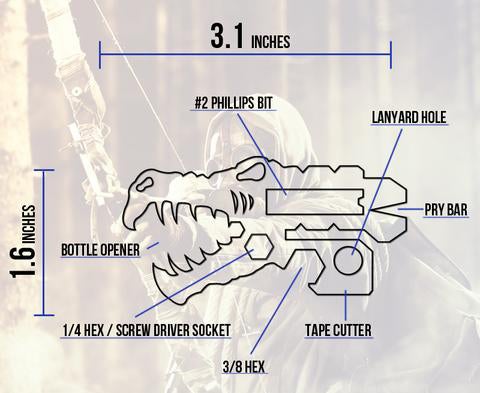 In addition to the aforesaid features, there's a 1/4″ hex socket, a 3/8″ hex wrench, and a lanyard hole — which comes filled with a lanyard when you buy it new.
They also offer a "slim" version of the Jurassic Croc, made of titanium and just 1/8″ thick. This version eliminates the 3/8″ wrench and the V in the pry bar.
The Jurassic Croc is listed on their website in several versions priced from $19.99-$35.95. Slim prices vary from $30-$40.
They are 100% made in the USA — including the philips bit, O-rings, and lanyard. And if the anodized finish wears off, they will re-anodize it for free — once. After that, they'll re-anodize for $5 a pop. You can read the guarantee details here.
With Christmas sneaking up on us, perhaps you know an outdoorsman who needs one of these little jewels, if I end up with one, you can bet I'll be reviewing it here.