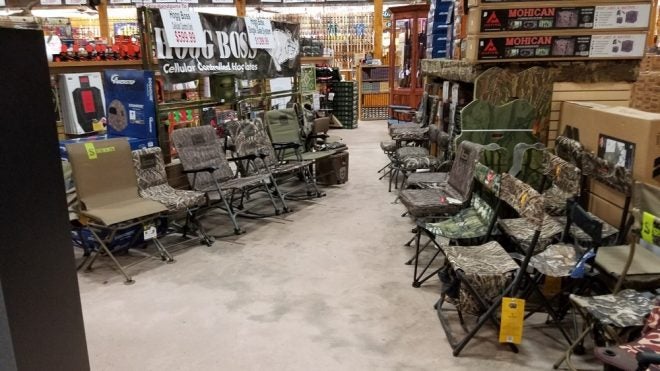 Time on task is a well-proven tactic for deer hunting. The more time you can spend in a hunting stand, shooting house, or ground blind the more likely you are to see deer. And to do so, you have to be as comfortable as possible as you await that trophy buck or a good doe for the meat pole. A long sit is hard to do.
Hunting seats and chairs have evolved greatly in the past few years as more and more hunters are now using enclosed shooting houses as well as brushed-in or fabricated ground blinds. Hunters are now opting for comfort as opposed to sitting on a hard bench in a shooting blind or on the bare ground. Luckily there are many options today.
The older deer hunters get (including myself), the more we need back support as well as butt support. For the rear end there are some great cushions on the market, none better than the line of Hunt Comfort cushions with the gel insert. But for the back over a long sit, nothing beats a regular hunting chair offering good back support and stability.
The next essential feature of a good hunting chair is that it must swivel. Really? Duh. Yeah I know, but then I see a number of good chairs offered on the market that sit great, but they don't offer a 360 degree spin around from stand window to window, or a smooth movement in a ground blind.
You have to be able to quietly and quickly wheel around from one position to another. Speaking of swiveling, consider also if you want a chair with wheels or fixed feet.
Another thing on the hunting seat checklist is armrests. I know a lot of hunters can do without armrests, but little else gives the complete stability of shooting on the ledge of a window out of a shooting house than having your primary arm supported by an armrest. These are also great for just general comfort when sitting for a long time.
What else? Well, height adjustment is a must, too. For shooting houses or even ground blinds, you want to be able to adjust the height of the chair to see and shoot out of a window or over/under structure in a ground blind. Commercial hunting blinds are built with different window heights, so you need that flexibility.
Other than these features, try out the seat cushions. You may want the back to tilt, too. Try out several to see which suits you best. It will be money well spent.