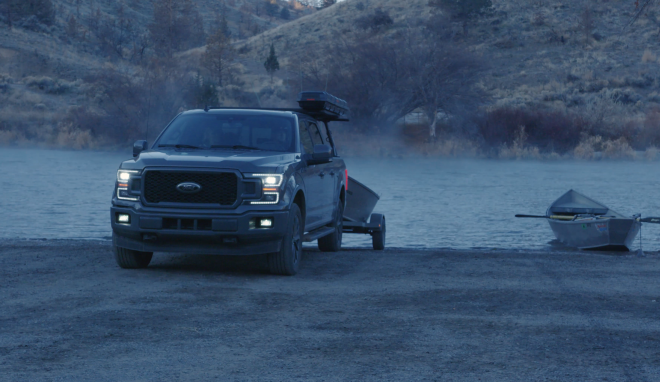 If you're an avid fisherman (or woman and you own a pickup truck such as the Ford F-150, you'll probably find real value in fishing gear truck storage products.
Just as you use a wallet to hold cash and credit cards while you go about your day, storage devices that hold your gear can make your fishing excursions a lot better organized and, in turn, way more relaxing.
Here are the top five truck storage products for your fishing gear:
Boatbuckle Rodbunk Deluxe Vehicle Rod Carrier System
This system will hold seven fishing poles and is designed to be strapped to the opposite sides of your truck bed.
It's built with durable nylon straps featuring automotive grade snap lock connectors that attach to the truck bed. All you need to do to use the Boatbuckle after installation? Pull the strap to the desired length, then press the button release and raise the system. can extend from thirty inches to sixty-five inches.
Plattinum Products Receiver Hitch Fishing Rod Holder
This is a good option to go with if you need to transport your fishing rods safely and securely in the back of your pickup truck, but in a way that will take up minimal space and leave plenty of room for other items.
Built out of a solid aluminum material, the Plattinum Products holder can accommodate six fishing rods at a time, with a one and a half inch square tubing that slides over a two-inch receiver. The rack pivots out as well, so it won't get in the way if you open up the tailgate.
Different colored options are available, including text black, white, and a mill finish.
Portarod Inshore 5 Rod Fishing Rod Holder
One of the best designed fishing rod holders on the market, it  enables you to carry fishing rods in the back of a pickup truck without needing to drill any holes.
Designed to be as minimalistic as possible, the Portarod Inshore 5 is built with a strong, aluminum body featuring the added benefit of a rust and corrosion resistance. It can withstand harsh elements like rain and snow.
The ratcheting support bar can be extended from fifty-three inches to eighty-four inches, so it can fit onto just about any size of pickup truck, regardless of make and model.
Tight Line Enterprises Magnetic Fishing Rod Racks
These racks are designed to be super easy to mount onto either a pickup truck or SUV. Featuring an injection-molded, heavily-ruffed nylon construction, it comes with a quarter inch bungee cord to secure the four fishing rods to the reel.
To use the Tight Line Enterprises rack, the hood or roof of your vehicle must be a ferrous metal, meaning that a magnet will stick to it. Fiberglass or aluminum hoods or roofs will not work with this product.
T-Rex Tough Fishing Rod Pole Rack Holder (with Toolbox)
This combo ensures that you don't leave anything behind on your next fishing adventure. It's a simple, yet impressive design with an array of great features.
Most impressively, the body of the T-Rex is built out of heavy-duty PVC tubes, coated over in marine grade composites that are rust, rot and stain proof. The entire design is very seriously sturdy and holds all of your fishing rods and other gear, even when you're traveling over bumpy roads.
Keep in mind, you don't have to use the toolbox for typical like hammers or screwdrivers). You can use it to hold all kinds of fishing gear – whatever you keep in your tackle box, or even the tackle box itself!
The soft V-notch in front of the tubes of the T-Rex can be used to center the rods and prevent them from twisting around as you drive. The hook and loop fastening system will keep everything even more secure over rough terrain. As an added benefit, you can buy this rack holder with a ten-year warranty from the factory.
Conclusion
Any one of the above fishing storage items can be used with the Ford F-150 to protect, hold, and transport your fishing gear and equipment to your favorite fishing locations.