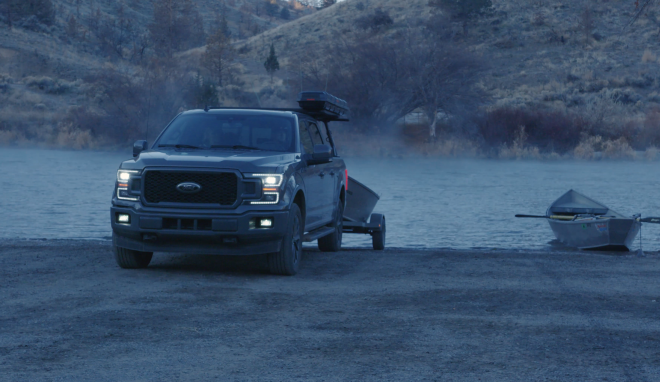 In the age of early hours and late nights at work, finding time to fit in a hunt can be difficult. We all know the guys who keep their golf clubs in their truck all summer in the off chance they can fit 9 holes in before or after work. Well, there are plenty of hunters out there that do the same thing with their bow and camo.
I was recently in a remote town of Oregon and saw something that is not common anymore. An old timer had his rifle rack in the back window, ready at a moment's notice to hop out and go on a quick hunt. For those of us living in a larger city or suburb, it's far less common to broadcast that you have your hunting gear with you.
To keep your gear safe when you are on the move, there are a number of great options to stow your valuables. Some options are built right into your truck and some are aftermarket accessories that can be a great addition to your truck. Adding a bit of personalization to your ride can make it that much more functional for your daily needs.
We've put together our list of the top storage solutions for your hunting gear:
DECKED Truck Bed Storage System
The DECKED Truck Bed Storage System is one of the most versatile aftermarket storage solutions available. The system fits in to your truck bed and affixes to the existing tie downs on the sides of your bed. This is the ideal install because you don't have to make any permanent modifications to your truck.
Once installed, the DECKED system shines. It comes with two full-length drawers that can be configured to the owner's needs. Easy "in and out" dividers make it perfect for small items like boots, tackle boxes, and other small odds and ends for your trip into the woods. When the dividers are removed, large cases for your compound bow or even fishing poles fit with ease.
Beyond the internal storage, the solution touts the ability to accommodate weights as heavy as 2,000 pounds up top. This is ideal for ATV's and 4 wheelers. Overall, the DECKED system is a must for the truck owner who wants storage versatility without compromising use of the truck bed.
F-150 Super Crew Integrated Storage
The 2020 F-150 Super Crew comes with a perfect storage system directly off the production line. When you have higher end small gear, such as a thermal monocular, binoculars, or spotting scopes, you don't want to leave them outside of the cab. Items such as this should be kept in an area of the vehicle where the temperature and moisture are more stable.
In the super Crew models, there is a compartment underneath the back seats that becomes accessible when the seats are folded up. The storage box gives you plenty of room to stow various items, which remain out of site when the seats are folded back down. Add to that the extra protection of locking your vehicle and you have a solid option for storage on-the-go.
Truck Vault
For the outdoorsmen who are truly committed to their truck and gear, the TruckVault line of bed storage solutions are the absolute top-of-the-line. The term "they thought of everything" gets thrown around a lot, however, in TruckVault's case, they truly have thought of everything.
This is not a one-size-fits-all solution. If you make the decision to buy this beast, you will be shocked by the level of customization you are able to incorporate. You can pick from 3 heights, including a version that sits flush like a tonneau cover. You are also able to choose the types of drawers, internal dividers, locks, drawer padding, and more. Our favorite feature is the drawer faces. You have the option of 6 looks, including Mossy Oak Shadow Grass Blades and Mossy Oak Original Bottom land When you consider the fact that any of their solutions can be purchased in a weatherproof configuration, you will find yourself seriously reconsidering the need for a tonneau cover.
Yakima TopWater Rooftop Fishing Rod Box
Anglers have more opportunity than hunters to hit a lake, stream or river and get a few casts in when some extra time presents itself. The only issue with keeping your rods on hand is where to keep them. Over the years, many have come up with home-brew options such as PVC pipes that will keep their rods safe on the go, but with products like the TopWater on the market, why take a risk?
The TopWater is Yakima's solution for safe and secure storage of your rods and reels. It's compatible with any of the Yakima line of racks, such as the LockNLoad or HD system, and has one of the easiest installs of any of the items on our list. It sits directly on the top of your rack or bars and uses 4 large nuts that are hand-tighten only. You can have the TopWater on or off of your truck within 5 minutes.
Final Thoughts
With any of these solutions, the most important item you will need is a dependable truck! The 2020 Ford F-150 is an absolute workhorse capable of towing your fishing boat or hitting some tough terrain on the way to your hunt camp. When you use your truck for more than a daily driver, the cargo hauling capability and tow ratings are crucial, and the 2020 F-150 is a high performer in both categories. If you are looking for a new truck, the 2020 Ford F-150 should be at the top of your list.