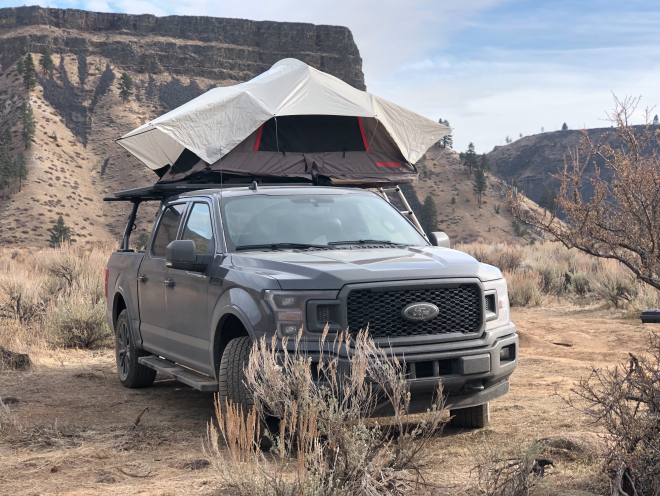 When it comes to mobile camping, one of your best investments is a rooftop tent, or a tent that is designed to fit directly over your vehicle.
Rooftop tents are one of the handiest options for mobile camping. They're super-convenient, they're usually quality-made and they're easy to set up: Simply prop them up, then extend a ladder. You can use them at traditional campsites, deep in the woods, or even off the side of the road or at a parking lot.
With rooftop tents, mobile camping is a breeze. They'll drastically reduce the amount of time spent setting up camp.
Here are the top mobile camping solutions:
Baja Series Kukenam 3 
The Baja Series Kukenam 3 is a highly customizable rooftop tent that makes it easy for you to switch between either a lightweight or a mesh nylon canopy, depending on the weather conditions. One canopy and rainfly are included as part of the set, but you can buy and install alternative ones as you see fit.
This tent also utilizes an A-frame inner structure system, which is very easy to deploy and gives you plenty of interior space to sit up and look outside of the windows. In total, there is enough room in the inside of the tent to fit up to three average sized people for sleeping, assuming that you use 2.5 inch foam mattresses.
Front Runner Roof Top Tent
The Front Runner Roof Top Tent weighs less than one hundred pounds, making it a superb option if you want a truly lightweight mobile camping solution that will also help with fuel economy. And along with being very lightweight, the Front Runner Roof Top Tent is also waterproof, durable, and fully-breathable to help reduce condensation.
It comes with an array of impressive features, including Velcro light loops, interior pockets, and a mesh window. It also utilizes a quick release mechanism, which makes it incredibly easy to attach and detach.
iKamper SkyCamp 2.0 
The iKamper SkyCamp 2.0 mobile vehicle tent works like an expandable hard shell, with a clam that forms one side of the tent and a platform that holds up the other side. The weatherproof and durable polyester canvas material also covers the tent to help keep out rain, moisture and wind. The iKamper ships with an ultra-comfortable mattress that's large enough to fit three full grown adults. Also, the bottom component of the tent is insulated to help keep you warm.
Tepui Hybox
The coolest thing about the Tepui Hybox? You don't just have to use it like a tent. When you unzip the mesh walls and take away the mattress, the Hybox essentially serves as a cargo box that offers you twenty three cubic feet of storage, which you can use to carry tools, snowboards, or anything else that you want to bring with you. Few other camping tents offer this kind of feature.When you actually the Hybox as a tent, it has two mesh windows and two doors, with a comfortable three-inch foam mattress. It has enough space on the interior to accommodate up to two average-sized adults.
Yakima Skyrise Tent
Even though Yakima is most famous for making roof racks, they also make rooftop tents. This tent is specifically designed by Yakima to help keep you cool on warm nights, and warm on cold nights. It offers plenty of ventilation, and the mesh sunroof enables you to literally sleep under the stars at night. Plus, the walls of the tent and the windows are both double layered in order to be fully waterproof.
As an added bonus, the Skyrise Tent is 100% compatible with other Yakima accessories, such as their kayak racks and annex rooms. Both three-person and two-person models are available, although both can accommodate more people when it comes to families with smaller children. 
Conclusion
All in all, these five rooftop tents are among the best mobile camping solutions out there. Whichever one you choose, you can count on high quality, an impressive array of features, plus a convenient and easy set-up.