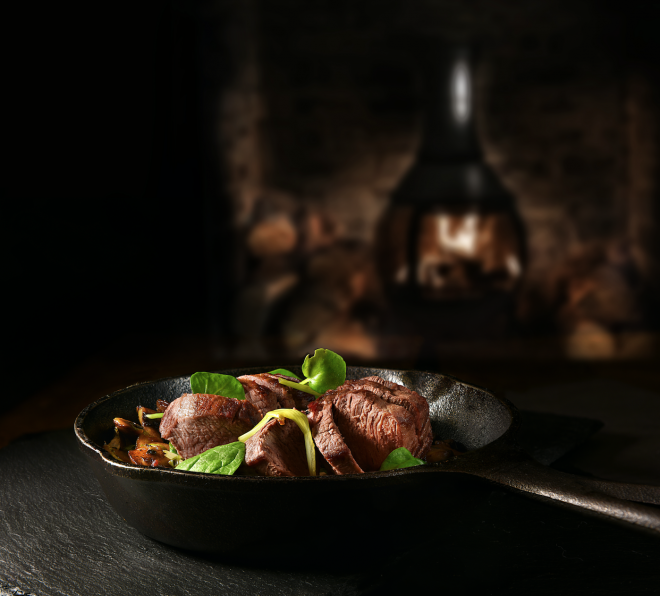 There is no family tradition more revered than "Eating Colorado," which takes place annually at my modest mountain home, tucked between the pines and aspens in the Laramie Mountain Range of Northern Colorado. This festive event takes place the Saturday before Christmas and involves weeks of preparation, from stuffing sausages and hanging Christmas lights to penning out invitations.
Family and friends arrive not to just celebrate the season but also the bountiful harvest brought to them from the fields and mountains by my trusty bow.
The Setting
An elegant Colorado blue spruce stands majestically in the corner by the woodburning stove and tickles the ceiling with its crown. Its blue-green needles are pleasant to the senses. Its smell is pungent but aromatic. This year  I'll have to take a little off the top of the evergreen to get that star on top.
The natural 8'' lodgepole logs that are stacked up to create my cabin's walls are adorned with mule deer antlers, antelope horns, stuffed head mounts, and various big game hides — both hair-on and hair-off. The rustic look and feel is calming and old fashioned.
Other walls are adorned with fantastic landscape art showing the rugged West and her majestic mountains. The works of Ansel Adams, captured in black and white, reveal grandiose peaks and snow-capped granite batholiths. These photographs are replicas of course. I'm just a poor, somewhat-famous writer.
John Denver croons in the background, telling stories of Christmases past, putting an exclamation point on the seasonal moment. Through the pane of my front window stands the majestic, windblown, snowy Mummy Range that forms the northern border of Rocky Mountain National Park.
No harsh lighting here, only the glow from the crackling fire, red and green strands of Christmas lights, and a dozen scented candles. It's really the perfect illumination for this festive get-together.
The Smells
There is no better fragrance than the one attached to a pot of homemade potpourri. I'll have a pot on the stove simmering during the whole festive event. It's easy to make and can provide a wonderful-yet-cheap gift for your guests when they part and head back down the mountain.
You start by dehydrating apples and oranges in the oven at 250 degrees. As the fruit dries, combine cloves, star anise, and cinnamon sticks in a pot, then add dried oranges and apples. I always make my potpourri with small and large ponderosa and spruce cones that fall from the conifers that surround my cozy cabin. All you need to do is dry them in the oven then add a few drops of your favorite essential oil. Your aromatic concoction will not only smell great put will have an authentic mountain look to it.
For Starters
Nothing will welcome your guests more than a generous selection of elk, venison, and pronghorn (often mistakenly called antelope) summer sausage. Finally, all the post-hunt grinding, mixing, and stuffing of my favorite wild game pays off. Sometimes ground sausage is the best way to enjoy pronghorn, nicknamed the "speed goat" by Westerners.
Many connoisseurs of wild game claim that pronghorn meat is too gamy — in our neck of the woods they primarily graze on sagebrush. I love the sagey flavor and enjoy experimenting with other spices. My sausage explodes with the distinct flavors of chopped jalapeno and sharp cheddar, which I blend in with the ground speed goat. Pronghorns are swift and athletic animals so naturally their meat is lean, and I'll add a little hog fat to the mix to improve flavor, texture, and tone.
The grouse and dove breasts have been in the freezer since early October and are awaiting a thaw and a day-long bath in Italian dressing. Once wrapped in bacon and held together with a toothpick, the bite-sized morsels are ready for the fire. It's simple — you grill two minutes up and two minutes down. Any longer than that, and you're going to ruin your petite appetizer.
My guests, mostly family and co-workers, have been waiting all year to make the drive up to the windy and curvy county road and the last few miles of dirt and rocks just to sample this year's amazing harvest which I have provided with my bow and a few arrows (and a couple of shotgun shells). I love kicking off their culinary experience with these delectable appetizers.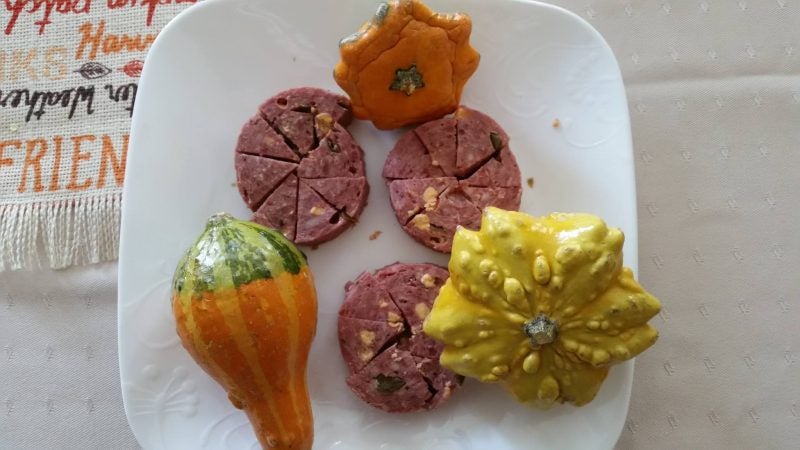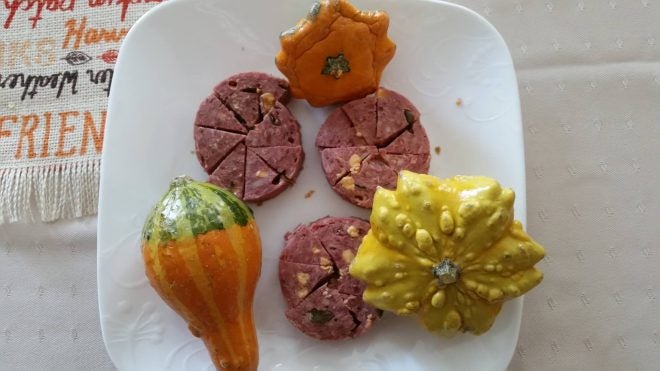 From the Fire
Your guests' mouths will water when they catch the aroma of bacon-wrapped backstraps wafting in from the fire. I'm obsessed with backstraps, those tender strips of meat that run along the length of the spine of a big game animal. It's really difficult for me to share such a prized cut of meat with others but I love to see the looks on my guests' faces as they savor the medium-rare loin that melts in their mouths.
They'll be plenty of backstrap for my holiday revelers; each elk backstrap weighs about 16 pounds. I'll marinate those bad boys in some of Colorado's finest ales mixed with horseradish and soy sauce and let them sit in the fridge overnight. All that's left to do is wrap the loins in bacon and put them to the fire. No need to overcook; remove and serve them after the bacon begins to turn black.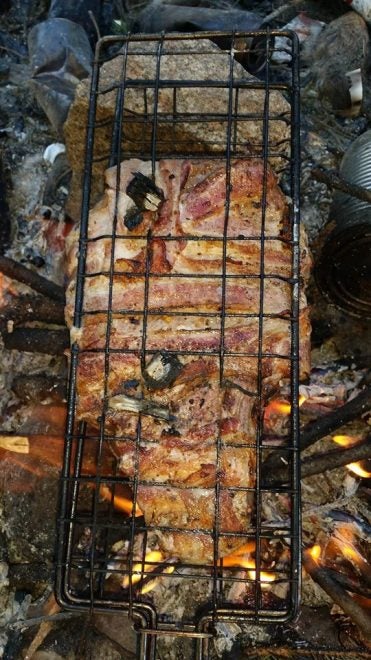 From the Kitchen, Slow Cooking
After the archery elk season has come and gone, I find myself returning to the same mountains to hunt for snowshoe hares, which have begun their color change for the winter. Their fur is absolutely beautiful and makes for stunning pelts I can give to my family and friends as gifts, along with a jar of homemade potpourri.
Under that fur is some tasty meat. The best way I've found to make the most memorable rabbit stew is in the crock pot. I've already quartered the hares in the field so they're ready for the pot. A cup of water, chopped celery and carrots, a sprig of rosemary, a can of cream of mushroom soup, worcestershire sauce, a cup of sour cream, and toss in a brace of coneys.
Add a cup of your favorite IPA, a few parsnips, and some potatoes. Let this brew simmer on low for about 6 to 8 hours. The meat from the Rocky Mountain critter is pretty lean and can get pretty tough if overcooked, so keep an eye on it.
You can round off your all-wild-game festival with a pot of venison chili. Mine's a three bean, black, pinto and chili bean recipe that is to die for.  Sliced Jalapeños and both ground and cubed venison make the dish tasty and unique. Your guests will empty the pot in no time.