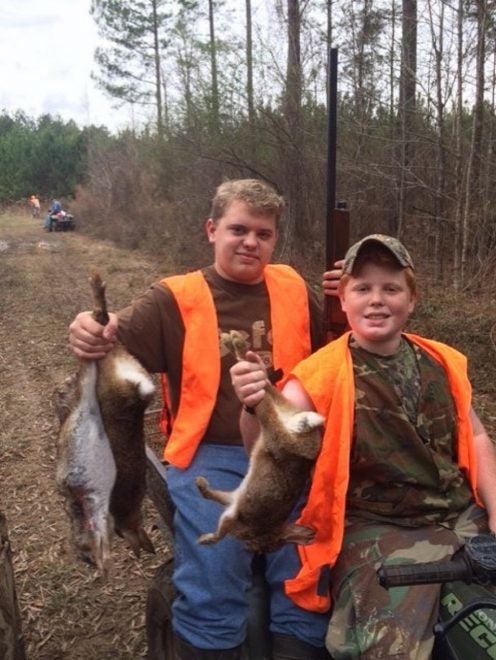 I bet a lot of hunters today got their start in the sport by walking down a few cottontail rabbits along the edges of farm fields. I know I did. I got my start with a Crossman CO2 pellet gun, graduating to a Stevens 410 bolt action shotgun, then finally a 20-gauge Mossberg bolt action (I hated that gun). Finally my mom got me a Beretta 301 12-gauge auto and I was set.
Rabbit hunting opportunity can be found just about anywhere there are high weeds and brushy habitat. Both public and private lands can offer good rabbit hunting. It can be done alone or with a partner. Even larger groups can work well if there is somebody to take charge as the official Hunt Master.
The primary tactic for chasing up some rabbits if you don't have a brace of beagles is simply to walk along the brushy edges of harvested fields, the border habitats in timber land, along grown up fence rows and field corners. Old wood piles are also classic rabbit hiding spots.
Walking down running rabbits is an art as is shooting them on the run. Talk about dodging and darting targets. Rabbits will certainly challenge even the best smoothbore shotgun shot. Sometimes they might sit for an easy shot, but not usually. Once kicked up out of a thicket into running action, they make for a tough shot. The funny thing about rabbits, too, is that they often circle back on the hunter(s) and come back for a second run as though it was a game to them.
If you are lucky enough to get invited on a rabbit hunt where dogs are used, then you are in for the best time of your life. Hunters working a good pack of hounds would often rather just listen to the dogs run and howl than actually shoot rabbits. I have to admit even those hunts are a great time. Usually these groups of dog handlers will allow guests along to shoot for the bag limit. A lot of hunters believe that rabbit meat is some of the best wild game eating there is.
Many hunters like the challenge of a good 20-gauge double-barrel or pump action gun. Others prefer a 12-gauge being able to let loose with more shot with a better chance of nailing the darting targets. Either way rabbit hunting is great fun as well as a great way to get young people involved in the outdoor action of hunting.