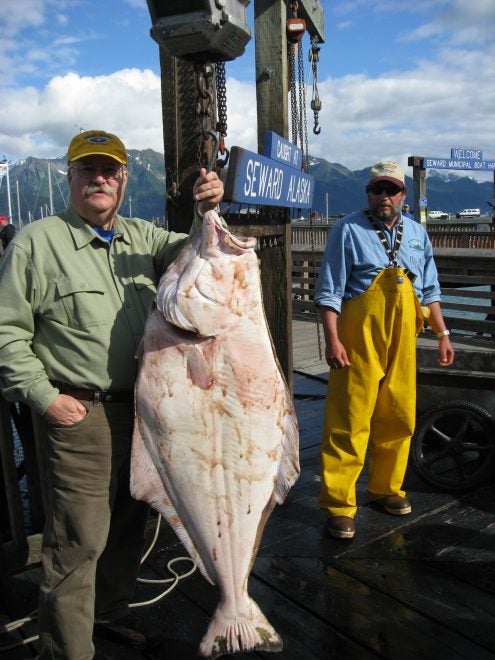 While you're sitting in your deer stand waiting for that big buck to step out, why not work on a little daydreaming about fishing in Alaska? You have to dream and you have to believe that such a trip us possible for you — and you should start planning now.
In my opinion the most basic, easiest, and least-expensive way to make a trip to Alaska for halibut fishing is the strategy I worked out on five trips there so far. First, get on the Alaska tourism web site and sign up to receive their brochures and information on traveling to Alaska. Especially request information on Seward, Alaska and fishing trips from there. This will provide tons of information on every aspect of the trip.
The best time to fish in Alaska is usually May, June, and July, but it can go on into September. When you start getting fishing outfitter and guide brochures, these will confirm the best dates. It is best to plan early and book early. This goes with shopping for the best flights to Anchorage, which is the main "jump-off" location. Plan to get a rental car as well.
On each trip I have made, my brother and I stayed overnight a couple of nights at a small motel by the airport. The Long House Hotel is a converted Navy housing unit right across from Hood Lake. You can catch a city bus right on the curb to downtown for restaurants and shopping. When you get ready to leave for Seward, plan a stop at Mt. View Sports Center, a comprehensive Alaskan outdoor store.
The drive to Seward is a straight shot to the coast at Resurrection Bay. In Seward there are motels, hotels, and bed & breakfast options. Once settled in, make the rounds downtown and stop in at The Fish House across from the boat docks. You can book all types of fishing charters there for halibut, and salmon including river trips if you plan for that.
Halibut charters are typically one-day fishing trips out of Seward. Charter boats cruise out as far as 60 miles to prime fishing waters. Charters will have all the gear and bait for fishing. You'll only have to take along some food, rain gear, and warm clothes. Back at the dock the deckhands will clean and bag your catch. Most motels have freezer units to store your fish.
There is nothing like a trip to Alaska. Plan well in advance for all the things you'd like to do. Be sure to take in some sightseeing and other activities. Alaska is a very special place.