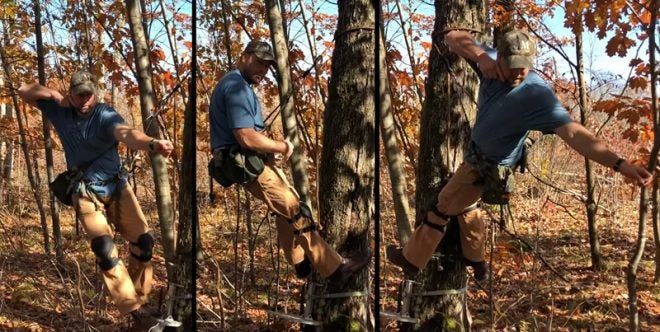 When I was 13 years old, I used a climbing tree stand for the first time, and I was soon in love. Even though that first experience left me dangling from the top section when the bottom one slipped off my feet, I recognized it as a great way to hunt portably and unobtrusively on public land. And using a climbing stand is the method I used for decades to do just that.
Along the way, my inventive uncle dreamed up a method of hunting and patented a tree stand to go with it. His method never caught on, probably largely because it requires boring into the tree, but it's quite similar to the "saddle hunting" method shown in the video below. The main difference is that his stand gives you a seat in which to sit.
The main attraction of saddle hunting is a great reduction in weight; you are using a lineman-style climbing rig to get up the tree and then to suspend yourself when you reach your desired height. This gear is much lighter than the lightest climbing stand, or even a hang-on stand.
The fellow who made this video does a great job of explaining how he came to try this method and its benefits — as well as its shortcomings. He uses it when he hunts remote areas of public land, so he can avoid competition from other hunters and hopefully hunt deer which have been undisturbed. The reduced weight of this system helps him do a better job of that.
Once you get up to height, you can strap a small foot platform to the tree, or lash a series of "squirrel steps" around the tree so you can support your weight on your feet. Our instructor prefers the platform because it enables you to better distribute your weight to the soles of your feet.
One plus that I would have to employ if I used this method would be the use of a back rest, which is actually a thing — he uses one in the video. Nice!
He demonstrates two different saddles; one lightweight "Tethrd Mantis" model and a larger one called the Aero Hunter Kestrel by New Tribe
It is certainly interesting. Do you think you would try it? I am tempted, although my knees and other various bits o' body are getting creaky these days.
Watch the video and let us know what you think.