These Alaska High Schoolers Butchered a Moose in Class
Russ Chastain 12.30.19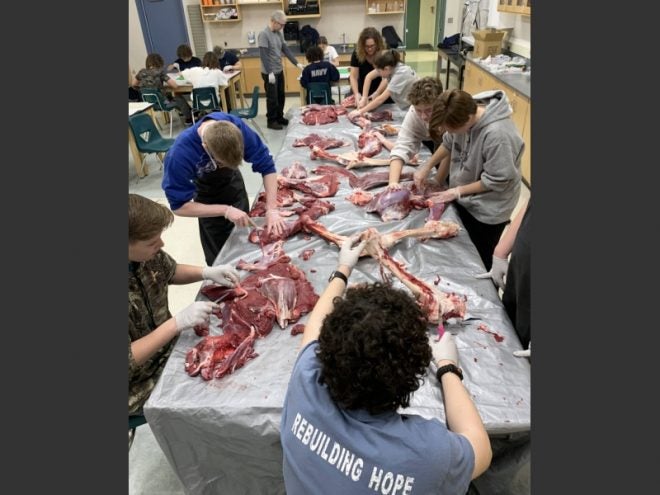 Alaska. I've never been there, but I love the place.
The reasons are myriad, with the latest being this article about a high school teacher who brought a dead moose to Chugiak High School (CHS) and set his students about the work of turning the carcass into edible cuts of meat packaged and ready for the freezer.
What's that you said? I couldn't hear you above the sound of angels singing in my head.
Students in Brian Mason's class at Chugiak High didn't ace their big test Tuesday. They butchered it.

Mason brought a cow moose carcass to class in the back of his pickup truck that morning, and for the rest of the day his students went to work de-boning, separating, grinding, and packaging the animal. The bloody business served as a way to immerse the World Discovery Seminar (WDS) program students in Alaska cultural traditions, give them a basic understanding of anatomy, and teach them practical life skills.

'What I try to emphasize — and the World Discovery Seminar program as a whole — is to emphasize experiential learning,' he said as nearly 30 of his students used thin knives to slice up the carcass. 'You can learn about anatomy from diagrams and textbooks and videos but getting your hands on an animal is a big part of the science aspect of it.'
WDS is described an "alternative course of high school study" and "a school within a school" and its stated goal "is to establish a smaller learning community that creates a sense of identity, belonging, and teamwork within the WDS program, while maintaining strong ties to the CHS families of departments and programs."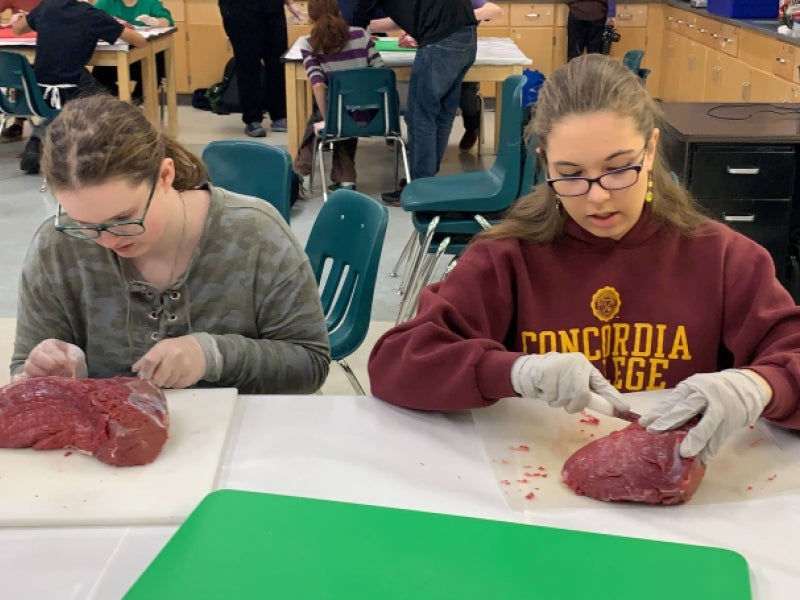 Students get to learn from doing rather than just reading or listening to lectures. This better reflects real life, in many ways.
Ryley Edwards said the hands-on nature of the program gives [her] and her WDS classmates a better insight into what they're studying.

'We do a lot of things that are more interactive than other classes,' she said. 'It's more fun for learning stuff instead of just on paper.'
The moose itself was obtained via a special Cultural Educational Harvest Permit issued by the Alaska Department of Fish and Game, which allows for the harvest of game animals for educational reasons.
There go the angels again.
[This permitting] program is a way of allowing educators and elders to use Alaska's game populations to pass on cultural traditions and practices related to hunting and gathering in the state.

'Those aspects are huge for Alaska,' he said.
Although the teacher hoped to teach his students the entire process of skinning and cutting up a whole moose, he was unable to get the big animal out of the woods without skinning and quartering it. But the high schoolers did get to learn about removing unwanted parts such as the lower legs, deboning the meat, trimming it, packaging it, and even grinding up the tougher bits.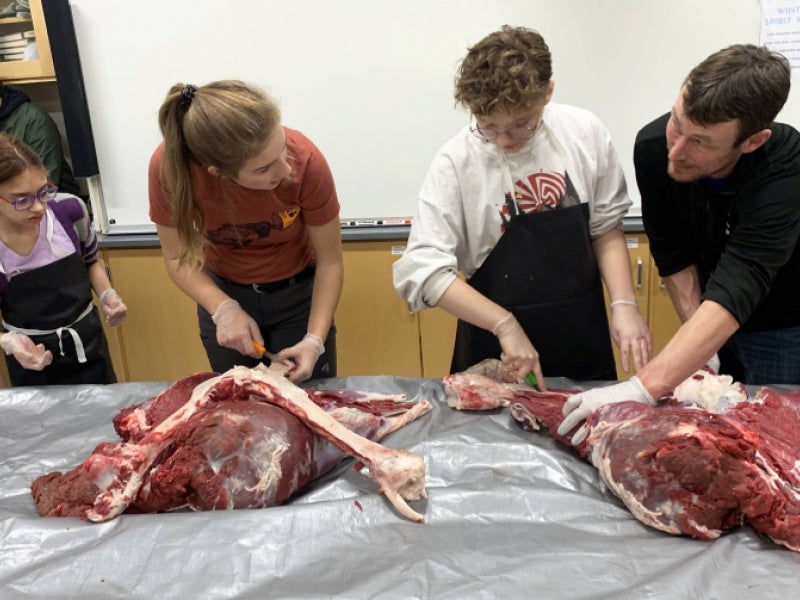 Concerned about how the teens might react to a seemingly grisly task using sharp knives? So was the teacher.
Mason said he was initially worried about how his students would react to the lesson, which required them to both deal with graphic subject matter and be responsible with dangerous tools. But once the cutting started, the class became silent, focused, and extremely occupied with the task at hand.

'They're all being super safe and responsible and frankly they're really engaged,' he said. 'I wasn't sure how some students would really deal with the process of getting their hands on a dead animal, that can be an off-putting experience for some students but I've been really impressed with them.'

Student Reuben Dobson said students understood the trust Mason was putting in them by allowing them to use the sharp knives in class.

'I think our teacher knew we're here to learn and we weren't going to be stupid,' he said.

There were some squeamish moments early in the lesson. While showing the students how to separate the moose's hoof from the rest of its leg, Mason warned there would be a somewhat sickening sound — then demonstrated that sound by snapping the hoof off with a loud crack. Some students squirmed in their seats.

'Talk about a wake-up call,' quipped student Jasmine McLean.

McLean said the moment gave her pause.

'You think it's going to be okay and then you do that and it's like, "It's not going to be that easy,"' she said.

However, once McLean started cutting she proved a fast learner, probing through cartilage and meat as she expertly cut meat from bone.

'It's easier to process once you get more into it,' she said.
Some of the meat will be cooked and eaten by the class, and the rest will be donated to charity.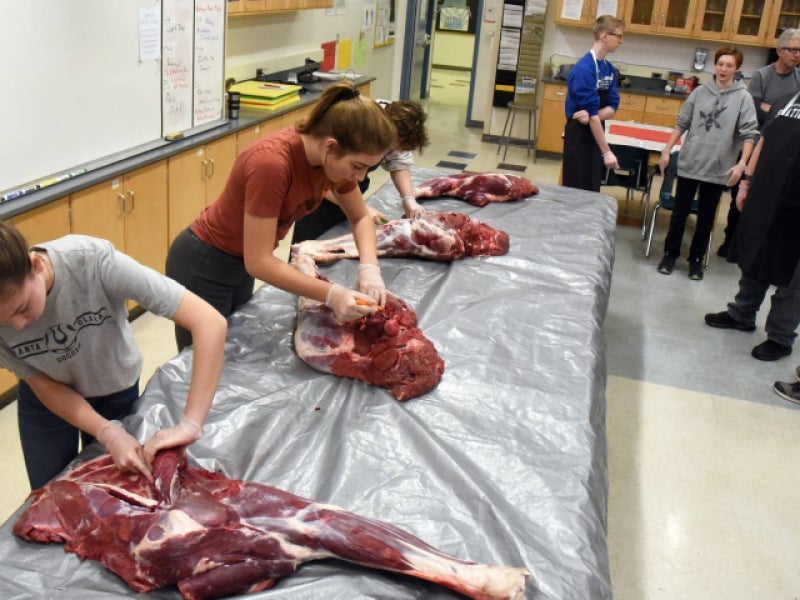 God bless Alaska.