New Year, New Gear! MDT Poly Metal 308 Magazine 10 Round Capacity
Adam Scepaniak 01.02.20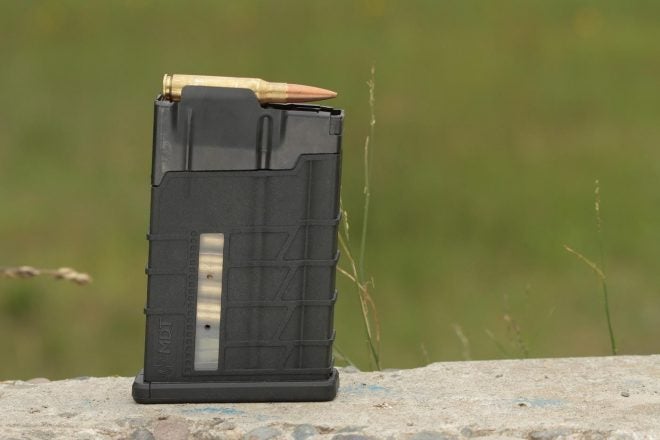 MDT, or Modular Driven Technologies, has rung in the New Year by bringing all of us a new hybrid poly metal .308 Win pattern magazine for AICS shooters at a more affordable price-point. The MSRP of $49.95 for a simple 10 Round black magazine punches in at a much more attainable price for most shooters. The simple specifications for the magazine can be read below as presented by MDT:
10 Rounds of 308 Family Cartridges
COAL: 2.870″
Weight: 5.5 Ounces
Compatible w/ all AICS-Pattern Short-Action Chassis that MDT offers (including Howa inlets)
In the arena of long-range shooting, AICS Pattern magazines tend to reign supreme in quality and are very common for various action types and chassis systems. So this announcement of a poly metal hybrid magazine should come as welcomed news to many shooters. A short Press Release statement from MDT elaborating more on their newest magazine can be read below as well:
The MDT Poly/Metal Magazines are a new advancement of the tried and true AICS pattern magazine. The combined polymer and steel magazine make for a unique, lightweight, slick feeding magazine. The body is made from high strength polymer and features a clear window in the sides of the body to easily view loaded rounds. The Polymetal design features steel feed lips that are mated to the polymer body to ensure smooth, reliable feeding in your rifle.

The metal feedlip assembly contains the latching boss, significantly increasing the durability compared to a polymer equivalent. The metal feedlips can also be easily adjusted or tuned to improve performance with other cartridges.
For all of our long-range shooters in the reading audience, what do you think of this new offering from MDT? Is this a magazine you would be willing to try out this coming year in competitions, for recreation, or even hunting? Let us know all of your thoughts in the Comments below! We always appreciate your feedback.