Review: Bushnell Nitro Scope 4x-16x 44mm 30mm Tube
Russ Chastain 01.06.20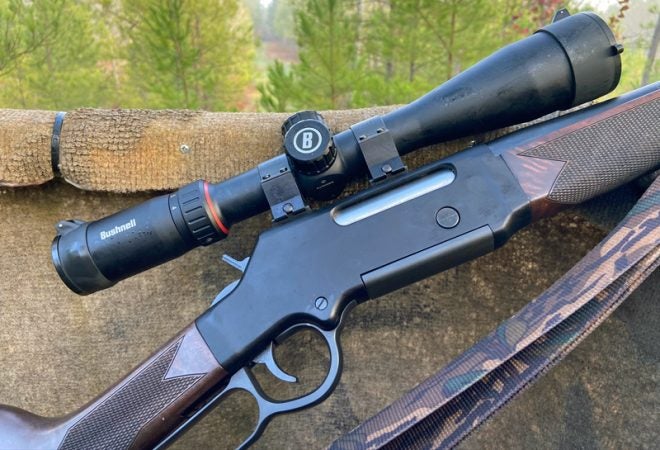 During my "hunt with a Henry" last month, when I used a lever-action rifle in 6.5 Creedmoor (you heard me) to take a whitetail and a coyote, I used a nice Bushnell scope. And now it's time to review that scope. It's a Nitro 4x-16x cope with 30mm tube and 44mm objective lens.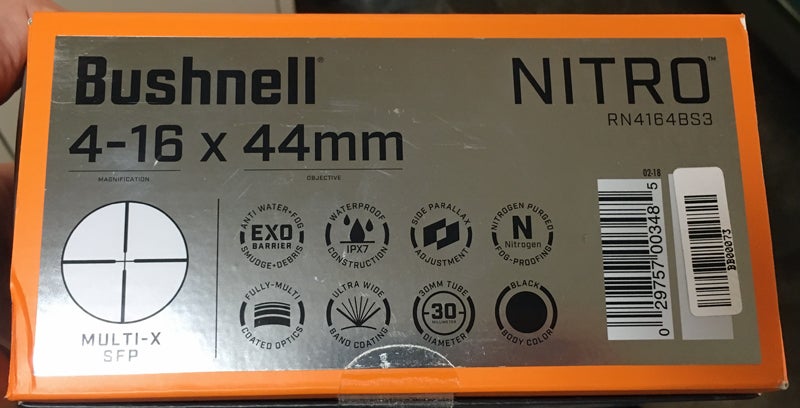 Let's get the details out of the way:
Focal Plane: Second (Current models are apparently First)
Waterpfoof: IPX7
Reticle: Multi-X SFP (Deploy MOA FFP and Deploy Mil FFP available)
Color: Matte black (gunmetal gray available)
Magnification: 4x-16x variable
Objective: 44mm
Parallax Adjustment: Yes, side-mounted, 10 yards to infinity
Eye Relief: 3.6 inches
Tube Diameter: 30mm
Length: 13.9 inches (mine is almost 14.5″ with the scope caps intalled)
Weight: 1.4 pounds
Turrets: Capped target type, O-ring, Non-locking, Zero-resettable, No zero stop
Adjustment Range: 50 MOA/14.5 MIL for windage and elevation
Clicks: 1/4 minute
Field of View: 4x = 23 feet at 100 yards; 16x = 6 feet at 100 yards
Lens Coatings: Multi-Coated; EXO Barrier; Ultrawide band anti-reflective coating
Accessories: 2.5″ screw-on metal sun shade for objective; flip-up scope caps; Spudz lens cloth
Country of Origin: South Korea
Mounting
The Henry Long Ranger 6.5 Creedmoor rifle has no iron sights, and it comes with a pair of Skinner scope bases of the Weaver style.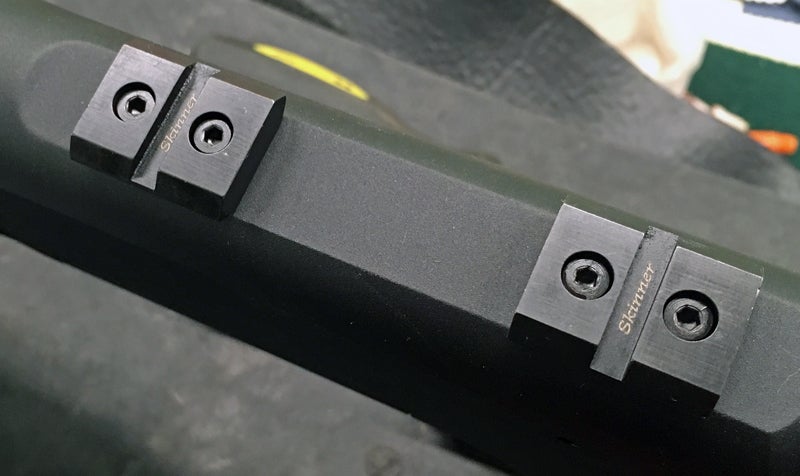 I used a pair of high Weaver QD rings of the "top strap" variety. These are not my preferred rings, but they came with the scope for review, so I felt obliged to use them. My dislikes for this type of ring include a tendency to mar the scope during installation and a tendency to rotate the scope as the top straps are tightened. What I like about them are the quick-detach (QD) feature; it's super easy to remove the scope (with rings still attached) and put it back on with reasonable expectation of maintaining zero.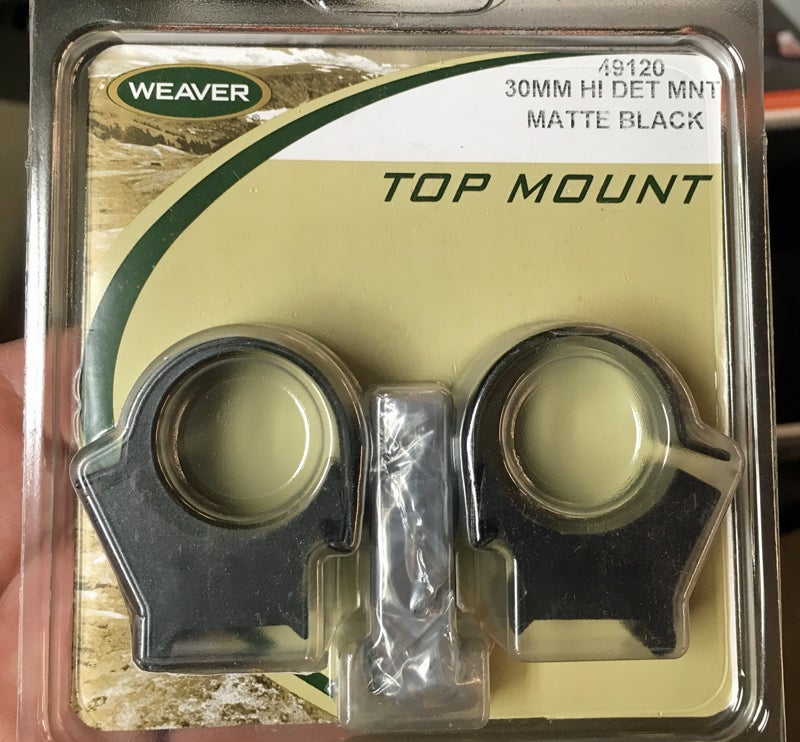 I would have preferred medium or even low rings, but these did okay. I just prefer to keep my scopes as low as possible.
Mounting went smoothly; just remember to start with the crosshair/reticle rotated slightly out of plumb before you tighten the rings, because they will pull the scope clockwise as they are tightened. A quick boresight, and it was off to the range.
On the Range
I had a tough time finding the right ammo for this rifle, so I got a lot of range time with it. It was always easy to see my targets at 100 and 200 yards, and all controls work well.

I ordered my scope with my favorite type of reticle for hunting, which is a "plex" type crosshair. Bushnell calls this "Multi-X SFP," but when I look on their website I no longer see this type available.
In the Field
In the field, I was happy with the Bushnell Nitro scope, and it delivered accurate shots when I needed them. Most of the time, it gave me nice clear views of the game I was checking out so I could quickly determine gender and age of deer. In low light conditions, I did find its light-gathering insufficient to make positive ID on deer 100+ yards at full magnification.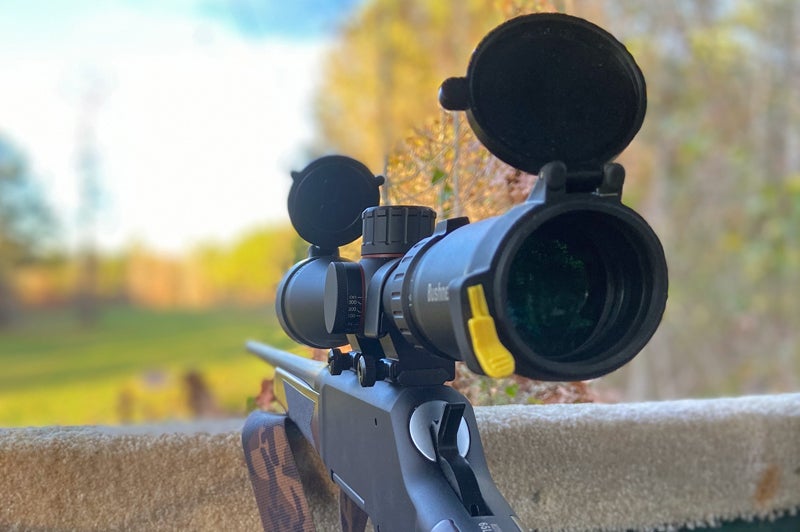 This is typical of high-powered variable scopes, and I've experienced the same from much more costly scopes. The sad fact is that the higher the magnification, the darker the image appears. So if you want to get nice bright 16x views at dawn and dusk, you'll be disappointed — and you will probably have to spend a LOT more to get that. As it was, I found myself with less eye strain than I've experienced with more expensive scopes.
At all other times this scope provided clear, crisp images at all magnifications and distances — as long as I remembered to use the side-mounted focus knob. This helps a lot when you are viewing 300+ yards, and a small adjustment of the knob is all it takes to crisp up your sight picture. I like how you don't have to turn the focus very much; in less than a quarter-turn you can adjust from 50 yards to infinity.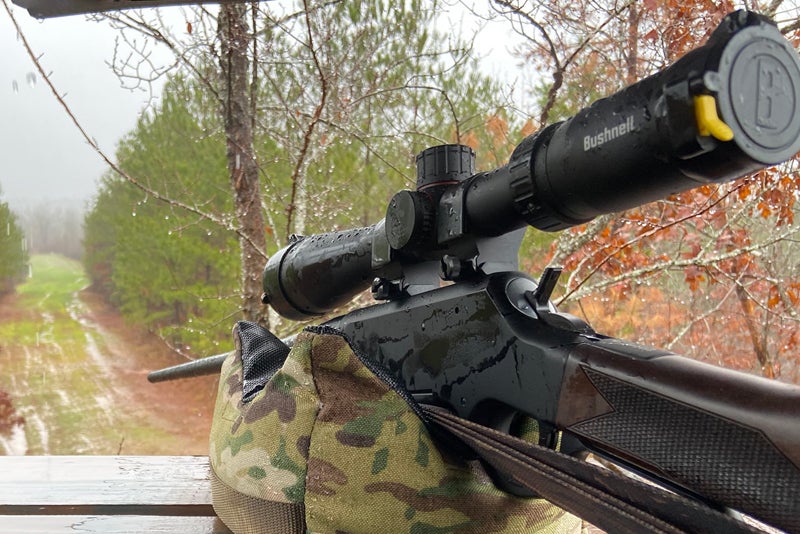 I carried this rifle and scope in cold and mild conditions, sunshine and rain. It served me well and never left me with a scope I couldn't see through when I needed to. The flip-up Bushnell scope caps helped a lot with that — especially when I spent all afternoon in the rain with the wind blowing it right at me.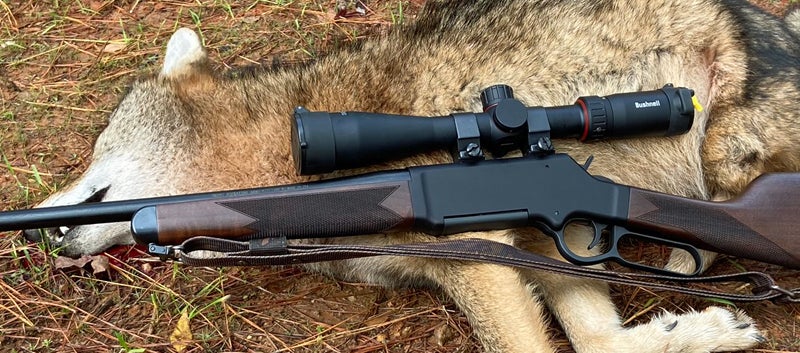 Changing magnification was smooth and was not a problem. Some scopes make this awkward, but on the cold, foggy morning when a big male coyote crossed paths with me, I managed to get the rifle cocked, both scope caps popped, and the magnification cranked up in short order. Haste is often required when it comes to coyotes, and I was not delayed by the Nitro scope's controls. The magnification adjustment ring is easy to grab and twist, even while wearing gloves.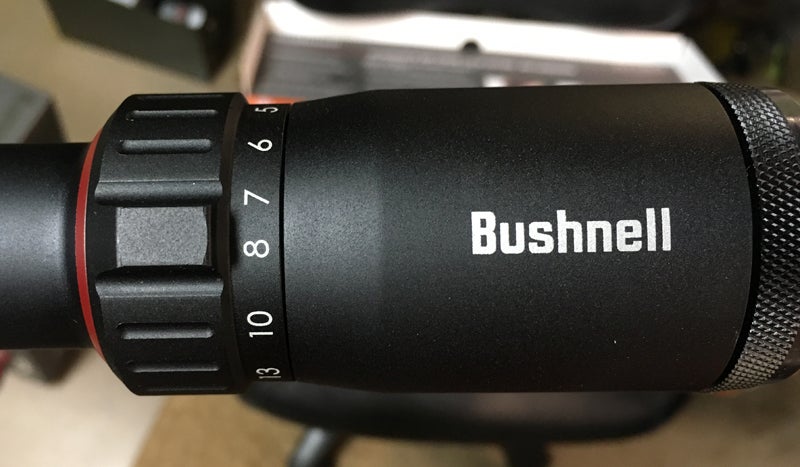 At more than 14 inches long without the sun shade and with the flip-up caps installed, this is not a small scope — but high magnification and good clarity require a good-sized scope. It's no baby, but it's no more bulky than other scopes in its class.
Accessories
The flip-up scope caps already mentioned are much more useful than the old-fashioned scope covers with elastic cords, and aside from keeping rain and fog off my lens they also kept dust off the glass when the rifle was in an overhead rack in my UTV.
My only gripe with this type of cover is its tendency to pop open when you don't want it to (walking to your stand, for example) and that it's pretty easy to break one if you don't realize it's popped open while you are working your way through the woods.
The box also included a nice matte black aluminum sun shade, which is threaded to screw into the front of the scope.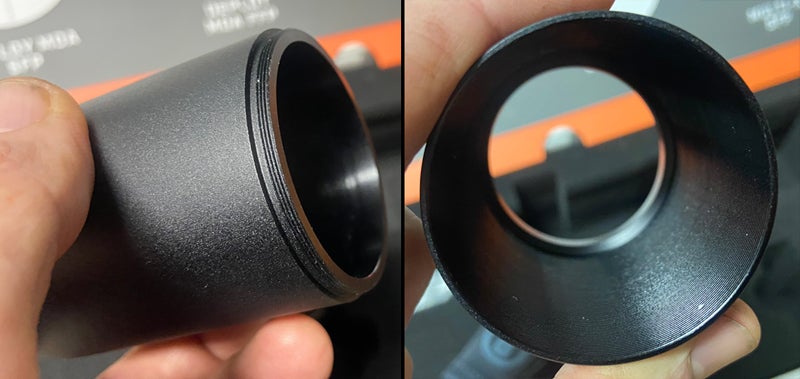 The final nice touch was a Spudz lens cloth. It's self-stowing in a neoprene holder with a plastic clip, and the lens cloth is of generous size (roughly 5.75×6 inches). This is great to keep close at hand to clear the scope when you fog it up with your breath or get some dew on the lens.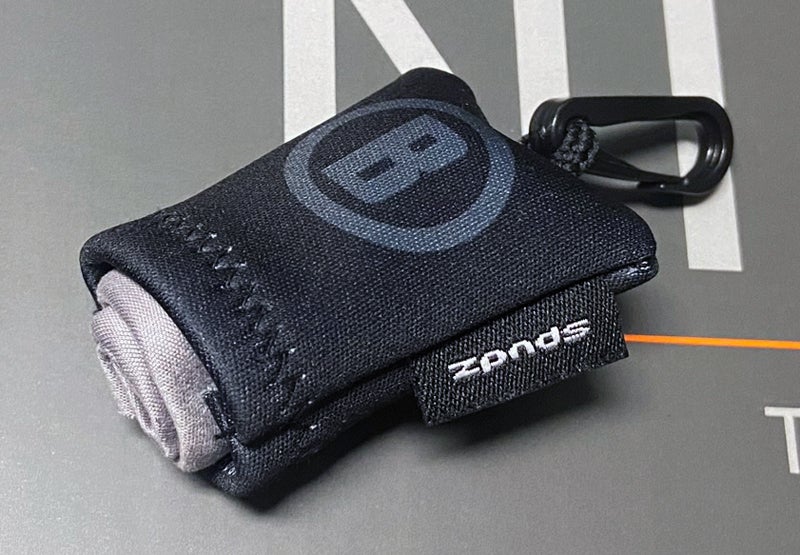 Because it stows away in the protective neoprene, it's much more useful than the usual "plain jane" lens cloth that comes with most scopes.
Turret Adjustment
Adjusting windage and elevation to zero the scope is super-easy — no coin required. Remove turret caps, adjust as needed with your fingertips (1 click = 1/4″ at 100 yards), and put the caps back on. But after zeroing the rifle, you may wish to reset each turret to zero. This is easy to do — without tools.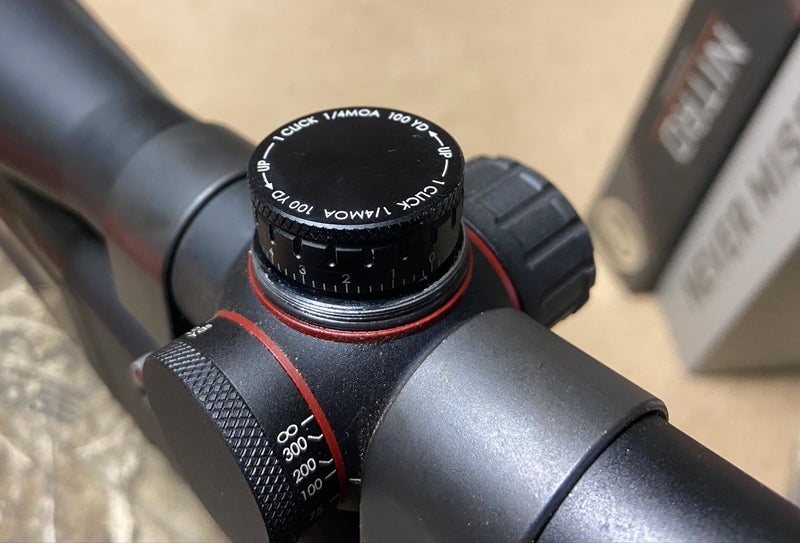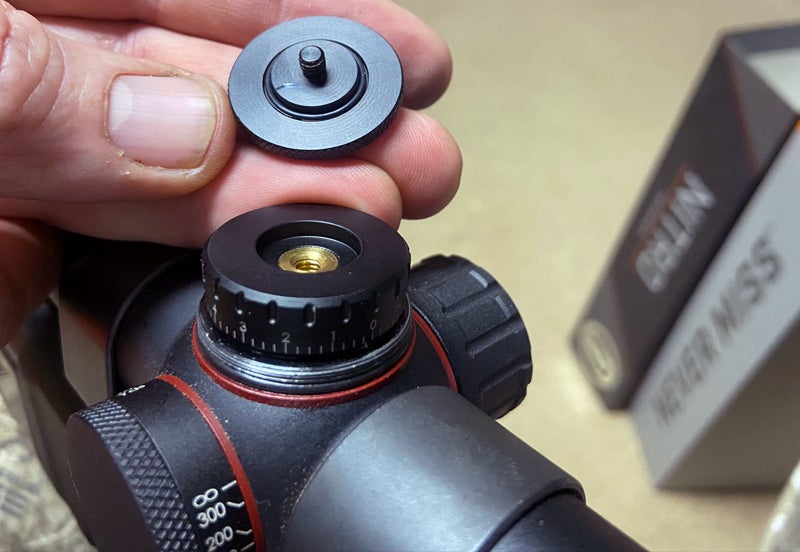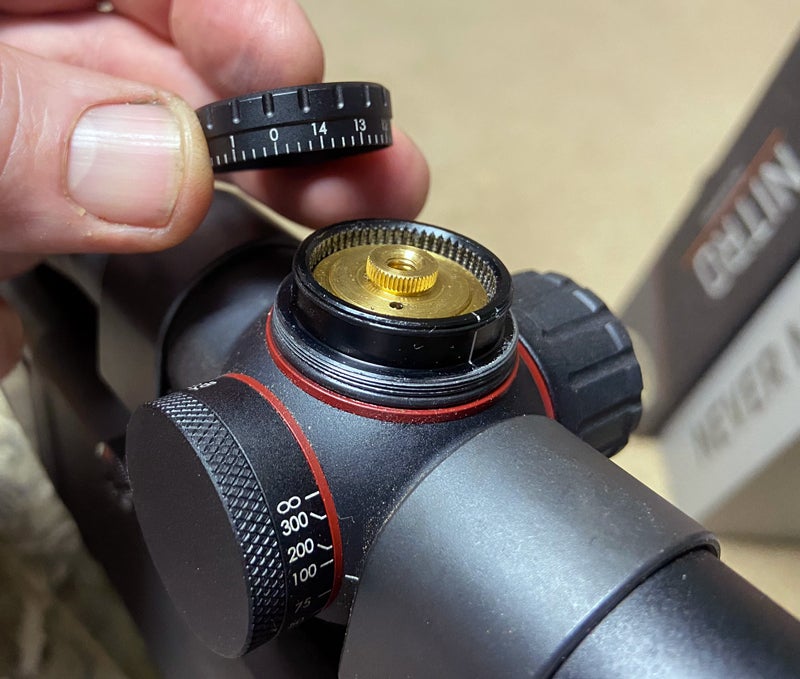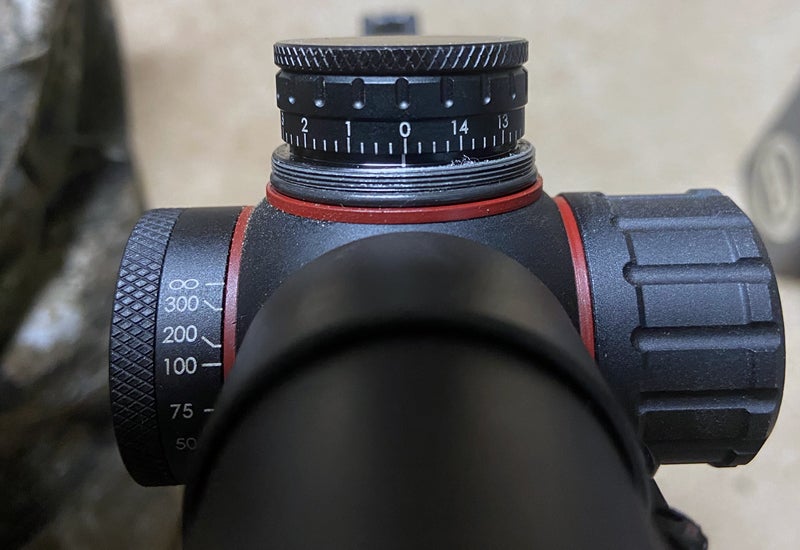 The windage turret works the same way, so it's easy to set your turrets to zero without any tools, even in the field.
Conclusion
I have been through a number of high-powered rifle scopes in recent years in my quest for an affordable, clear, durable, high magnification scope that will allow me to rapidly and accurately identify deer and other targets, and place accurate shots on them. Currently priced at less than $300, the Bushnell Nitro 4x-16x 44mm is a bargain-priced scope which performs comparably with much more costly models I've used.
Is mine super-bright at full magnification? Nope. But neither are the 30mm Leupold and Zeiss models I've owned — and they cost a lot more.
Elevation and windage adjustments are easy, as is resetting the turrets to zero. Adjustment turrets are target-style but are also securely covered, so you won't accidentally change POI by bumping one in the field — but the covers are large and easy to grip when you need to spin one off to tweak things.
To top it off, this is a good-looking scope; I like the red accents.
Pick up a Bushnell Nitro 4x-16x 44mm riflescope; I don't think you'll be disappointed.