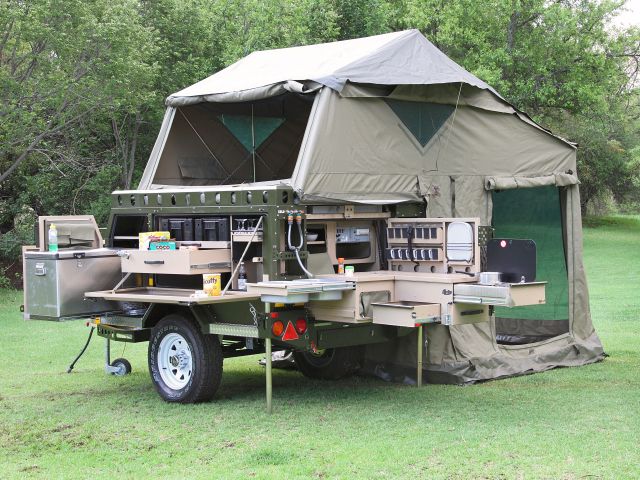 With prepping and survival planning a hot activity these days, a number of new products have been developed to fill certain voids in the supply line. Many preppers have not selected an alternative bug out site, but wish to remain mobile in their SHTF escape. They also desire something more substantial than throwing up a camping tent. This is where Conqueror Campers come in.
Apart from the ordinary by a long shot, Conqueror Off-Road Campers were originally created for sustainability in the harshest of conditions in South Africa. Built for military use, they have now come to America to offer the finest in a self-contained trailer to be towed to any spot desired. The features and components of these trailers are top notch.
Though several models are being manufactured offering an array of features, options, and amenities, the model picked for further detailing here is the UEV 390. It is one of their best-sellers and it is easy to see why.
The base trailer is two-wheeled trailer unit, 50mm ALKO coupler with a standard axle. The 3×16 inch allow wheels come with R245x70x16 all terrain type tires. There are LED tail lights with two heavy duty support legs fitted at the rear. Mud flaps help reduce materials from slinging off the roadway or off-road trails.
The camper when unfolded and set up includes a pop up type tent on top featuring a king sized bed with a large living area below. There is a mini-bar, and a full slide out kitchen. The living area is big enough for an inflatable double bed or two single camping cots.
The kitchen is remarkable. It has multiple storage compartments to compliment the "L" shaped cooking and prep area that slides out of the unit. Features include a frig, freezer, a slide out stainless steel stove, two 4.5kg gas bottles and two 75 liter water tanks. It includes a pressurized water pump and filter, a crockery slide out shelf with crockery set and cutlery.
The trailer has storage galore with two jerry can holders with two military type jerry cans, slide out storage shelves, a bathroom cupboard, and utility bags fitted in the doors. Lighting provided are six LED lights inside the trailer, six LED lights with 5m extensions and plugs. Other accessories are tie down straps, 8 tie down eyelets, a galvanized BBQ grill fitted to the spare wheel, an axe and shovel in mountings, an Oztrail toilet and shower cubicle plus a fire extinguisher. This is the ultimate prepper bug out camping trailer.
Check out all the Conqueror trailer models and complete specifications at www.conqueror4x4.com. If you're into deluxe camping during trying times, this is the way to go.