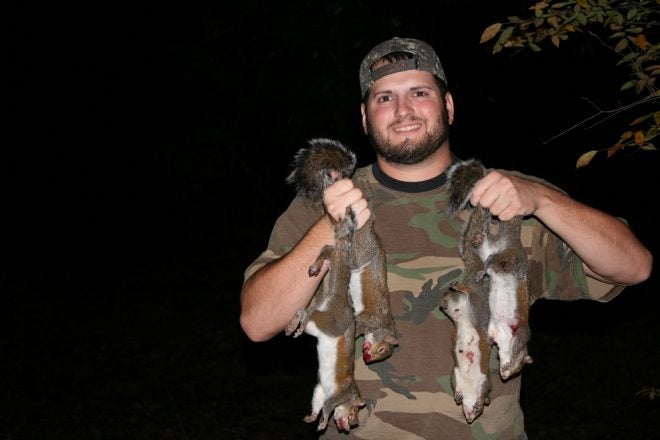 Deer season is over. Now you have to do what the ad for Geico insurance suggests: "pump the brakes and swap over." The Geico Gecko is working on a flyer print job when he is directed to hit the stop button to switch over to a new order. In this case, clean and put up the deer hunting gear, and get out the squirrel gun, shotshells, good walking boots, and a game bag. It's time to transition from big game to small game.
Deer hunting may be over for this season, but hunting is not. In fact some squirrel hunting right now is probably the best thing you can do to close out the hunting season. There are few types of hunting more fun than strolling through the woods spying for bushy tail movement high up in the trees. It is slow-paced and a great way to spend a day in the woods (for post-season deer scouting). Be sure to take a kid along, too, to show them the ropes.
Gear? That is one of the best things about squirrel hunting. You don't really need any high tech gear or a super fancy gun or anything special at all. Just plan to dress for the weather and be prepared for wet terrain or water crossings. Take lightweight binoculars if you want. A good waterproof ground cushion is a best bet along with a game bag for the quarry as well as some water and a snack or two.
Like most hunting sports there are multiple ways one can squirrel hunt. There is the classic solo hunt just quietly slipping into the squirrel woods, sitting up against a big oak tree, and waiting for the shots. There is partner hunting where two hunters slowly move through the woods working both sides of the trees getting the squirrels to move around to the other side for the partner to shoot.
In some areas of the country, squirrel hunting with dogs is an honored tactic. The dog(s) tracks the squirrel on the ground running him to the tree for some fast paced shooting. The dog action becomes as much of the experience as the hunting. Imagine the fun of that.
Gun wise all you need is a good ol' shotgun, 20 or 12 gauge with a modified choke. Bring a box of No. 6 lead shot or 7 ½ if you're confident. Some choose an accurate rifle in 22 rimfire scoped or not. That, too, is clearly a challenge.
So, "pump the brakes and swap over" from deer hunting to squirrel hunting. I can think of fewer better ways to wrap up a good regular hunting season.