Hodgdon Powder… Where is All of It Hiding and What is Going On?
Adam Scepaniak 02.04.20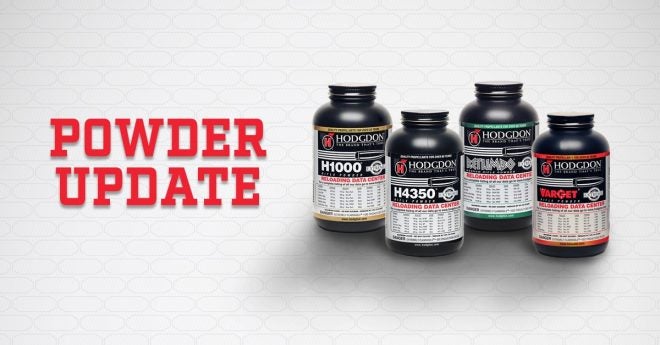 Many reloaders for the last half of 2019 were hard-pressed to find some of their favorite smokeless powders on store shelves when they wanted to do some handloading. So, the big question is where did all of it go? Well, Hodgdon Powder is one of the largest producers of reloading powder with their umbrella of brands including Hodgdon, IMR, and Winchester smokeless propellants. To put reloaders at ease, they have some answers for us in this 2020 Update that was posted to their Facebook page on Friday, January 31st.
Hodgdon POWDER UPDATE FAQ, JANUARY 31, 2020
Q: Why can't I find Hodgdon powders like H4350, Varget, Retumbo and H1000?

A: As you have seen, Hodgdon powders, especially rifle powders for long-range and precision shooting, can be difficult to find. Dealer shelves that were formerly filled with cans of powder now have empty spots. Here are answers to your questions straight from Hodgdon.

Q: Is Hodgdon still making powder?

A: Yes, we continue shipping powder as quickly as possible. In fact, we will ship more powder in 2020 than last year. The real problem behind empty dealer shelves is complicated, but is related to shifting supply and demand challenges. As supply decreased in 2019, demand only increased. No one wants to ship more powder than Hodgdon.

Q: What is causing the supply challenges?

A: Quite simply, our manufacturing facilities have not kept up with our orders. Additionally, military contracts began specifying Hodgdon powders in the last few years for military ammunition, impacting our supply. With expanded government regulation, shipping explosive and energetic materials has become more challenging, which also impacts available supply. Lastly, rapidly changing consumer preferences for different powder types has impacted both demand and supply. We worked with all Hodgdon providers to resolve open issues and expect powder supply to improve in 2020 as a result.

Q: Is Hodgdon still in business?

A: Yes, Hodgdon has been in business (and family owned) for over 70 years. We are here for the long haul and are doing everything we can to supply our powders to handloaders. Dealer shelves are empty because powder is purchased as soon as it arrives at the dealer's stores but we will continue to ship more in 2020.

Q: Is the shortage of reloading powder being caused by Hodgdon shipping their powder to the ammunition manufacturing companies?

A: While Hodgdon does sell powder to ammunition manufacturing companies, more than 80% of our powder is sold to our core market – handloaders just like you. Hodgdon has always been committed to the individual handloader.

Q: When will I start to see more powder on dealer shelves?

A: While Hodgdon will continue to ship powder as rapidly as possible, we have a significant backlog in demand. Some powders will be in stock more quickly, but we believe it will take much of 2020 to improve availability for all powders.

Q: I have seen/heard many rumors and conjecture on powder shortages with Hodgdon Powder.

A: If you do not hear it directly from Hodgdon Powder Company, please be skeptical.
It is great that Hodgdon has helped put to bed some potential rumors and keep us all updated on the state of affairs regarding the smokeless powder we all are purchasing and reloading. What do you think of their short, but concise Q&A? Did it answer most of the questions you had in your mind? Let us know all of your thoughts in the Comments below! We always appreciate your feedback.