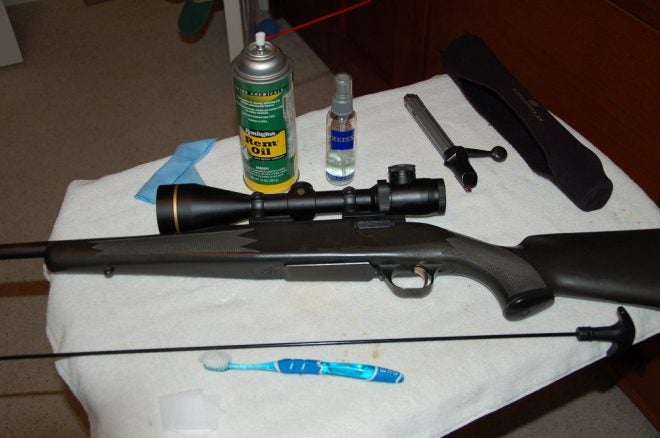 Rifle hunting seasons are waning all across the country. Most deer hunting seasons are over with a few states having only weeks left until the final closure. So, it is time to perform some critical gun maintenance before you store these valuable arms away for the year until the next fall hunting season.
Please do not do what my deer hunting cabinmate does, and wait all year until the new season opener to clean your deer rifle. A year without cleaning the dirty bore, action, and optics eventually takes its toll in terms of corrosion, bore deterioration, rusted scope mounts and rings, the bolt, and other critical functioning parts.
Begin with setting up an open and clean working area. Lay down an old towel to cushion the gun and to protect various parts like the bolt. Assemble a comprehensive gun cleaning kit with bore cleaning rod, rod tips, bore brushes, cleaning solvents and oils, dusting brushes, tools, soft cloths, bore patches, and other items that may be specific to cleaning your guns.
Start with removing the bolt. Dust it off, then brush it with a toothbrush or gun cleaning brush with stiff bristles. Wipe the entire bolt with a solvent soaked patch and set aside. Ideally using a one-piece cleaning rod, run a solvent wetted bore patch through the barrel from the chamber end. If having to insert the rod from the muzzle just use care not to scar the muzzle end.
Next, wet a bore brush with solvent and run it through the bore several times. Let the solvent sit for a few minutes to work. Then follow up with a series of solvent soaked patches to remove burned powder residue and bore fouling. Do this until the patches come through clean.
Run the brush through a second or third time. Run patches again. Once clean, run a final patch through with a high quality gun oil for storage.
Brush and clean the chamber area, magazine area, safety and related parts. Lightly wipe down with oil. Reinsert an oiled bolt. Dust and wipe down the external metals, barrel, trigger housing, etc. with an oiled rag. Same for the stock, but do not soak the wood. Polish it out.
Scopes or other optics should be dusted or blown clean with compressed air. Use a lens cleaning tool like a Leupold Lens Pen or optical cloth to clean the glass. Lightly wipe down the scope exterior and cover with a neoprene scope cover or cloth.
Secure the gun inside a gun safe for security. If you have to use a gun case, make it one that breathes and insert some moisture packs inside. Check it regularly for surface rust. Follow these same procedures for hunting handguns and shotguns as well.