[SHOT Show 2020] Galco's New Holsters for 2020
Russ Chastain 02.06.20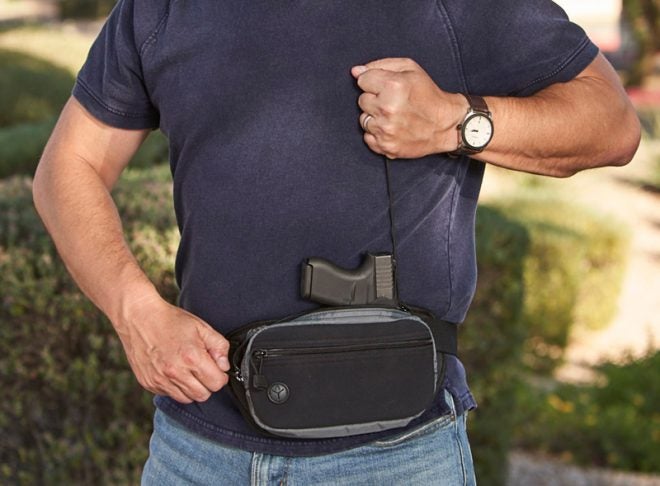 At the 2020 SHOT Show, I stopped by the Galco Gunleather booth to check them out. Galco is a well-known holster brand, and the company is more than 50 years old now. They have some pretty cool stuff for 2020; here's a rundown:
FasTrax PAC Waistpack
What we have here is a waist-worn pack for concealed carry, which they say makes for easier drawing than similar packs. Inside the FasTrax PAC Waistpack is a pivoting holster, which can be rotated by pulling upward on an external activation cord.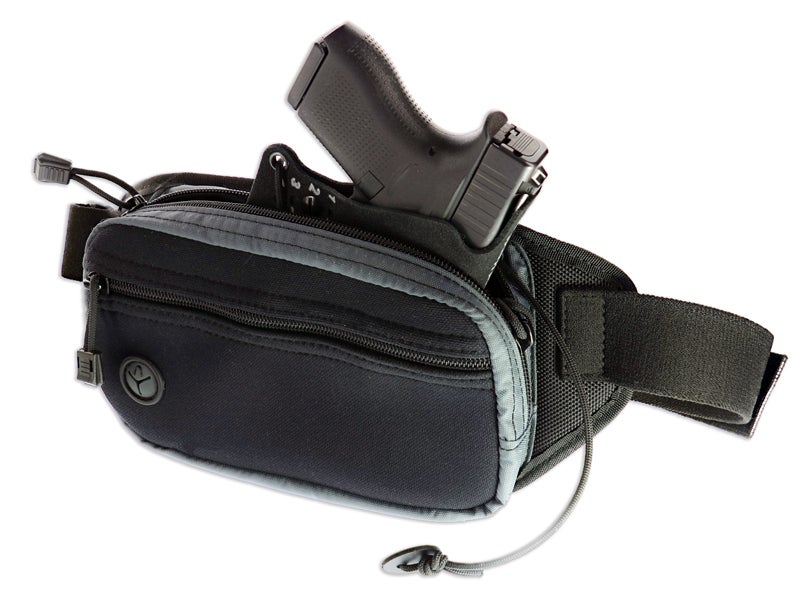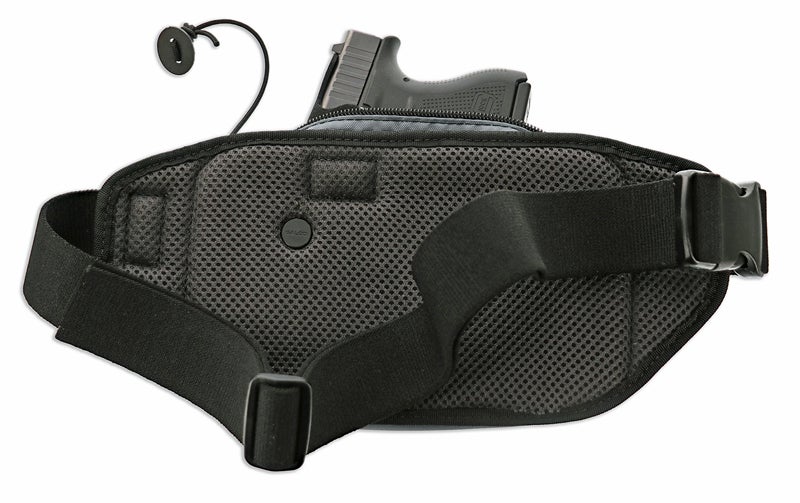 In short, you unzip the pack with your strong hand, then pull up on the cord with your weak hand to rotate the holster upward. Grasp your piece and draw.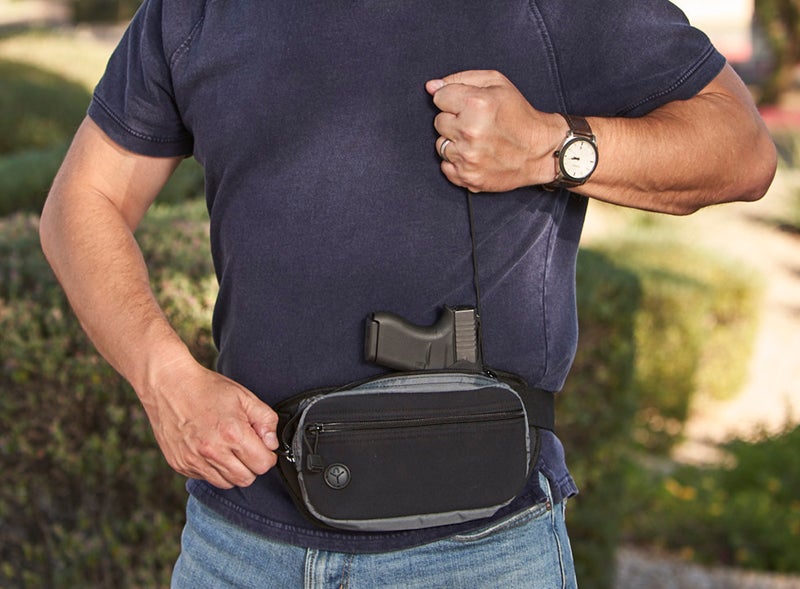 This 20-second video shows how it operates:
Key features:
Galco breathable Comfort Cloth™ on back panel
Adjustable, stretchable elasticized waist strap
Nexus® quick-action buckle
Contemporary neoprene front with zippered pocket for keys, wallet, phone, etc.
Pass-through port on front pocket accommodates cables for earbuds or other devices.
Adjustable to fit a wide range of handguns including 380s, Glock 43X, and small-frame revolvers
Color: Gray & Black
MSRP: $79
Jak Slide 2.0 Belt Holster
This hybrid kydex/leather holster is designed to be worn between the belt and pants, allowing your belt to snug the popper against your body rather than having the gun pulling your belt outward. It leaves the full grip available for a good, fast draw.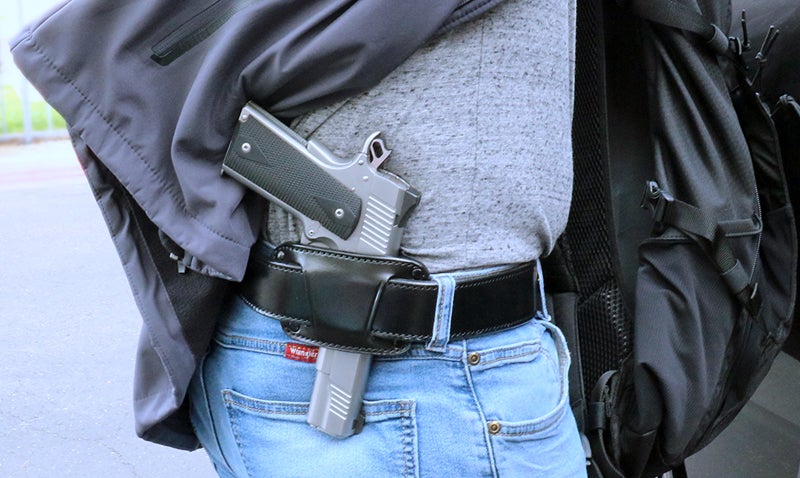 Because the gun remains outside your britches, it doesn't chafe on your hide and you don't need to buy larger pants to accomodate your sidearm.
The kydex comes in handy by holding the holster open when the pistol is not in it, rather than allowing the belt to smoosh it. This will make it much easier to place the handgun back into the holster.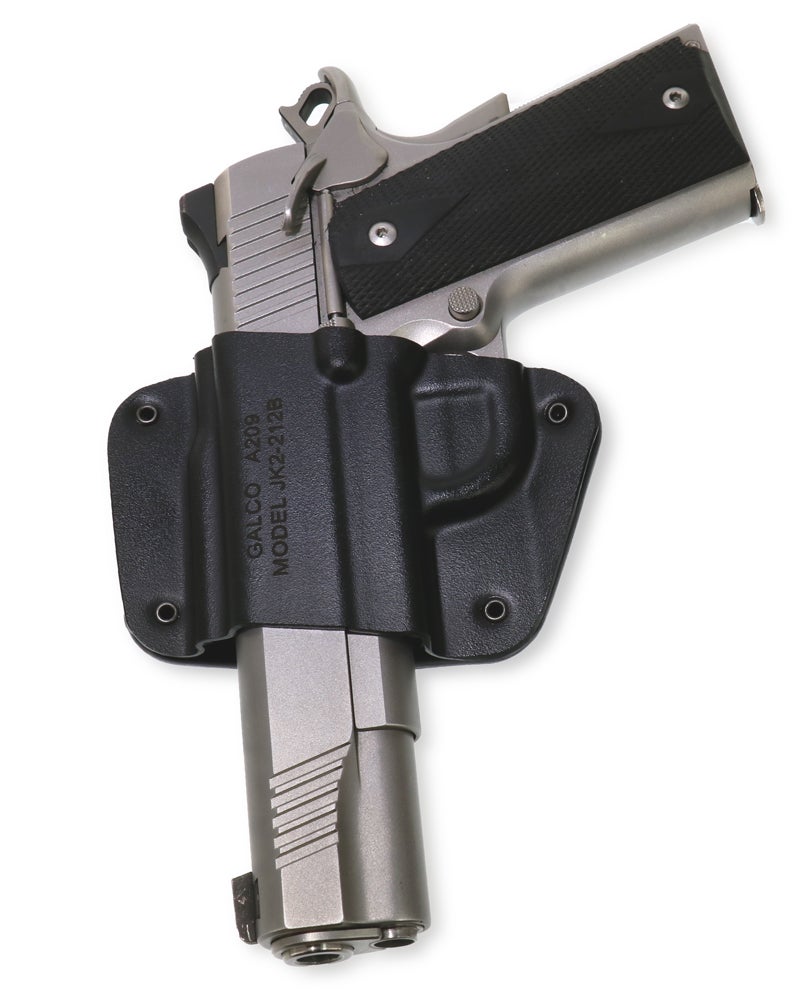 While some folks may not appreciate the small size of this holster — which doesn't cover the muzzle at all — it's kinda nice that, when you go someplace you can't take your gun, you can securely store your popper but keep wearing the Jak Slide 2.0 because the holster doesn't look like a holster.
MSRP of the Jak Slide 2.0 is $55 and as near as I can tell it's only being made for 1911s at this time.
QuickTuk Cloud IWB
The QuickTuk Cloud is an inside-the-waistband holster is a hybrid of nylon and kydex, with a wide padded and moisture-wicking portion to ride against your body and a rigid kydex holster mounted to the outside.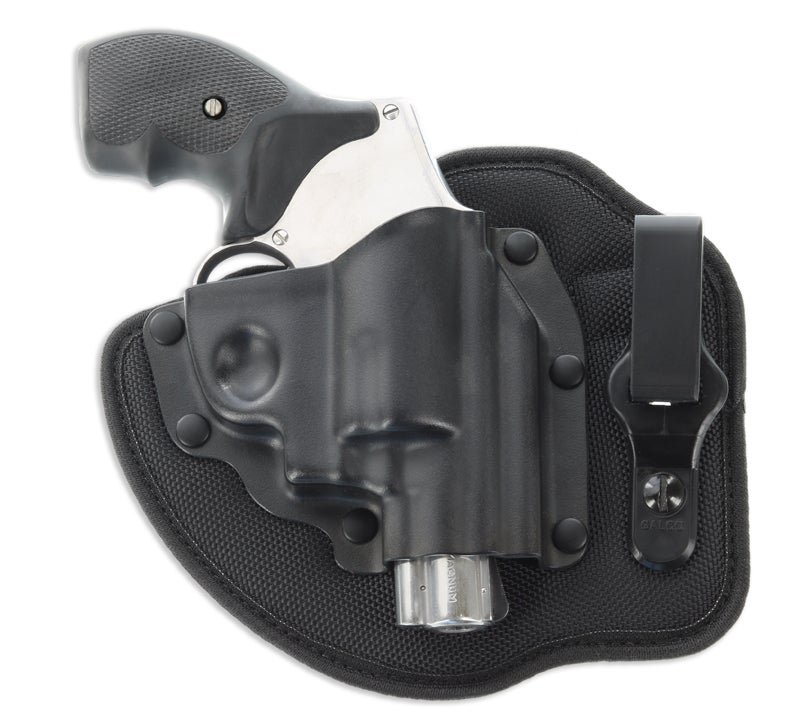 It uses a clip that allows you to tuck in your shirt, and the clip can be adjustable up or down to adjust carry height.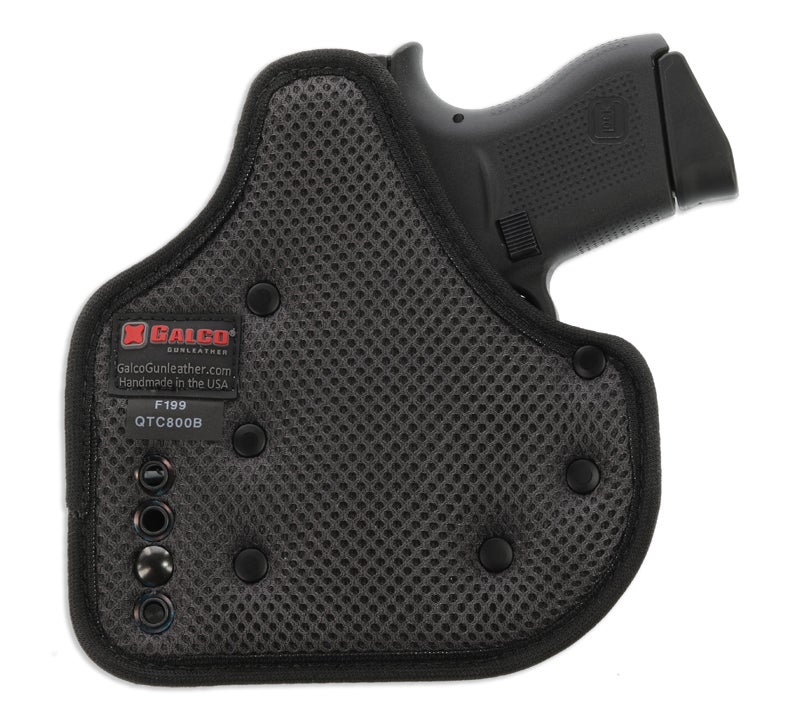 With the full grip exposed for grasping, you should be able to draw from the holster with a minimum of trouble.
Galco's QuickTuk Cloud IWB retails for $55 and will fit a variety of handguns.
StukOn-U Pocket Holster
The new StukOn-U pocket holster is designed to help you safely carry subcompact autos inside of a pocket.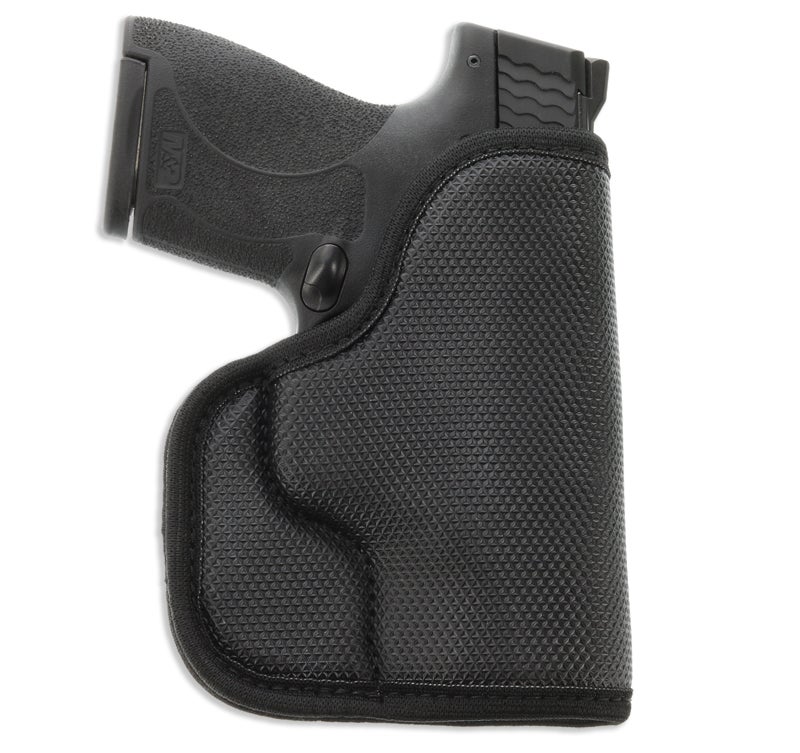 It uses a Gripper Shell™ exterior so it'll stay in place when you need to draw your piece. There's a "closed-cell foam substrate" which "gives the holster shape and sturdiness."
A lining of 420 denier packcloth is there to protect your gun and smooth the draw.
From the press release:
The ambidextrous StukOn-U is designed for front pocket carry in pants or a jacket. It keeps the firearm in the same general position so the grip can be quickly located during draw, conceals the shape of the gun so that its outline is not printed through the pants, and allows one-handed release of gun from both pocket and holster, especially when using a "hooking" draw technique to catch the trigger-guard edge of the holster on the pocket as the handgun is released. The holster's Gripper Shell surface assists in keeping the holster in the pocket during the draw.
This simple-but-thoughtfully-designed holster retails for $27.
Switchback Belt Holster
The Galco Switchback is a cool belt holster which allows the user to wear it in a standard vertical "strong side" carry, or on the other side in a crossdraw fashion. Perhaps best of all, it's ambidextrous, so you can wear it either way on either side of your body.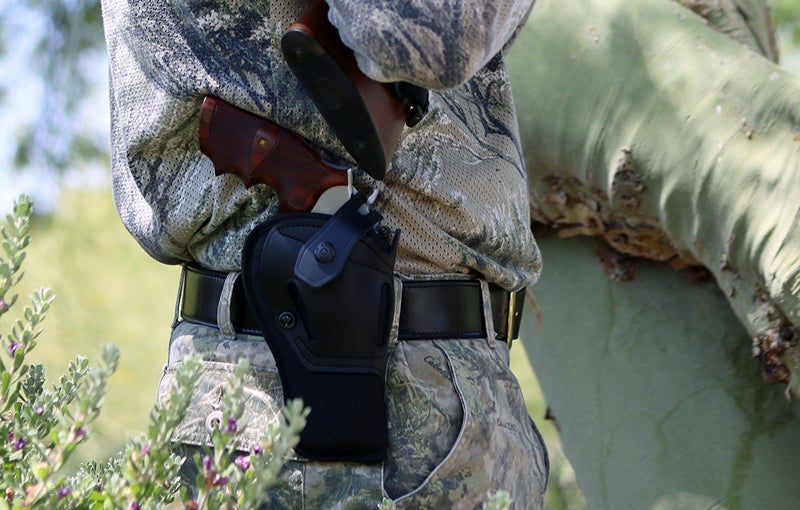 Available for revolvers and semi-autos, but NOT for use with semi-autos with grip safeties, this is the closest thing to "traditional" in Galco's new product list.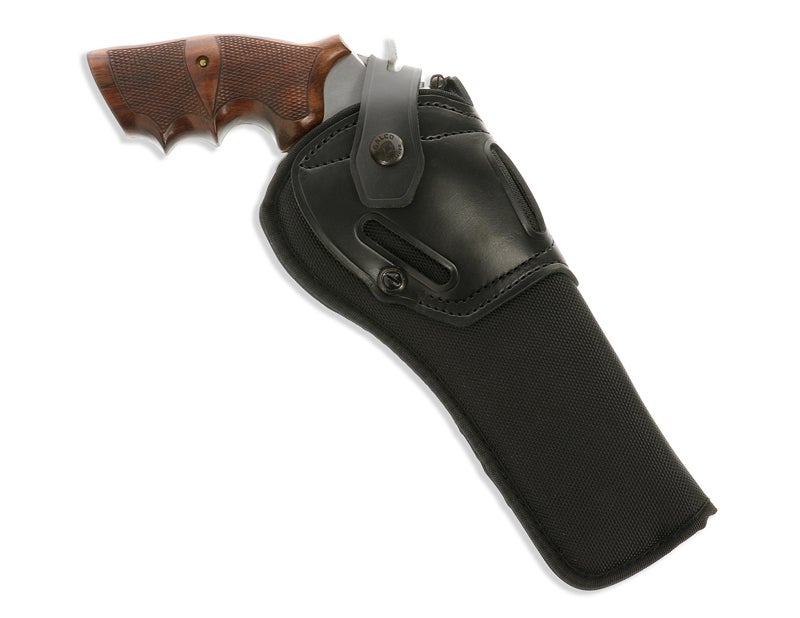 Highlights of the Switchback:
Ambidextrous
Reversible thumb strap
Wear on strong side or crossdraw
Hybrid leather/synthetic construction
Lining: 420 denier gunmetal-colored packcloth
Padding: Closed cell foam
Outer layer: Back ballistic nylon
Exoskeleton: top grain steerhide
MSRP: $46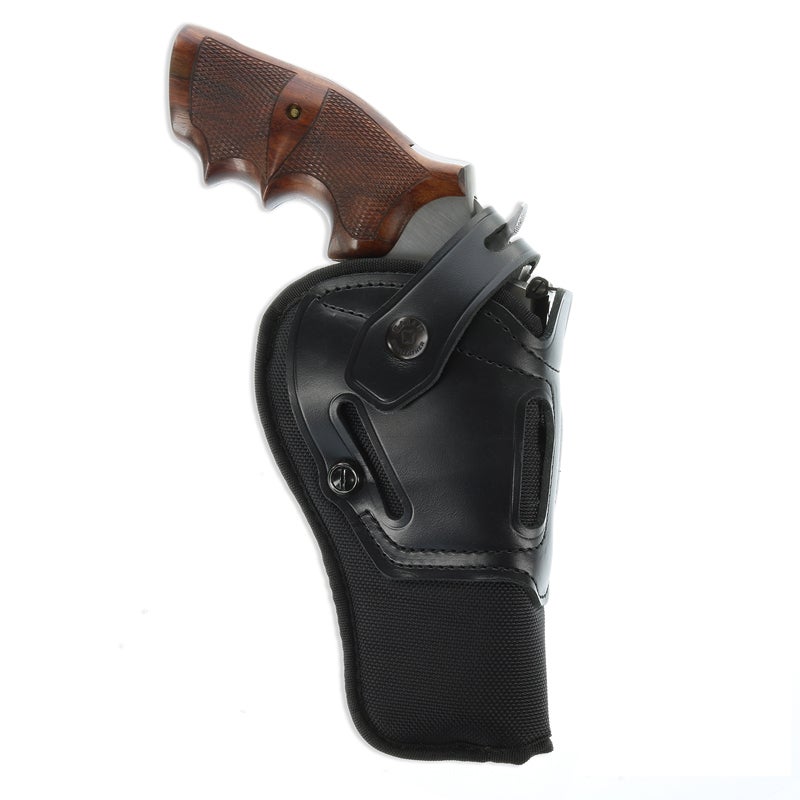 Galco has lots of other stuff, too. Visit their website to check them out.