[SHOT Show 2020] Streamlight Handheld Spotlights
Russ Chastain 02.10.20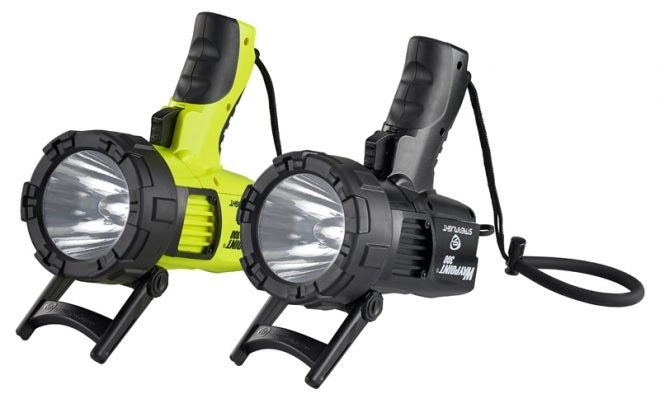 I've reviewed a few Streamlight flashlights here in the past: the Stylus Pro COB, MicroStream USB, and the Polytac X USB Multi-Fuel. At the SHOT Show this year, I looked at a couple of their larger lights.
Waypoint 300 Rechargeable Spotlight
The first new light that caught my eye was the Waypoint 300. This is a good-looking handheld rechargeable spotlight of handy size.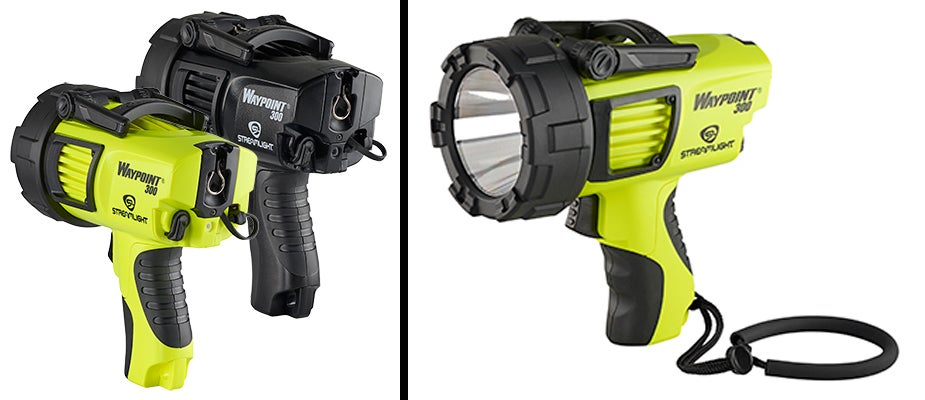 The Waypoint 300 uses power LED technology and a deep-dish parabolic reflector for long-range targeting with optimum peripheral illumination.
Manufacturer specs:
Pistol-grip spotlight featuring a long-range targeting beam over 1000 meters
Provides portability with durability and long runtime (3+ days on Low mode)
IPX8 waterproof to 2 meters and it floats
1 meter impact resistance tested
Unbreakable polycarbonate lens is O-ring sealed
Trigger-style switch for momentary or click on/off
Cushioned handle grip
Adjustable high-strength wrist lanyard
Integrated stand for hands-free scene lighting
High: 1,000 lumens/270,000 candela/1039 meters
Medium: 550 lumens/135,000 candela/735 meters
Low: 35 lumens/10,000 candela/200 meters
Runtime hours: 87 on low; 3.75 on high
Battery Type: Lithium Ion
Charge time: 4 hours
LED charging indicator
Length: 6.75 inches
Weight: 1 pound 8.30 ounces
Colors: Yellow, Black
MSRP: $214.20
This is not to be confused with the "Waypoint LED," which is a C-cell model with fewer lumens.
Dualie Waypoint
The Dualie Waypoint is a different sort of spotlight, with a horizontal handle instead of a pistol-grip type. This allows for a more natural grip when using the light down low. It also adds a smaller flood light, giving this light a lot of flexibility. Unlike the Waypoint 300, this one is not rechargeable and is fueled by 4 C-cell alkaline batteries.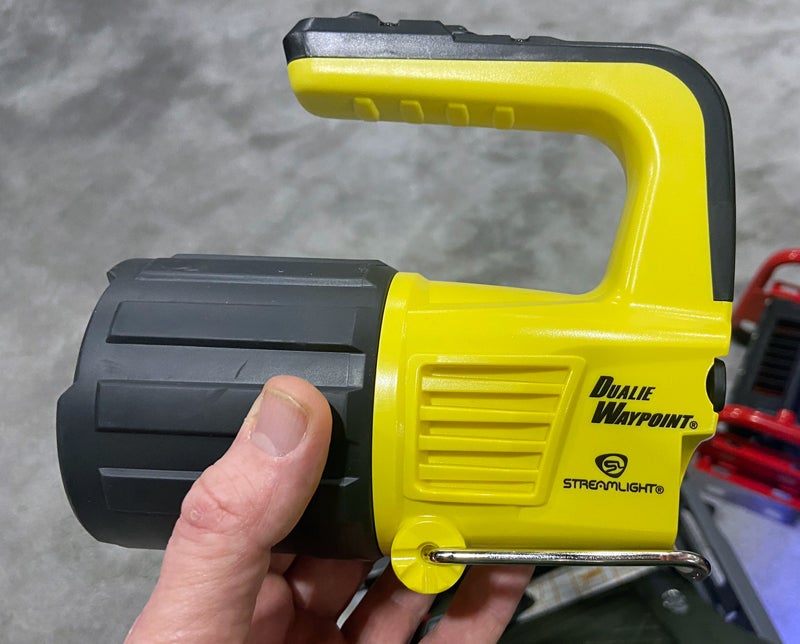 I can see using the bottom-facing flood light with its "soft, wide beam" to illuminate a path through the woods on your way to or from a deer stand, or hang it up using the handle or D-ring to light up a small area. The spot light can reach up to 548 meters, so that's good for shining on specific targets. You can run one light at a time, or both at once.
First responders, industrial professionals, and outdoor enthusiasts alike will appreciate the Dualie Waypoint's flexible options, whether using it for illuminating low-lit pathways or performing close-up tasks. And combining both the spot and flood beams can help users to see what is ahead and around them so they can avoid slips, trips, and falls.
Manufacturer specs:
Handheld light with both spot and flood lights
Three output modes: spot, flood, spot/flood combo
IPX7 waterproof to 1 meter and it floats
2 meter impact resistance tested
Unbreakable polycarbonate lens is O-ring sealed
Pushbutton switch with momentary and click-on operation (rotary switch behind the button selects the main (front) beam, bottom (area) light, or both)
Handle can be used to hang the light
Integrated stand for hands-free scene lighting
1,000 lumens (spot/flood combo) with both forward and downward facing beams
Spot light high: 750 lumens/72,000 candela/535 meters
Flood light high: 450 lumens/240 candela/31 meters
Runtime hours (spot): 125 on low; 3.5 on high
Battery Type: Alkaline, 4 C-cells (not included)
Length: 6.75 inches
Weight: 2.06 pounds
Colors: Yellow & black
MSRP: $95.00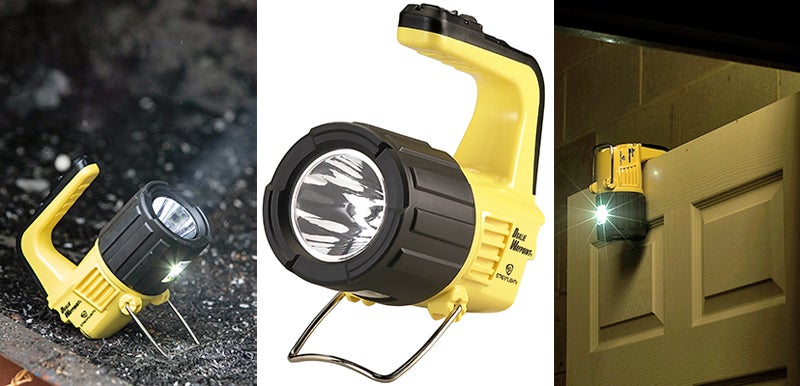 Although the Dualie Waypoint isn't new this year, it's well worth your consideration.