[SHOT Show 2020] CCI Expands 'Clean-22' Coated Bullet Ammo Line
Russ Chastain 02.11.20

CCI has a nifty line of 22 LR rimfire ammunition, introduced last year, called Clean-22. It's an entirely new approach to 22 LR ammunition, which has traditionally required the bullet to be lubricated in some way which usually causes quite a bit of fouling. This means more time cleaning your gun and less time happily shooting it, which is un-good.
Clean-22 replaces the slightly-sticky lube or thin metal plating normally used on a 22 LR bullet with a colored polymer coating. Here's what CCI says about it:
Clean-22 uses an exclusive polymer bullet coating to greatly reduce copper and lead fouling in the barrel—without leaving a residue. It also cuts lead buildup in suppressors by up to 60 percent—depending on outside variables. Bullets in this product line are manufactured using bullet-shape geometry that's been ballistically optimized for accuracy and function. And with dependable CCI priming and consistent propellant, Clean-22 provides flawless cycling through all rimfire platforms including semi-automatics.
Sub-Sonic, High Velocity, and Pink
These are the three original Clean-22 options: Sub-Sonic, High Velocity, and Pink.
All loads feature a 40-grain coated round nose lead bullet
Bullet coating color indicates load
Red = High Velocity (MV 1,235 fps)
Blue = Sub-Sonic (MV 1,070 fps)
Pink = Pink to fight breast cancer (MV 1,235 fps) (Portion of proceeds goes directly to the effort to find a cure.)
Clean-22 Suppressor
New for 2020 is the "Clean-22 Suppressor 22 LR" load. They say the coated bullet can "reduce lead fouling inside a suppressor by up to 60 percent!" Wow.
Black polymer coating reduces lead fouling in suppressors up to 60 percent
Ballistically optimized 45-grain lead round nose bullet
Reliable function in semi-automatic firearms
Extremely reliable CCI priming
MV 1,000 fps
200-count "pour pack" (like a small milk carton)
MSRP $28.99
Clean-22 Maxi-Mag SHP
This is CCI's expansion of Clean-22 into the much more powerful 22 WMR, a.k.a. 22 magnum. Not only is the bullet coated with polymer, it's segmented to cause massive damage upon impact.
New Clean-22 Maxi-Mag SHP is the industry's only segmenting hollow-point bullet in 22 WMR. The load's 46-grain Segmented Hollow Point splits into three equal-size pieces on impact, tripling the number of wound channels. The polymer bullet coating allows this separation at much lower velocities and longer distances than a conventional copper jacket. This load features an olive drab green bullet and is available in 50-count boxes.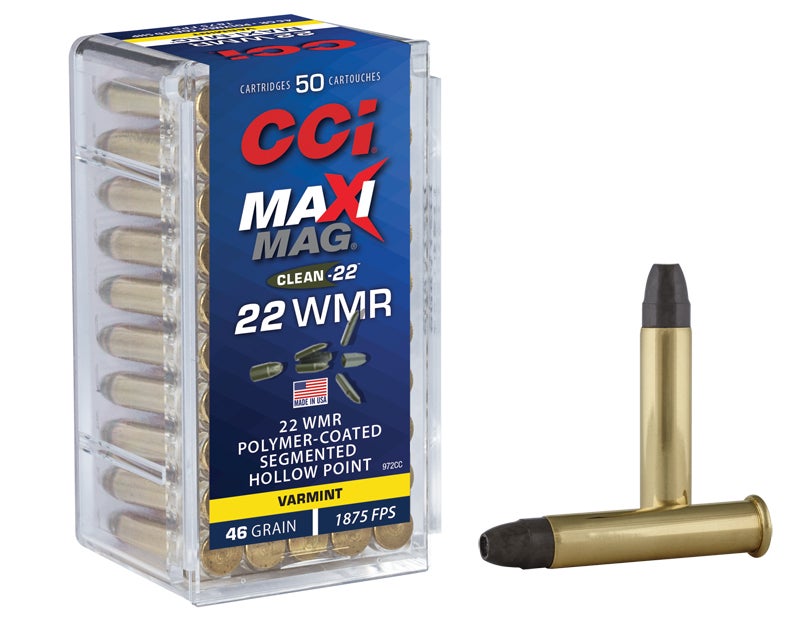 This should be good for small game work at close range with a 22 mag. After I started toting a 22 magnum rifle for hunting squirrels and raccoon, I found expansion at close range to be problematic at times. This is usually not a problem with squirrels, because with head shots most any bullet will do. On medium-size game, however, a lack of expansion can often mean simply punching holes in your game rather than getting a clean kill.
It's rated at 1875 fps MV, and a 50-round box will retail for $17.99.