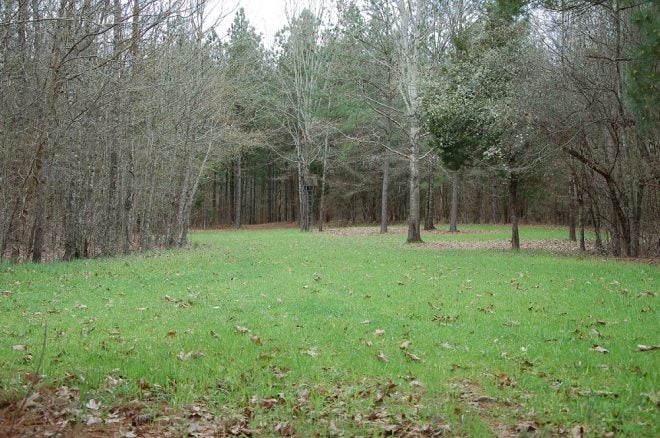 Deer hunting is over. The woods and fields where you hunt will settle back into a more-or-less normal routine as far as it goes in a deer's life cycle. Land managers and owners may now be sitting at their computers studying land maps, terrain, timber assets, and harvest numbers while planning a variety of hunting habitat improvements. One of those could (should) be to create a deer sanctuary.
A deer sanctuary is an area that is ruled off limits to general access and certainly to deer hunting. A dictionary definition might read something like "A reserved area in which animals or birds are protected from hunting or molestation." In other words, it is a "Keep Out" area.
Since hunting pressure can cause deer to be reclusive or nocturnal during the hunting season, a sanctuary provides an area on your hunting land in which pressure is not an issue. In some cases it might even reduce the nocturnal issue as the hunting season unfolds. This would mean a more normal rut and could standardize rutting behaviors. Worth a try.
It can be formalized or left as an informal agreement among all the hunters using a particular piece of land. A single landowner can just simply designate a certain area or acreage as a "no hunting zone" as he wishes. In clubs with multiple owners/users, the idea has to be sold as a positive concept to enhance the deer population. Every hunter must agree to it and honor the sanctuary boundaries and rules.
That might also imply that hunting pressure should not be applied around the perimeter of the sanctuary. The sanctuary is a safe haven where deer or other wildlife can reside for protection. Deer will still move in and out of such an area, so a sanctuary does not hide quality deer that could or should be harvested as part of a total game management plan. Think of it as a "man cave" for bucks.
One can hunt near a sanctuary without camping on the edges waiting for deer to move in or out. Scouting can still reveal trails, funnels, and other kinds of travel routes that can be hunted without sitting on them constantly. A sanctuary would allow the deer to eat, rest, and move about. This can build a healthier deer herd.
With the season over now, consider restructuring your hunting property by establishing a no-hunt area or sanctuary. Monitor the situation for a few seasons to see what changes might occur.