Work Sharp's New Benchtop Benchstone 3-Sided Manual Sharpener
Russ Chastain 03.19.20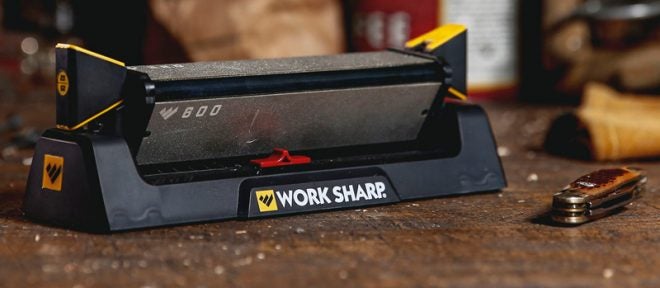 Work Sharp has brought out a couple new sharpeners — so new they're not even listed on their website yet. Here's a quick look at the Work Sharp Benchtop Benchstone, a pivoting three-sided sharpener with two grades of diamond "stones" and one ceramic for fine honing.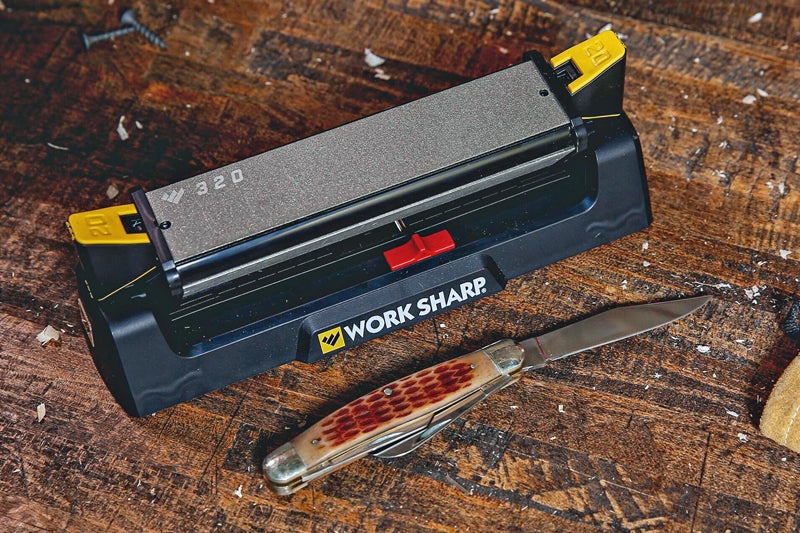 Here's what they say about this one:
The Work Sharp Benchtop Bench Stone is an Angle Guided, 3-sided abrasive sharpening system. Medium and Fine Grit Diamond Plates quickly restore a sharp edge, while the Fine Grit Ceramic Stone creates an incredibly keen edge on any knife. The innovative Pivot-Response™ System allows the abrasive to follow the curve of the blade –- making manual sharpening faster, easier and more precise than ever. Sharpening Guides are interchangeable from 20° or 25°and optional to use. Pivot-Response™ feature can be locked out to provide a rigid sharpening surface for a wide range of knife & tool sharpening applications.
You get 320 & 600 grit diamond sharpening surfaces as well as a white ceramic surface; all of these measure 1.25″ wide and 5.75″ long. (That is the exposed area; they are 6″ long but 1/8″ of each end is under a plastic flange). They say these are all user-replaceable.
The double-sided angle guides will help you sharpen at 20 or 25 degrees, and there's one at each end of the stone. These guides are easily removed by pulling them away from the stone, to flip them over or set them aside. Each guide has a magnet inside to hold it in place on the steel-tipped plastic "stud."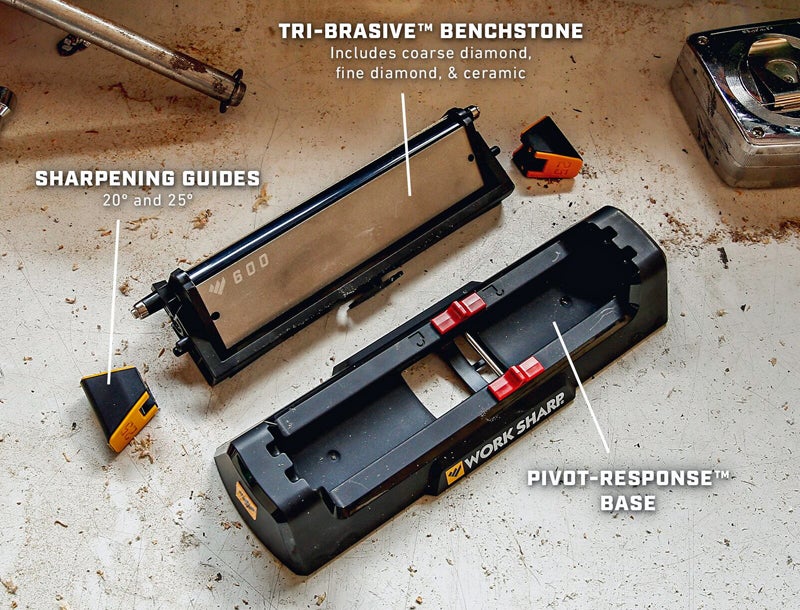 The angle guides included with this Benchstone will interchange with those included with the other new sharpener called the Work Sharp Benchtop Whetstone, which are set at 15 and 17 degrees.
The "tri-brasive" assembly sets down into a plastic base, and will easily wobble from side to side unless you engage a lock to secure it snugly to the base. They say this wobble is a feature, and they even give it a name: Pivot-Response. As you move the blade along the stone, drawing the curved tip closer to the edge, the stone will pivot, supposedly "following" the curve of the blade.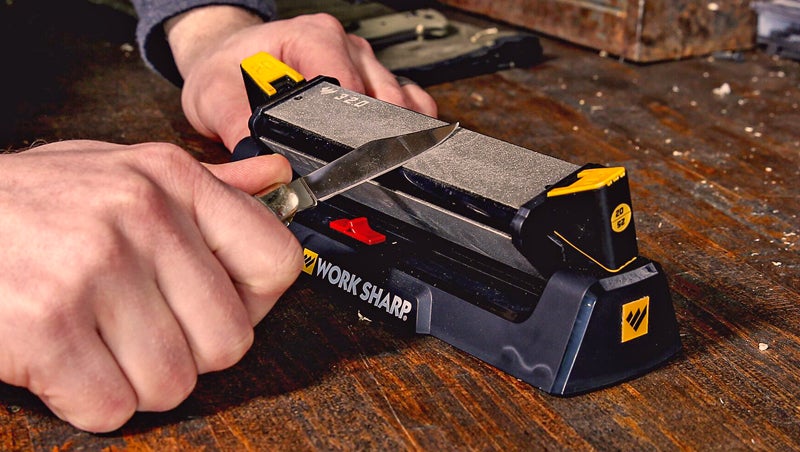 Being old-school I don't really see that working too well, but I'll give it a try anyhow. If you prefer a stone that doesn't rock and roll while you work, just engage the lock. To change grits, you rotate the tri-brasive within its assembly. This movement, especially as each one "locks" into position, is stiff but do-able. It's awkward at first, but seems to become easier with repeated use.
For a bench sharpener, the Benchstone is fairly compact with a footprint that measures 8-1/2″ x 2-7/8″ and the sharpening surface sits about 2-1/4″ above your table or workbench.
Use no oil or water with this sharpener; they say to simply clean it "with a dry brush" after each sharpening.
It looks like MSRP will be $44.95.