Work Sharp's New Benchtop Whetstone 2-Sided Manual Sharpener
Russ Chastain 03.19.20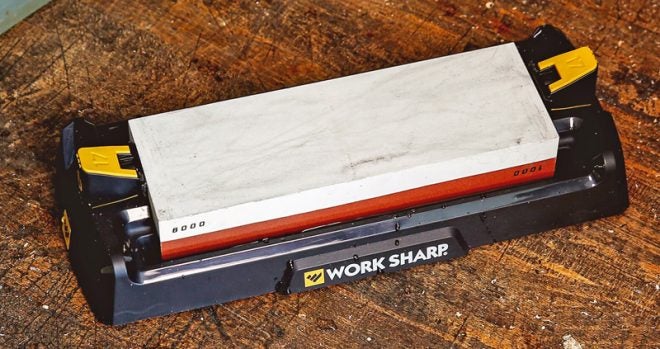 Work Sharp has brought out a couple new sharpeners — so new they're not even listed on their website yet. Here's a quick look at the Work Sharp Benchtop Whetstone, a two-sided water stone sharpener with two different grits of stones.
Here's what they say about this one:
The Work Sharp Benchtop Whetstone is an Angle Guided, Dual-Grit sharpening water stone for knives and fine edge tools. Premium 1000 grit and 6000 grit aluminum oxide sharpening stone creates incredibly keen edges. Sharpening base provides a stable platform and increased water control for less mess and faster clean up. Angle Guides create precision and consistency to maintain an edge making sharpening faster and easier. Sharpening Guides are interchangeable from 15° or 17° and optional to use.
The double-sided stone features a red side labelled "Medium" and rated at 1,000 grit. The white "Fine" side is rated at 6,000 grit. The sharpening surfaces measure 2-3/8″ x 7″ and the entire stone is 1-1/8″ thick.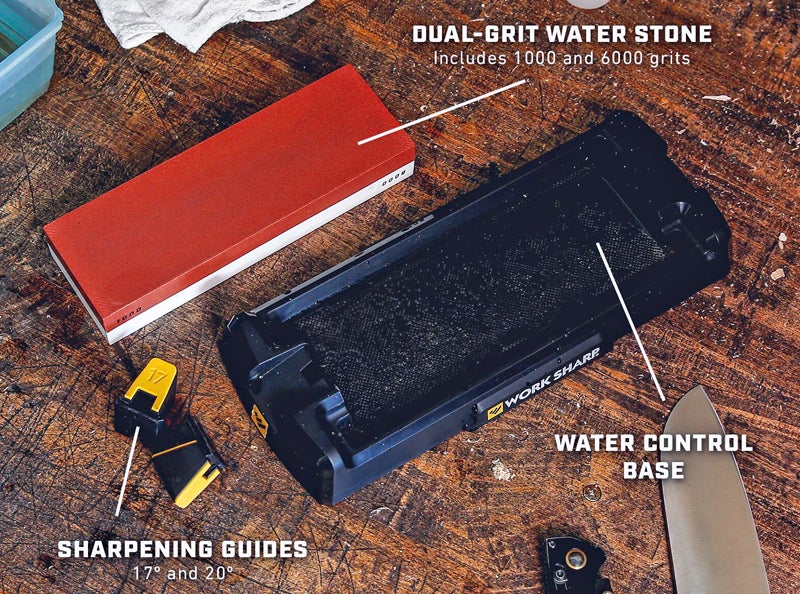 The stone lies in the included plastic "Water Control" base, which serves as a non-skid platform and a means of mounting the angle guides, as well as a receptacle for the water & grit that will find its way off of (and out of) the stone during use.
This is a water stone, and before you use it you need to submerge it fully in water for 5-10 minutes or until it stops bubbling. Keep it wet during use, and when you flip the stone to change grits, rinse the stone & base with water to get rid of any residual grit.
After use, clean the base, angle guides, and stone with water, and then store it clean and dry.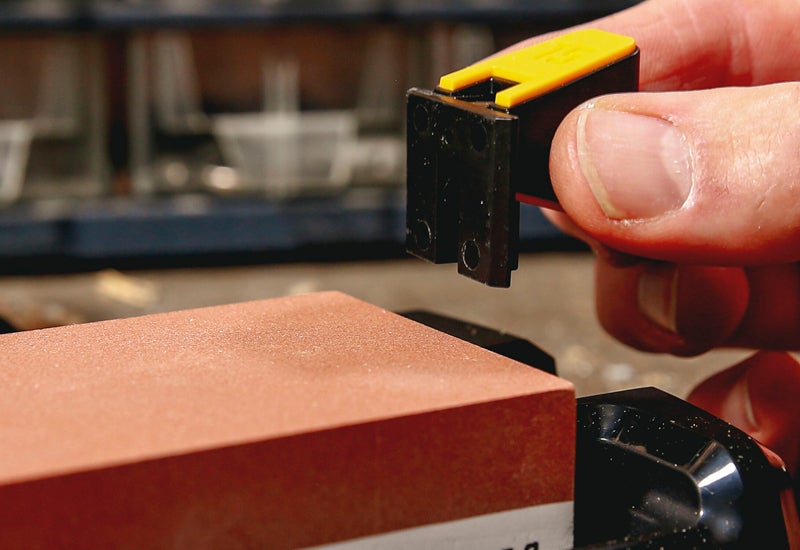 The double-sided angle guides will help you sharpen at 15 or 17 degrees, and when installed there's one at each end of the base. What you see being held in the photo above is actually a two-piece assembly consisting of the "stud" and the guide. The guide is between his finger and thumb.
The angle guides included with this Whetstone will interchange with those included with the other new sharpener called the Work Sharp Benchtop Benchstone, which are set at 20 and 25 degrees.
The guides are easily removed from the studs by pulling them away from the stone to flip them over or set them aside. Each guide has a magnet inside to hold it in place on the steel-tipped plastic "stud."
You can remove the guide studs entirely, if you wish.
You will almost certainly want to use the base with the stone no matter what, to make your work less messy due to the water involved in the process.
Do I need to say it? Never oil this stone, and never use it dry. It's a water stone.
The overall size of this sharpener is 10″ long by 4-1/4″ wide, and the sharpening surface of the stone sits about 1-5/8″ above your table or bench.
MSRP for the Work Sharp Whetstone appears destined to be $34.95.