AllOutdoor Review: XS Sights RAM (RadioActive Material) Night Sights
Adam Scepaniak 04.17.20

When it comes to our everyday carry (EDC) pistols or home defense handguns, a good set of iron sights are invaluable. Especially ones that can get the job done in all lighting conditions – both day and night. So, for that reason we are taking a look at a NEW set of sights with the XS Sights RAM (RadioActive Material) Night Sights to see if they can accomplish everything that a concealed carry holder might ask for. Let's dive in and take a look!
Specifications: XS Sights RAM (RadioActive Material) Night Sights
When it comes to sights on your Glock or insert your favorite "X, Y, Z" brand here, a lot of people can overlook how much engineering and deliberate thought goes into such a small component of our firearms. With the XS Sights RAM (RadioActive Material) Night Sights there is definitely more than meets the eye. All of the specifications can be read below as presented by XS Sights:
Tritium Night Sights (RAM – RadioActive Material)
Easily Visible during Bright Light and Low Light (Day or Night)
RAM Front Sights available in Orange or Green Ember Glow Dot
Wide Rear Notch of 0.170″ allows space around the 0.145″ Wide Front Blade
Blacked-Out Rear Sight keeps the Shooter's Focus on the Front Sight & the Threat Downrange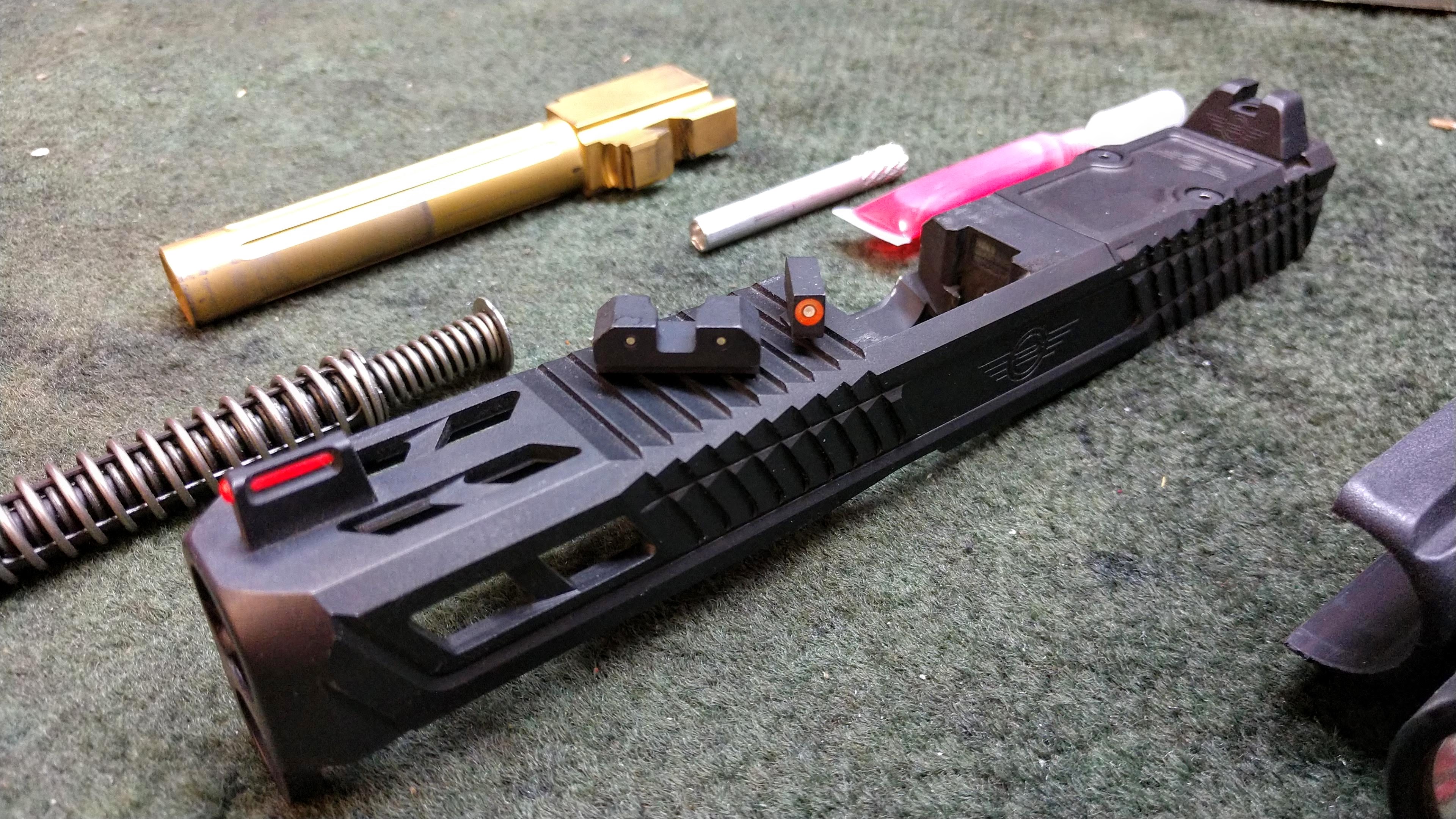 The XS Sights RAM (RadioActive Material) Night Sights have an MSRP of $109.99 for either color option of Green or Orange. That is a very competitive price to the market and they also carry the XS Sights 30-Day Satisfaction Guarantee as well as their No Questions Asked Warranty. A further explanation of what these sights are all about can be read from XS Sights in their Press Release statement below:
"XS RAM Night Sights feature a traditional 3-dot tritium, notch and post sight picture. The blacked-out rear increases contrast against the front sight. The front sight is available in orange or green and is equipped with our Ember® Glow Dot Technology. Ember absorbs ambient light and glows in low light. The front tritium lamp charges the Ember dot making the front sight glow brighter than the rear at all times, keeping focus downrange. RAM sights are the brightest notch and post option for fast and accurate shooting in bright and low light."
The pistol that we are going to test these sights on in this review is a Glock Gen4 17 9mm, but they are available for a wide array of common and popular handgun models. All of the pistols you could potentially put these on can be read below: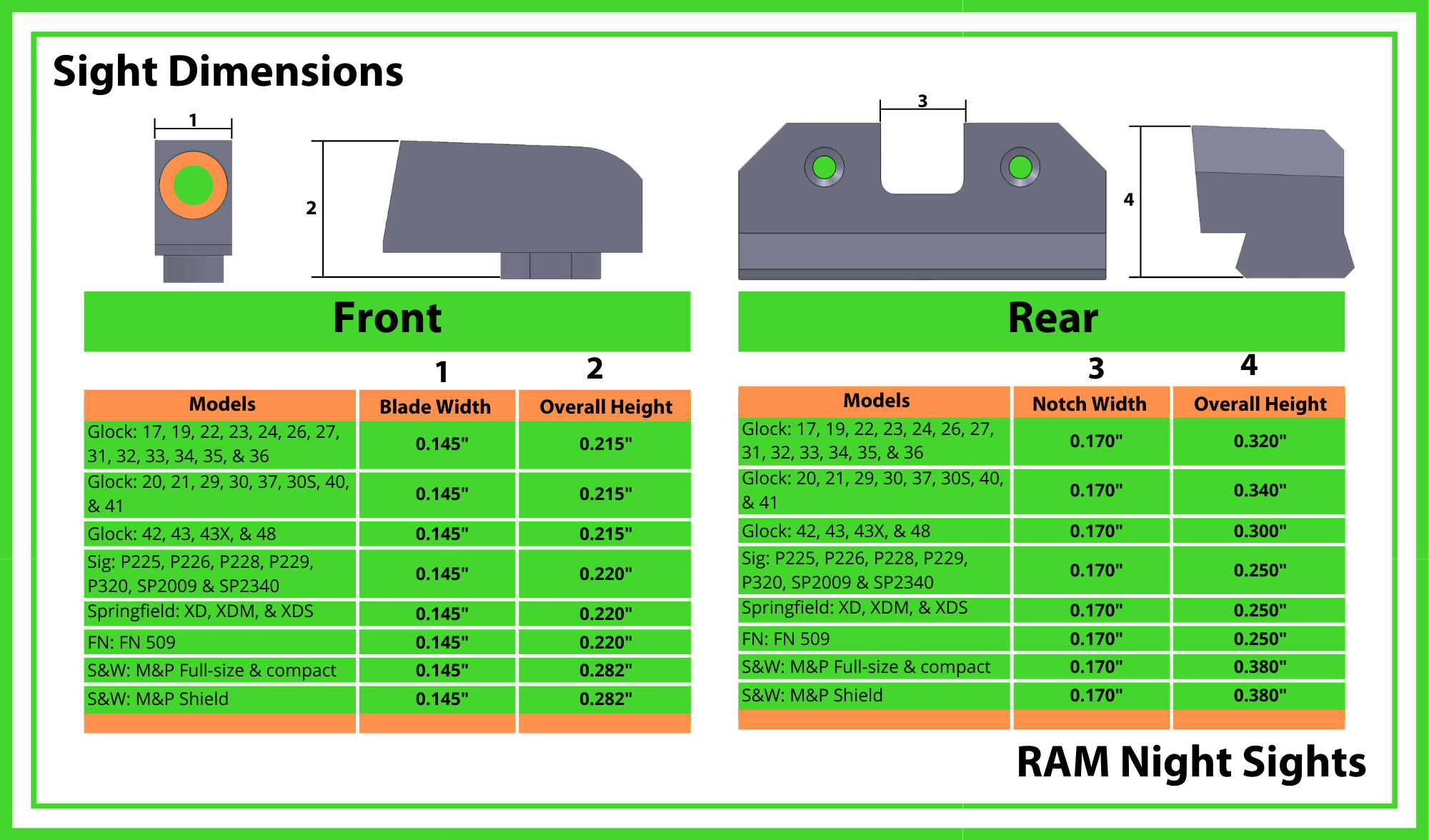 First Look & Installation: XS Sights RAM (RadioActive Material) Night Sights
I had always been familiar with XS Sights, but I had not shot any of their pistol sights until now. Upon first inspecting and seeing them I really appreciated the crisp, clean cut edges to the sights. The last thing I want are sharp, unfinished edges that will snag on things and slow me down. Also, I like the fact that XS Sights includes a Front Sight Tool so you do not need to find or purchase one separate, and that it comes with red Loc-Tite to ensure the Front Sight never un-threads itself throughout the duration of your ownership.
When it came to installing these sights it was a breeze. With the provided Front Sight Tool, I easily removed my current Front Sight, added a dab of red Loc-Tite to the XS Sights RAM, and installed that one in a matter of minutes. For the rear sight, I have an affordable NcStar Universal Rear Sight Tool for pressing on pistol rear sights. The fit of the XS Sights RAM Night Sights were tight to my Glock's slide, but they were still very easy to install.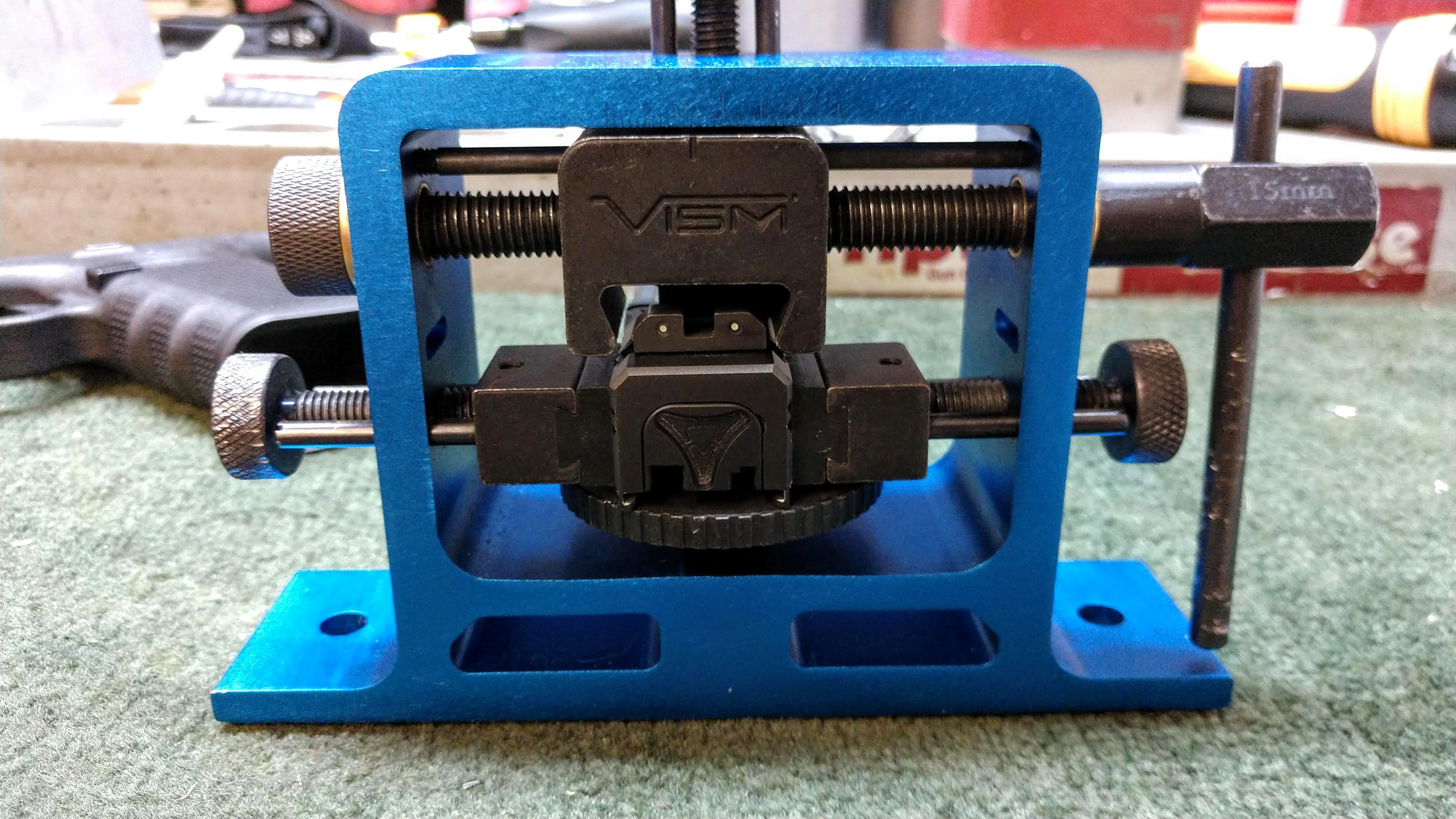 Once both of the sights were on, I used a laser bore-sighter at roughly 15 yards indoors to confirm that I did my job of ensuring they were straight and true to the bore. This was in fact true so I was good to go to the range. There was no marring or scratching of the sights or my slide throughout installation which is great. That simply shows that the XS Sights RAM Night Sights are good tolerances.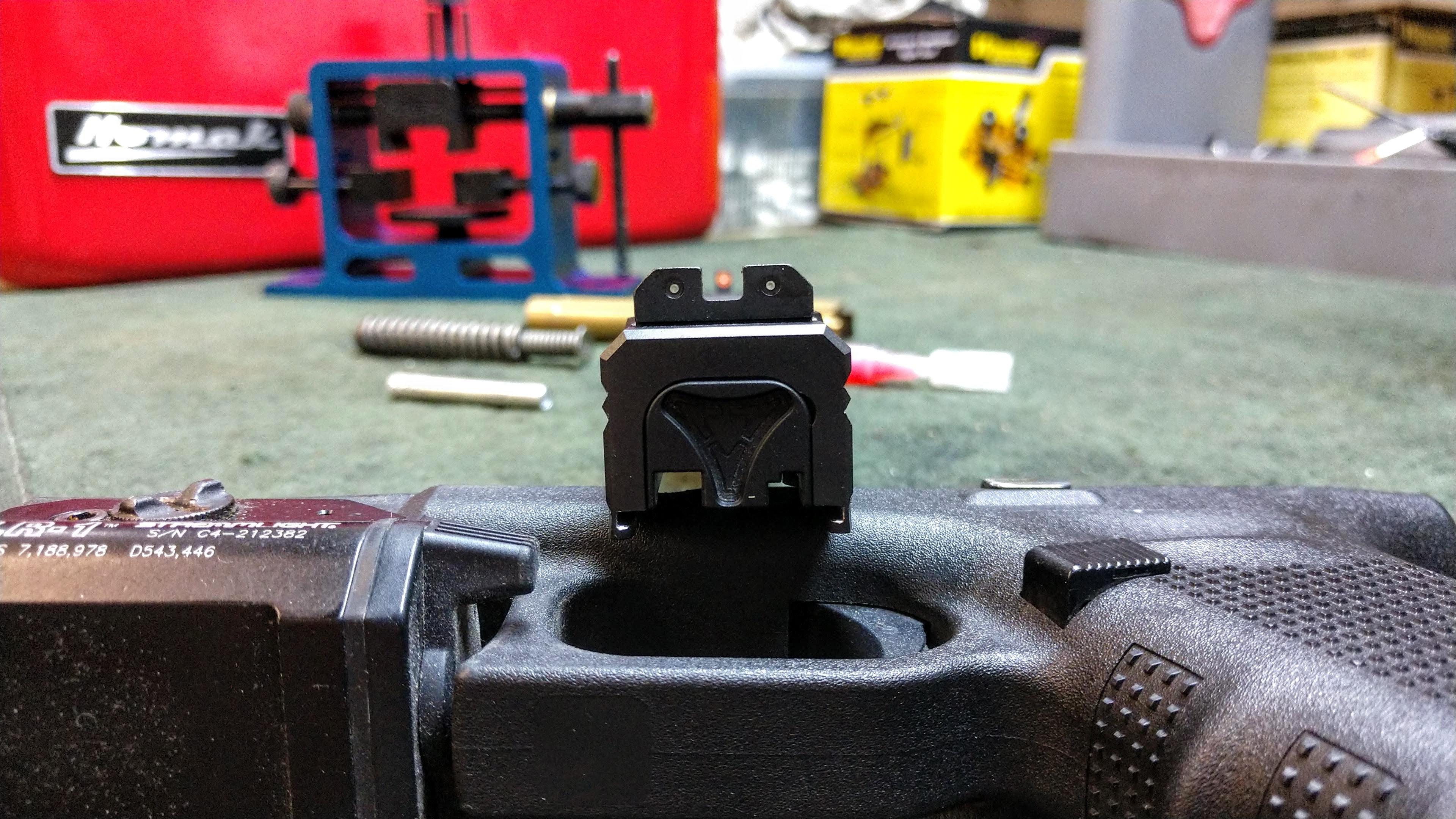 The only thing left to do was to get my pistol out to the range to see how they held up under vibration, recoil, and stress. After installation I was not able to get to the range for a few days so I checked daily to see if the front or rear sight was ever loose. This was never the case so they were holding true to the positions at which I originally installed them.
Range Time: XS Sights RAM (RadioActive Material) Night Sights
Once out at the range I fed my Glock a healthy diet of 115 and 124 Grain FMJ (Full-Metal Jacket) rounds; roughly 250 on this particular range session. I did stationary bulls-eye target shooting as well as mobile transitions on steel targets where a quick shuffle or jog of 5 yards between targets was involved. I not only wanted to see that the sights were staying in their installed position, but I also wanted perspective as to how easy it is to catch this particular sight picture in varying shooting scenarios.
One element about the XS Sights RAM Night Sights I liked was the orange dot surrounding the tritium front sight. It was very definitive and easy to pick-up especially during transitional shooting. The sight picture was fast, easy to acquire, and definitive. All things I look for and appreciate in a good set of irons.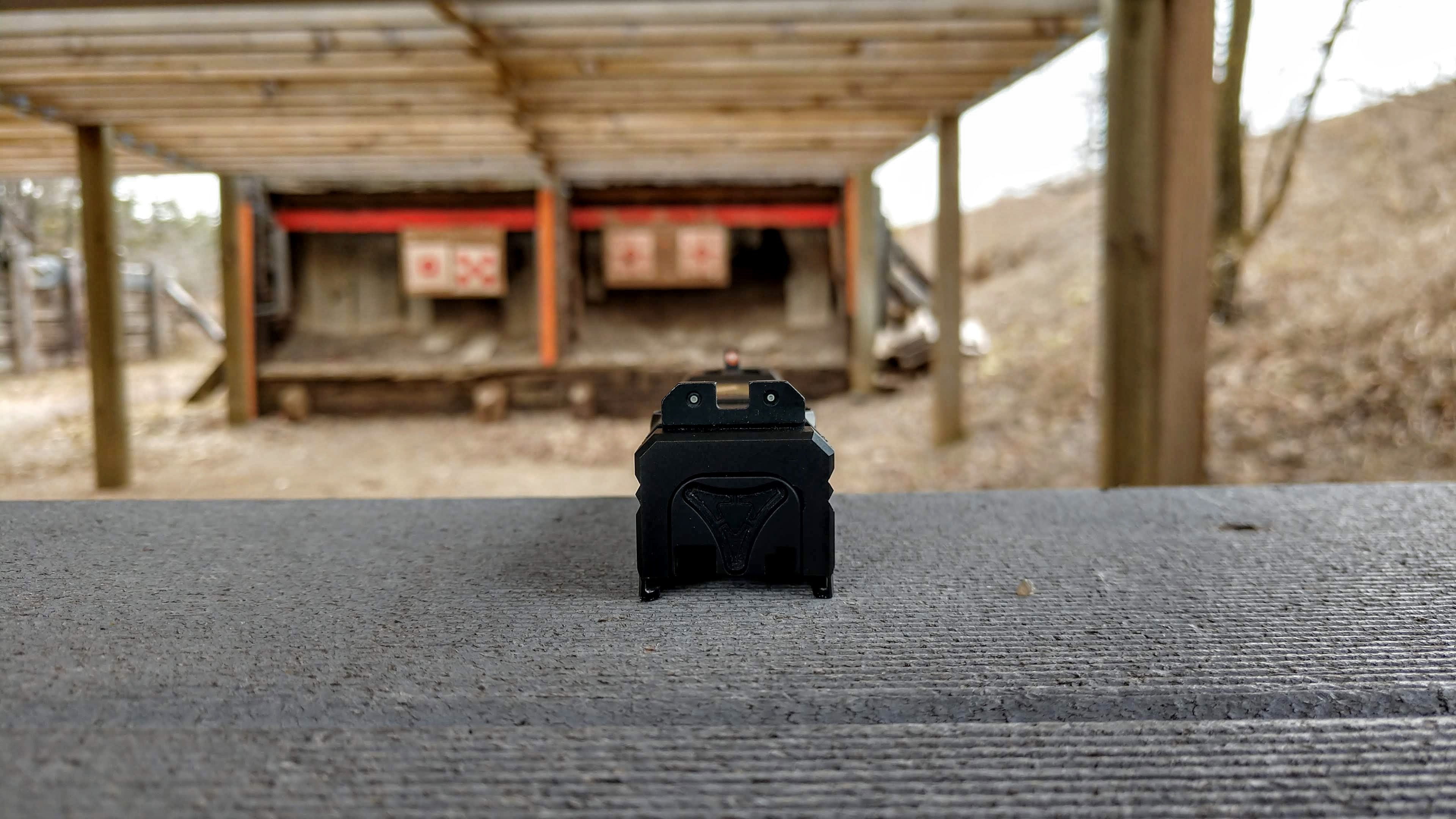 The microscopic amount of space surrounding the front sight when sitting in the rear sight notch is a perfect amount. According to XS Sights, this specific gap makes front sight indexing much faster while still allowing for accurate sight alignment. Like I mentioned earlier on, you never know how much deliberate thought is truly put into the little aspects of a sight like this.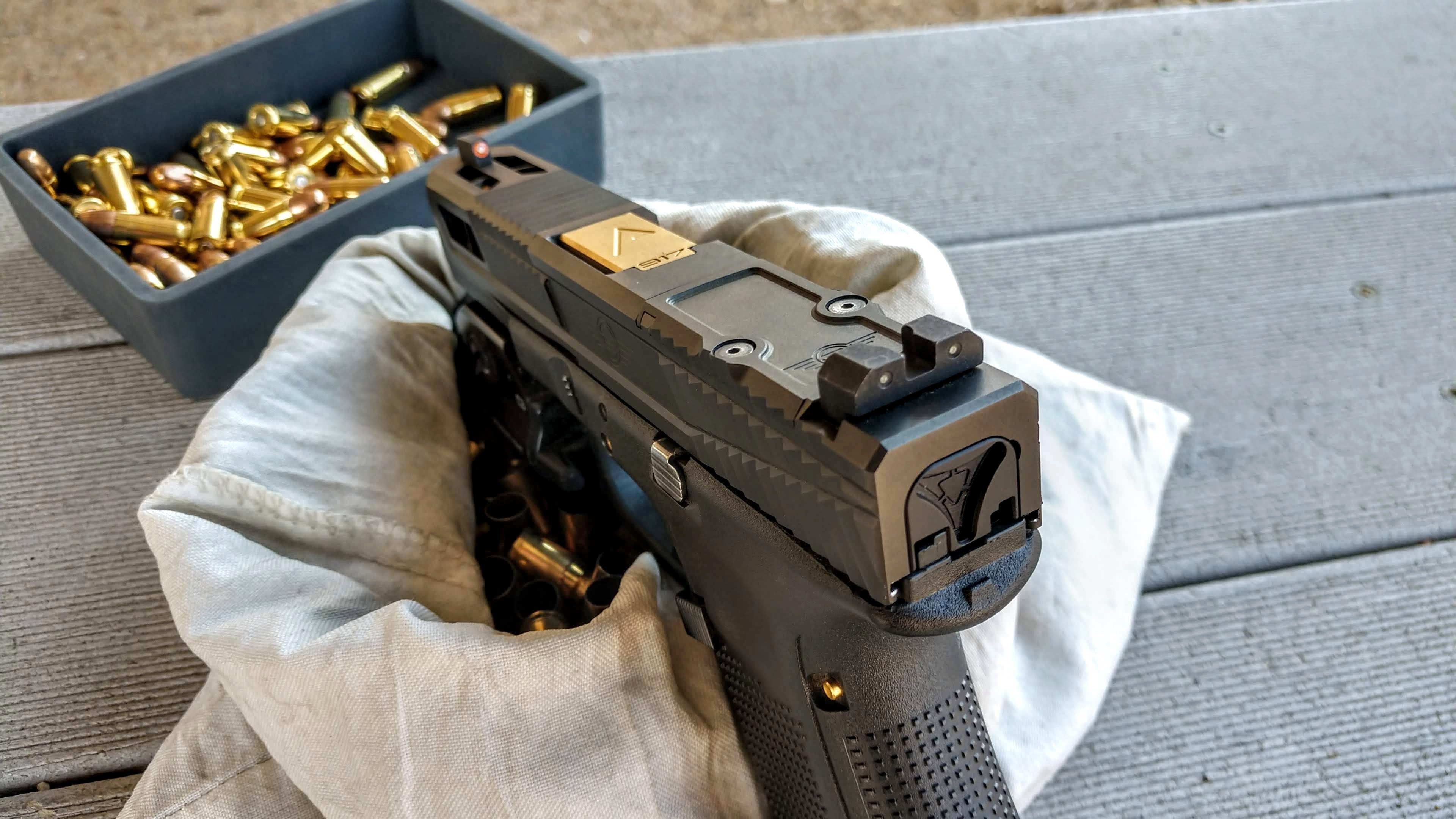 Throughout my robust afternoon of shooting on a blustery MN day, the sights stayed tight to the slide and did not move after shooting 250+ rounds of FMJ. I have experienced lesser quality sights before "walk out" on me after the 1st range session I put them through so it was reassuring to see these hold tight, remain accurate, and be a fast sight picture to acquire.
Final Thoughts: XS Sights RAM (RadioActive Material) Night Sights
So, after being introduced to the XS Sights RAM (RadioActive Material) Night Sights and shooting them, what are my final thoughts?… I liked the rounded edges of the rear sight because if I were to dedicate this to an EDC gun the sights would be less likely to snag on clothing and would draw more smoothly out of a holster. The sights were also easy to install, they did not scratch my slide in any way, and the extra provided accoutrements of a front sight tool and red loc-tite were much appreciated.
While I did not photograph the sights at night because that is a difficult photo to properly accomplish, they glowed really well and crisply at night aside from the positive range experiences I had during the day as well. So, for the MSRP price of $109.99 for your option of green or orange, I believe these sights are worth it. If you are in the market to upgrade your pistol's sights to something better it would be worth checking out the XS Sights RAM set.
In closing, I want to say thank you to XS Sights for allowing AllOutdoor and myself the opportunity to try out their XS Sights RAM (RadioActive Material) Night Sights. That is greatly appreciated. Also, we would like to know what all of you guys and gals think? Do you believe that the XS Sights RAM (RadioActive Material) Night Sights are something worth spending your money on? Would you carry these sights on a pistol while camping or hiking? Shoot a league with them? Hunt? Let us know all of your thoughts in the Comments below! We always appreciate your feedback.