Bushnell Debuts NEW Match Pro Rimfire Riflescope
Adam Scepaniak 04.18.20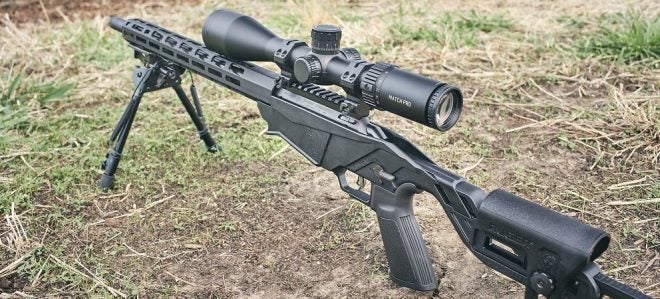 A wise man once told me that "you cannot hit what you cannot see," and there is some painful truth in those words. Many shooters are willing to empty their wallets on rifles, but then inevitably skimp on their optics. In reality, they should be spending equal amounts on both, or a disproportionate amount towards optics. This disparity only gets worse when people purchase rimfire rifles. With that in mind, Bushnell has gone into their laboratory to conjure up a NEW optic for all of the rimfire faithful. Their NEW riflescope is the Match Pro in two different offerings of an Illuminated and Non-Illuminated option. The Press Release from Bushnell can be read below:
"OVERLAND PARK, Kansas – April 16, 2020 – Bushnell, an industry leader in performance optics, is excited to announce that it will offer a new version of its competition-based riflescope, the Match Pro, sold exclusively through Bushnell.com. Designed to offer an affordable solution for those seeking a precision-made riflescope for rimfire or PRS-style competitions, the Match Pro delivers high end features at an entry level price."
The popularity of rimfire competitions like NRL22 (National Rifle League – .22 Long Rifle) and PRS (Precision Rifle Series) has grown exponentially in recent years to put it mildly. As a result, big name manufacturers like Bushnell have taken notice and are looking to supply optics for these niche competitions. If you are interested in getting a dedicated rimfire optic like the Bushnell Match Pro you can read all of their specifications below:
6-24×50 Configuration
30mm Tube
First Focal Plane (FFP)
Locking Turrets with Tool-less Zero Reset
Side Parallax from 10yds to Infinity
10-Mil Locking Turrets with Tactile Clicks
18 Mil of Windage and Elevation Travel
Deploy Mil FFP Etched Glass Reticle
Fully-Multi Coated Optics
EXO Barrier™

Both the illuminated and non-illuminated Match Pro models will be available early May. The pricing respectively is $499.99 for the illuminated Match Pro and $449.99 for the non-illuminated Match Pro. Being that it is a Bushnell product, it is covered by their "Ironclad Warranty" in the rare event you should ever need service for your optic. A final explanation for this new rimfire riflescope is offered by Greg Palkowitsh, Riflescope Product Manager of Bushnell, in the comments below:
"As more and more people enter into the world of long-range precision matches, be it through the NRL22 or PRS, the need for a budget minded scope that doesn't fall flat on capabilities has never been greater. The Match Pro riflescope offers the perfect blend of performance and cost, giving shooters all of the features they need while still qualifying for base class and open class competition."
While many of us enjoy our big-bore cartridges and making a lot of noise at the range with our friends, the community and sport of rimfire is growing at a rate like never before. The Bushnell Match Pro could establish a strong foothold in this segment of the optics market. What do you think though? If you are/were a rimfire aficionado, is this something you would invest your money in? Let us know all of your thoughts in the Comments below! We always appreciate your feedback.