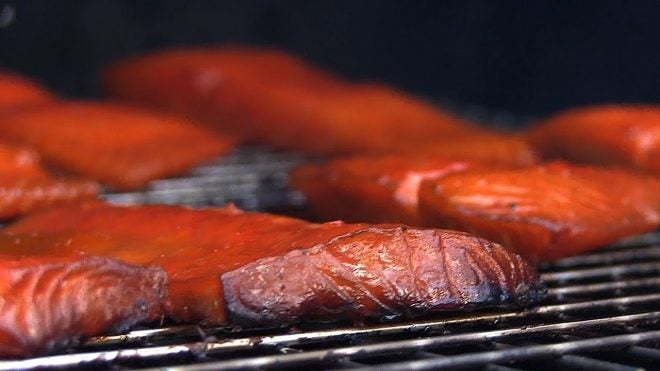 Have you been in a butcher shop recently? Ever notice how the smoked meats cost substantially more than the non-smoked meats? Sure, smoked meats taste delicious, but man, it sure can be a hard pill to swallow when it comes time to pay the bill. Smoking meat is the original preservation method for keeping rich protein handy. The thought of smoking your own meat may seem like a daunting task, but it's really not. You just need the right tools. Picking the right smoker for you is easier than you think. In fact, you've got choices that can fit every budget and need.
The basics of smoke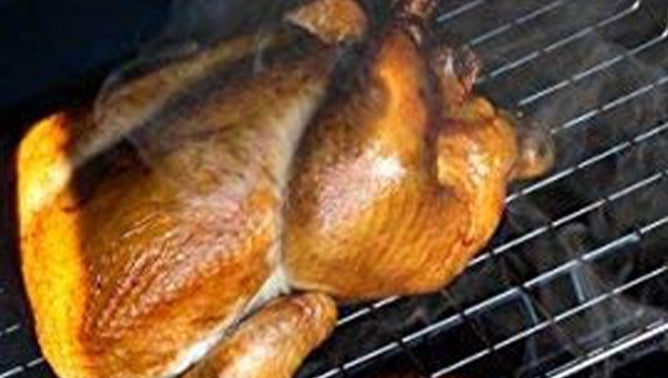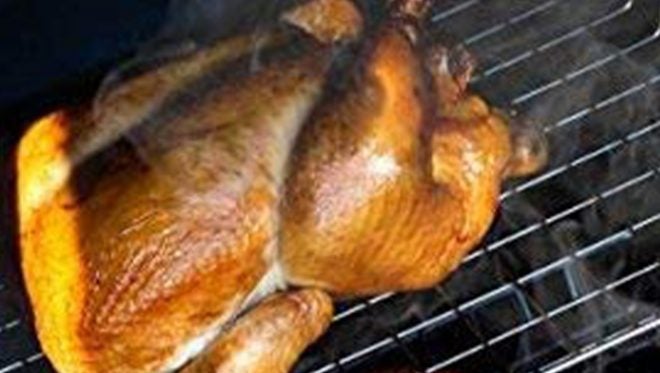 The difference between cooking and smoking is the amount of heat and time you use. Grilling meat uses the same basic principle of smoking, just much quicker. Smoking uses the lower heat levels contained within the smoke itself, and the sealing properties of the smoke, to contain the flavor within the meat, while dehydrating it to keep the meat from spoiling. This is why controlling the temperature in your smoker is vital.
There are three basic types of smokers – wood, propane and electric. All three use wood smoke to seal in the flavor of your meat. All that differs is how they go about doing so. Wood smokers are simply a slow-burning pile of wood inside a controlled environment. A propane smoker uses a low-level propane flame to ignite wood inside a controlled space. Electric smokers use electric-generated heat to slowly burn wood for the same purpose.
Propane smoker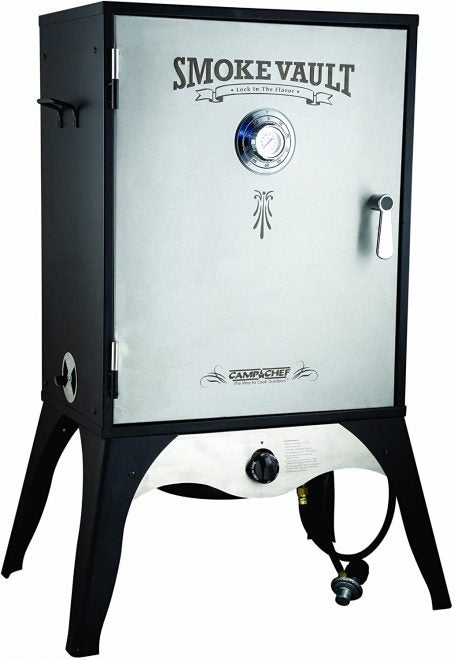 For many, a propane smoker is a great choice. They are inexpensive, simple to use and efficient. We've been using a Camp Chef Smoke Vault for a number of years. It is simple to use and easier to control. The basics consist of a burner, a pan for the wood chips, a water pan for controlling the humidity and racks for the meat. One tip we found with using ours is to cover the wood chips with aluminum foil and leave only a small slit for smoke to escape. This controls the initial burn and lets you smoke your meat longer without cooking it too fast. The Smoke Vault comes in two sizes, a 24-inch wide model, and an 18-inch wide model.
The advantages to a propane smoker are you can use the same source as your gas grill to operate it. It also works similar to a grill, in that you can open up the valve to add the heat to your smoker and use it like a grill. There is a little bit of a learning curve to using one and it does take a little bit more of a hands-on approach.
Electric smoker
If you don't want to mess around with propane, you can always plug in an electric smoker. Think of one as a big wood burner, like you used to use in an art class, but inside of a metal box. They use an electric charge to slowly burn wood to get the amount of smoke needed to cure the meat. There are a few out there, but we're most familiar with models From Bradley Smoker.
The Bradley models use pre-formed wood pucks that feed into a hopper on the smoker. You set the temperature and the smoker automatically feeds to pucks into the burner. The digital model is pretty slick in that you set the temperature and the time, and it basically takes it from there, automatically feeding things along until your timer runs out and Wholla! You've got smoked meats. We did a pile of fresh-caught Alaskan salmon on one of these smokers and it was epic.
Pellet grills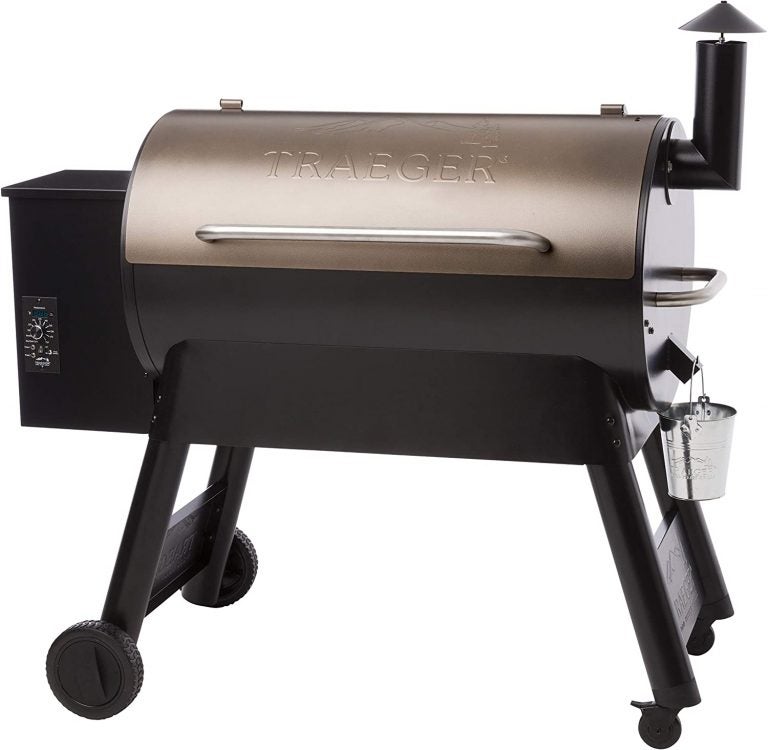 The hottest new trend, and yes, the pun was totally intended, in smoking and grilling is a pellet grill. Pellet grills, much like a pellet stove for heating your home, use preformed wooden pellets to cook and smoke your food. Compressed wooden pellets burn much longer than you think. Basically sawdust is compressed at incredible pressures into a tube that is then cut into small pellets. Unlike those used for heating, the pellets for grilling are made from pleasing wood types, like apple, cherry or mesquite.
Pellet grills, either cook directly over the smoldering pellets, or indirectly from a smoke box. Camp Chef makes a terrific pellet grill. One of the popular brands out there too is Traeger. The Traeger offers versatile cooking, letting you go hot and fast, or low and slow. The Traeger pellet grill offers 6-in-1 versatility to grill, smoke, bake, roast, braise, and BBQ you foods. The Traeger grill is a little pricey, but it has something some cheaper grills do not – temperature control. As you start down the road of smoking your own meat, you'll quickly learn how important temperature control is.
Another option, the Camp Chef Woodwind model has wifi and Bluetooth connectivity that allows you to control the temperature with your smartphone. How cool is that? You can make jerky or smoked fish while hanging around the pool enjoying a beverage of choice.
Why smoke meat?
Smoking meat is the oldest form or preservation known to mankind. It is advanced dehydration, and helps the shelf-life of many meat varieties. Smoked meat can also be canned easily and the fresh, moist smoky flavor is retained. Canned smoked salmon, for example, can be opened over a year later, and it will taste and smell just like it came fresh off the grill. In a time when being self sufficient and sustainability is a key part of life, knowing how to smoke your own meat is imperative.