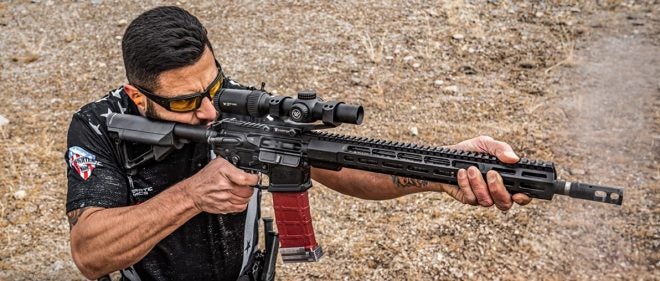 New optics are dropping even during this coronavirus (COVID-19) quarantine as the Vortex Strike Eagle 1-6x24mm and 1-8x24mm get a whole new look! Many of the optics from Vortex have seen updated/improved versions come out or even straight 2nd Generation variations of them be introduced. The next one to get the once-over treatment was the Vortex Strike Eagle. A Press Release for these tactical scopes can be read below from Vortex Optics further explaining what they are all about:
"BARNEVELD, Wis. The updated Strike Eagle® 1-6×24 and 1-8×24 offer the tactical solution value-minded shooters have been craving to adapt to any tactical situation.

Built around the new AR-BDC3 reticle—an updated design that makes ranging distances and holdovers simpler and more intuitive, with references out to 650 yards—the new Strike Eagle® also features a thread-in throw lever for rapid adjustments. It's an LPVO that can take you from close quarters to way down range, and it's optimized for the .223 and .556 platforms, making it perfect for the modern tactical rifle."
"You still get all the features that made the original Strike Eagle® such a powerful tool across a wide variety of scenarios. A glass-etched reticle means not only is the reticle extremely crisp and precise, you still have a point of aim without power. And, when the Strike Eagle® is powered up, the illuminated reticle provides precise aiming in low-light conditions.

Plus, we've updated the Strike Eagle's® design, making for a cleaner, sleeker profile. It's beauty on the outside, all beast on the inside, and ready to take your AR farther."

The current MSRP for the Vortex Strike Eagle 1-6x24mm AR-BDC3 (MOA) Reticle is $399.99 while the Vortex Strike Eagle 1-8x24mm AR-BDC3 (MOA) Reticle is $499.99 respectively. They also carry what is considered the optics industry's best warranty where if something needs repair or replacement, they do it pronto with no questions asked. When it comes to LPVOs (Low Powered Variable Optics) Vortex has been killing the game for awhile now. The big question is what do you think? Is this something you would be willing to run on one of your modern sporting rifles? Let us know all of your thoughts in the Comments below! We always appreciate your feedback.