Kentucky 14.6-Pound Largemouth Bass Shatters State Record That Had Stood for 36 Years
Russ Chastain 04.24.20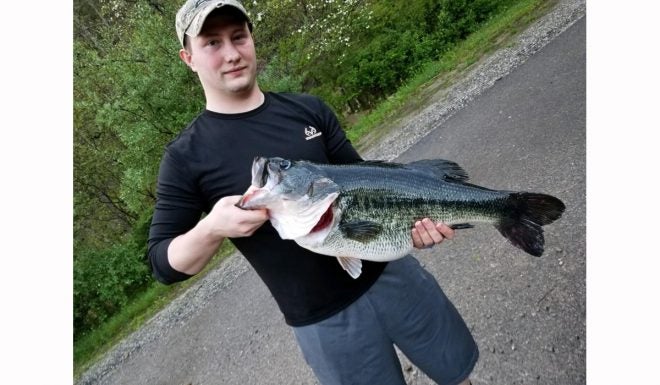 Breaking a record that had stood since 1984, Kentucky resident Mark Ward recently landed a largemouth bass that weighed almost a full pound more than the previous record.
Ward was quoted as saying, "Good Friday turned into a great Friday for me" in regards to catching the record-book bass, which weighed 14 pounds, 9.5 ounces. The huge fish reportedly measured 26.8 inches long and its girth was 22.5 inches.
It was Ward's first cast of the day that caught the bucketmouth during an after-work trip to a 6-acre lake at the end of a rainy day. He spotted a bass in the shallows which he estimated at about 4 pounds, and he decided to try to catch it.
"I pitched a lizard in there and the 4-pounder showed interest," Ward said. "Then, another came in and looked like a big log. The 4-pound fish triggered her to pick it up. I set the hook and it was on."
Ward caught the bass on a 6-inch Junebug-colored lizard using baitcasting gear and 14-pound-test monofilament fishing line.
The previous record was set in 1984 by Dale Wilson, who is credited with catching his 13-pound, 10-ounce largemouth bass in Laurel County, KY.