It's no secret I'm a fan of Talon Gun Grips. These are adhesive-backed layers of grip material that you apply to the grip of your pistol to make it more "grabby." I became a fan back in 2016, when the company owner adeptly demonstrated the benefit of his product at SHOT Show range day by showing how much easier it is to hold onto a pistol equipped with his "grips."
Until now, Talon Grips have been available in Rubber and Granulate. I have enjoyed the rubbery grips, which provide comfortable carry and enhanced grip. Granulate is quite aggressive, like sandpaper, and is best for shooting with gloves or calloused hands, so it's more for operators or competitors. There's a big difference between these two textures.
Today, Talon has begun selling a brand-new texture, which they're calling Pro Grip. The intention of Pro Grip is to bridge the gap between Rubber and Granulate.
Pro Grip is TALON's most advanced and versatile grip texture. Pro Grip combines the best characteristics of the Granulate and Rubber textures in one revolutionary grip. The new texture is comfortable enough against skin for concealed carry and aggressive enough for competition use.

Pro Grip utilizes particles of high friction rubber to achieve its high performance characteristics.
I was fortunate enough to get a Pro Grip for my Hellcat, which I installed today. It was also the first time I ever removed a Talon Grip (the rubber one pictured above), and it did peel off easily. I have carried with Talon Grips for years and they've never come loose or began peeling when I didn't want them to, so I wasn't certain they would come off cleanly — but they did.
As you can see, the texture of Pro Grip is much more coarse than their Rubber grip, although they say the little bits that create the texture are in fact made of rubber.
I initially added the Rubber Talon Grip on the Hellcat to prevent the aggressively-textured factory grip from chafing my side during concealed carry. They say Pro Grip is comfortable for concealed carry, and I'm going to find out about that first hand. My initial reaction is that it will probably irritate my skin where the grip lies against my side during concealed carry, but I'll give it a long term test before making that call.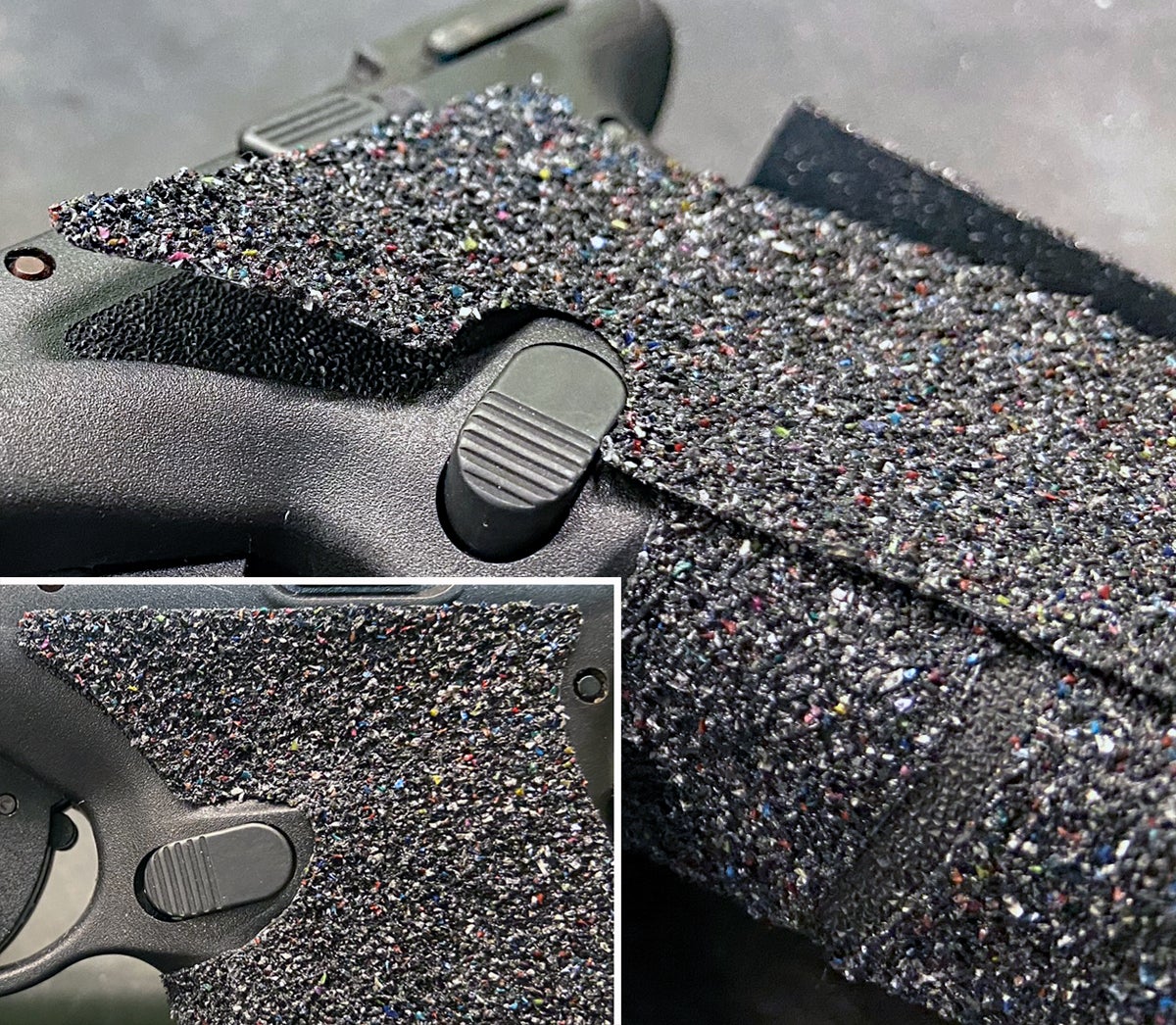 I can see how Pro Grip would be better than Rubber in wet conditions, not that Rubber is bad. Pro Grip is simply better because its texture gives liquid someplace to go when you grab your gun.
More from the press release:
Pro Grip excels in all areas of firearm use including law enforcement, military, competition, range, and defensive carry.

"The pursuit of innovation is a core principle of TALON Grips," said Michael Morris, President of TALON Grips. He continued "Our team does not accept good enough, that attitude paid off with the development of our new Pro Grip. The material excels in all uses and situations."

R&D testers raved about the new grip texture because it provided an incredibly strong grip yet it's comfortable enough for concealed carry against bare skin. The most common question from the testers was "when can I get this texture on my other guns?"

The Pro Grip texture was run through the gauntlet and tested in all conditions. It excelled in extreme wet, dry, hot and cold conditions with excellent results.
If you want something with more grip than Talon's Rubber but less aggressive/abrasive than Granulate, Pro Grip is just the ticket. It even has tiny specks of color in its texture, although my eyes don't really pick out the colors indoors; the colors are much more evident in natural light.
Regular price is $24.99 each, but today and tomorrow you can get Pro Grips for $19.99 (see below).
Stay tuned at AllOutdoor.com for a full review of Talon Pro Grip in the months to come. In the meantime, you can head on over to their website to learn more — and if you're ready to buy, Pro Grips are on sale today, April 29 and tomorrow, April 30; 20% off with no coupon code needed.