Federal Premium's NEW Terminal Ascent Bullet Sold as a Reloading Component
Adam Scepaniak 05.04.20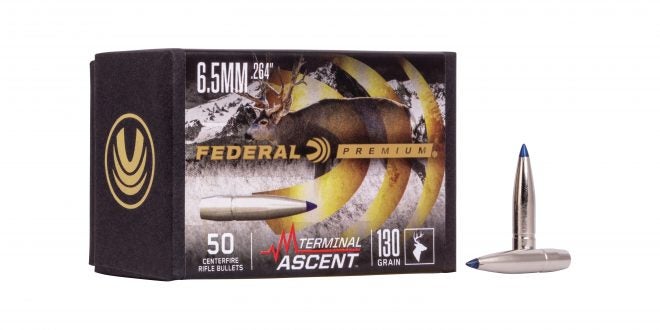 We recently announced that Federal Premium had unveiled a new line of ammunition at SHOT Show 2020 called "Terminal Ascent." Also, just last week we sounded the horn that Federal is finally shipping that ammunition to retailers. Well, we have one more announcement for you surrounding this new offering. Federal Premium's NEW Terminal Ascent bullet is now being offered as an individual reloading component for handloaders to make their own ammunition!
The secret sauce behind the Terminal Ascent bullet is that it is a culmination of a lot of previous technologies that Federal Premium has produced and is now gathered all into one bullet. All of the characteristics that shooters and hunters can come to expect can be read below as presented by Federal Premium:
Match-grade long-range accuracy in a bonded hunting bullet
Extremely high ballistic coefficient
Exclusive Slipstream polymer tip helps flatten trajectories and initiate low-velocity expansion
Less wind drift and drop
AccuChannel groove technology minimizes drag
Copper shank and bonded lead core retain weight for deep penetration at any range
For the time being, these bullets are going to be sold in smaller 50-Count boxes for all of the handloaders in the reading audience. With most all of us unfortunately in quarantine due to the coronavirus (COVID-19), it is a perfect time to knock out some reloading for future hunts this fall. All of the bullets that are going to be made available can be read below:
.264 Cal 130 Grain bullet | PB264TA1 | .263 G7 BC | MSRP $52.99
.270 Cal 136 Grain bullet | PB277TA1  | .247 G7 BC | MSRP $52.99
7mm 155 Grain bullet | PB284TA1 | .300 G7 BC | MSRP $54.99
.308 Cal 175 Grain bullet | PB308TA1 | .258 G7 BC | MSRP $54.99
.308 Cal 200 Grain bullet | PB308TA2 | .304 G7 BC | MSRP $54.99
Hunting season might seem like a vision far away with it only being May, but there is no better time to start preparing than the present. The biggest question that remains is what do you think? Is this a reloading bullet that you would be willling to handload and hunt with? Let us know all of your thoughts in the Comments below! We always appreciate your feedback.