Zastava M57 Pistol: a Yugoslav/Serbian 1911?
Russ Chastain 05.08.20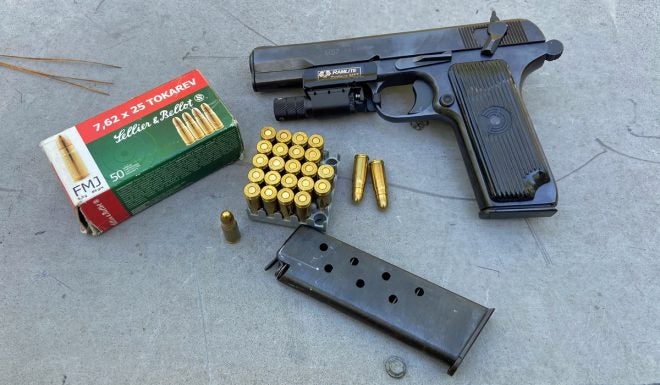 I've recently gotten the opportunity to spend some time with a cool pistol I'd never handled before, namely a Serbian Zastava M57. Although this model was formerly adopted in 1957 as a standard sidearm of the Yugoslavian Army, this pistol and many others imported in recent years are actually of current production, as verified by the rotating safety built into the slide of this handy semi-auto.
Interestingly enough, this pistol was made by the same facility that refurbished my father's "SpringMaus" hunting rifle long before it was sporterized.
This pistol shares many similarities with John Browning's design that is most well-known in the Colt 1911, but it went the other direction in terms of cartridge: the small-and-speedy Russian 7.62×25 Tokarev rather than the big American 45 ACP. It's actually a copy of Russia's Tokarev TT, but with grip extended to allow for a 9-round magazine rather than the TT's 8-round version.
I've barely gotten my feet wet with this firearm, but so far, so good. I will be posting more as I delve into this cheap pistol, which is a pretty good value at $250+/-. If only ammo was more affordable; even the cheapest surplus stuff is running about 3 rounds for a dollar. 7.63 Mauser, aka 30 Mauser, will work in this pistol but doesn't usually produce the velocity of the Russian round. Commercial ammo bearing that label averages 35¢ per round.
The two most obvious failings of this particular M57 are the cracked grips (which seems to be a common ailment) and a rear sight that doesn't even have a notch, apparently due to some sort of manufacturing oversight. [Edit: There was actually a notch in the sight, but someone filled it up! Click here to learn more about that.]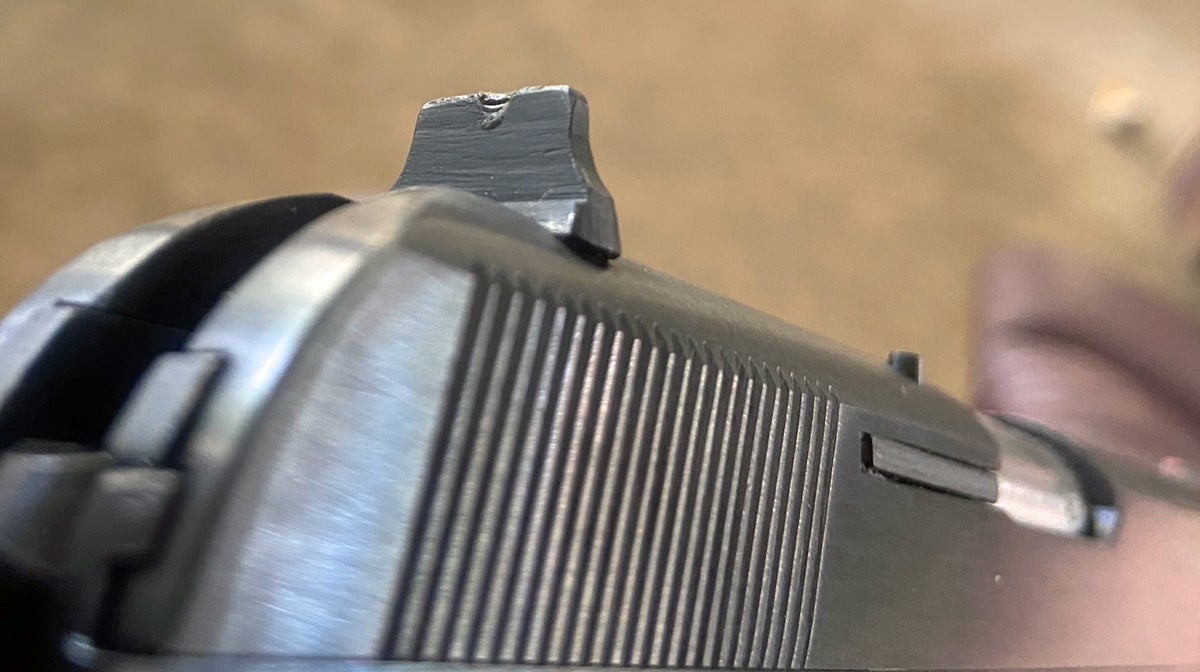 Needless to say, this makes aiming difficult. I fired a dozen or so rounds through this pistol, and learned where to hold (low and right) to hit the steel plate target… but I will be breaking out the files and giving this sight the notch which Zastava failed to provide.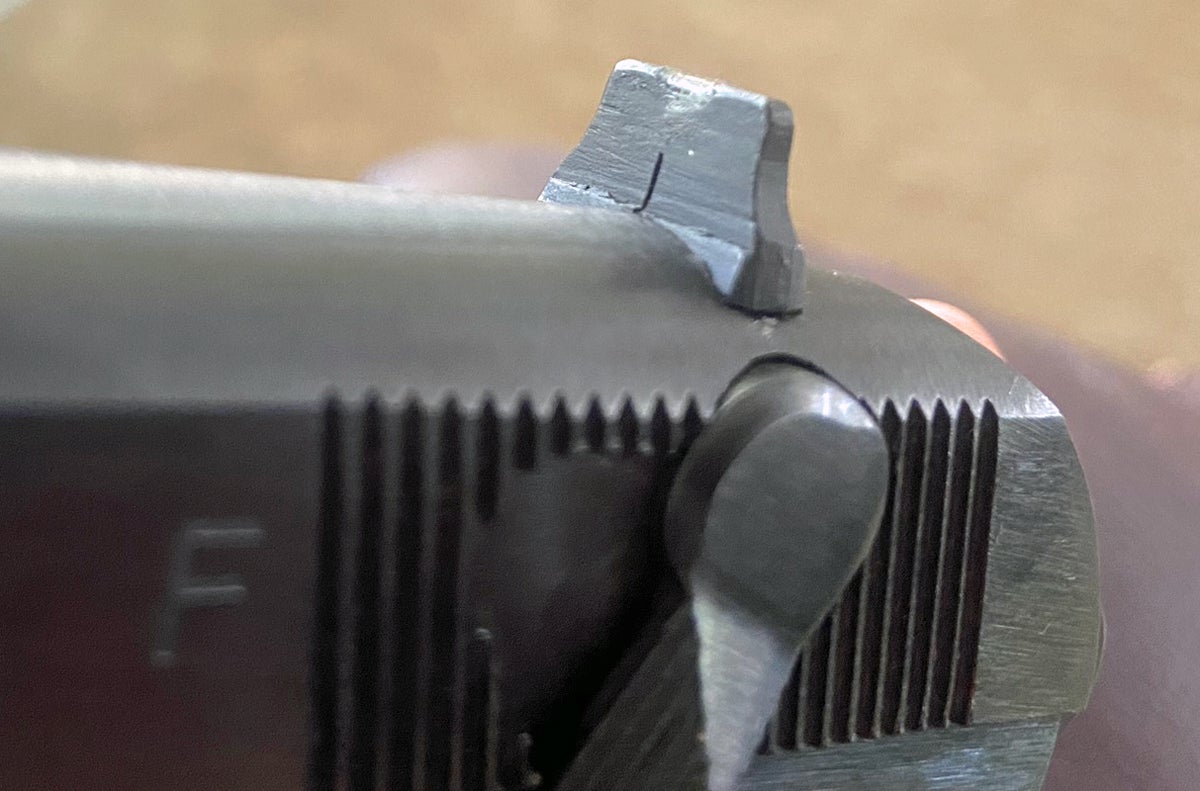 The grips are retained by sheet metal "latches" riveted to the grips, which you rotate inside the magazine well to remove or secure the grips. Unfortunately, both grip panels must be removed to take the gun apart for cleaning and the grips are already showing multiple cracks. More on that in a later post.
This pistol has a feature that has been popular in Europe for quite a long time: a magazine disconnect safety. In other words, the gun will not fire unless a magazine is installed. I can't say I'm a fan, but it is what it is.

The trigger pull is creepy and heavy, with a lot of travel. My trigger scale's markings only go up to 8 pounds; the M57's trigger breaks about where the 9-pound mark would be.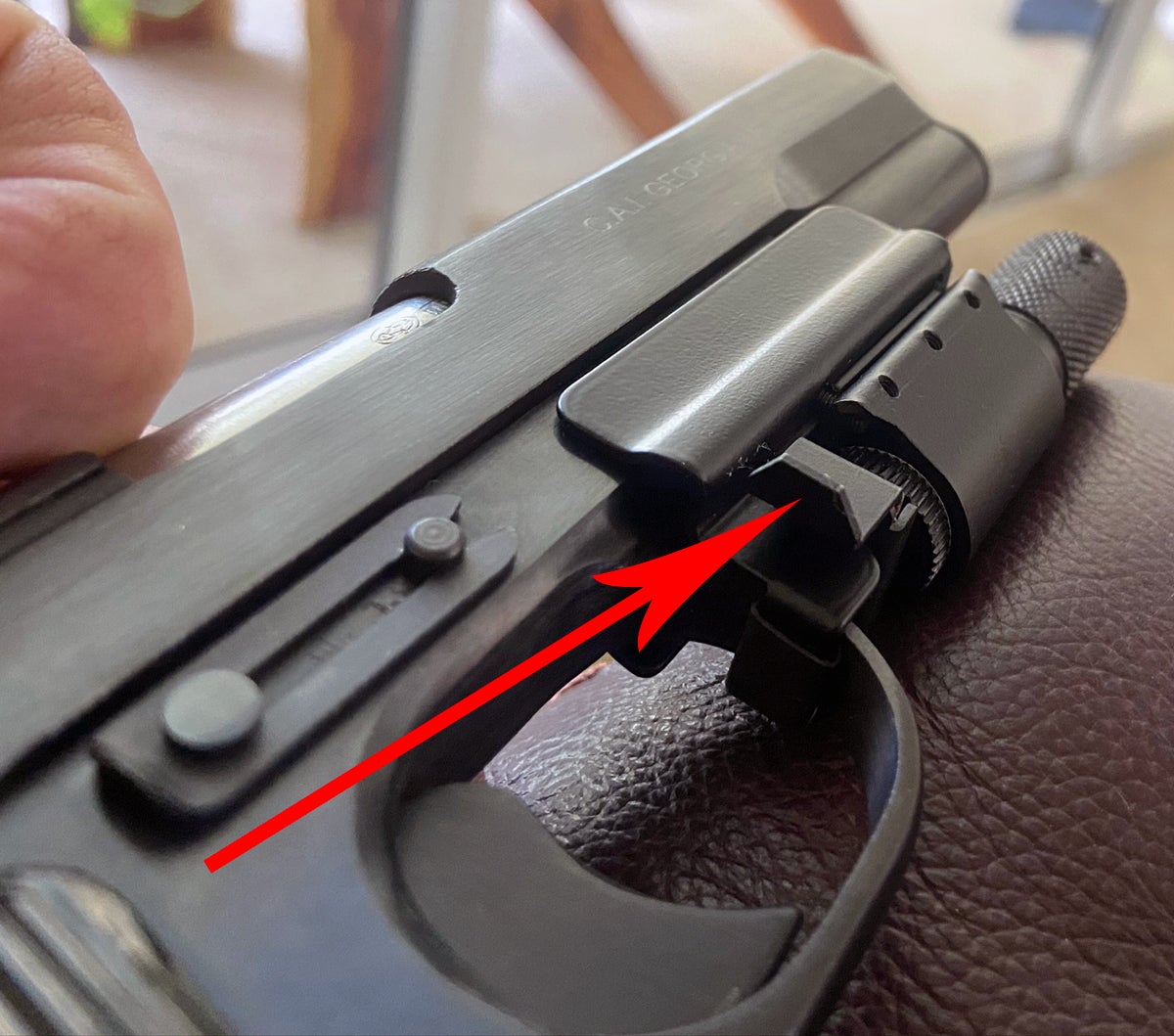 Since it was tough to hit a target without a notch in the sight, a previous owner added a Ramlite laser. This is a magnetic-mount red laser that seems well-designed, although it's a little too easy to switch it on accidentally, especially if you stuff the popper in your waistband on your way to the range. It's no wonder the (3xLR44) batteries were dead when I got it.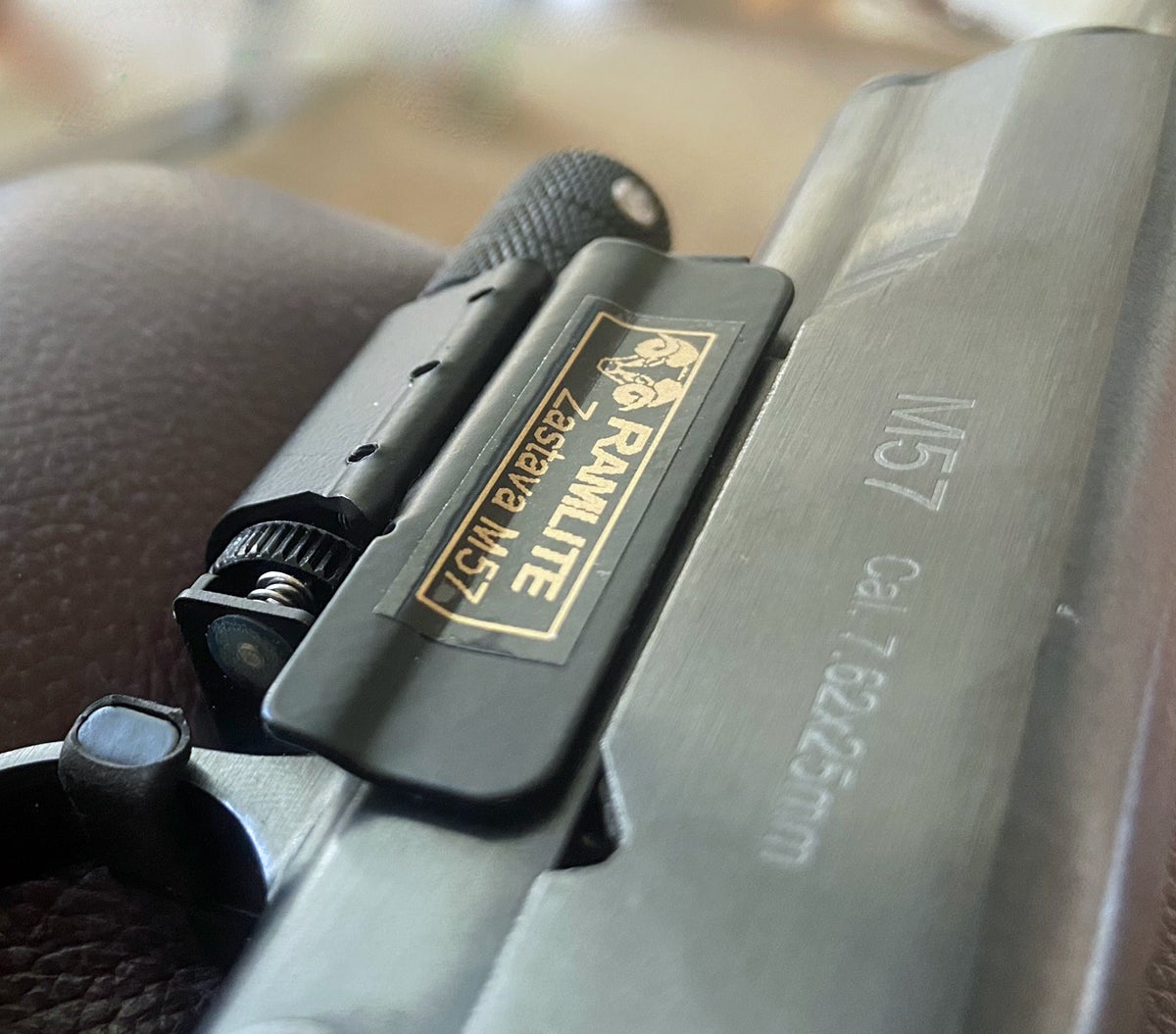 These lasers are no longer available. Ramlite's website indicates they stopped production in 2018, and announces "Warranty until 2020." They weren't cheap. This one cost $109.99 plus shipping in 2014.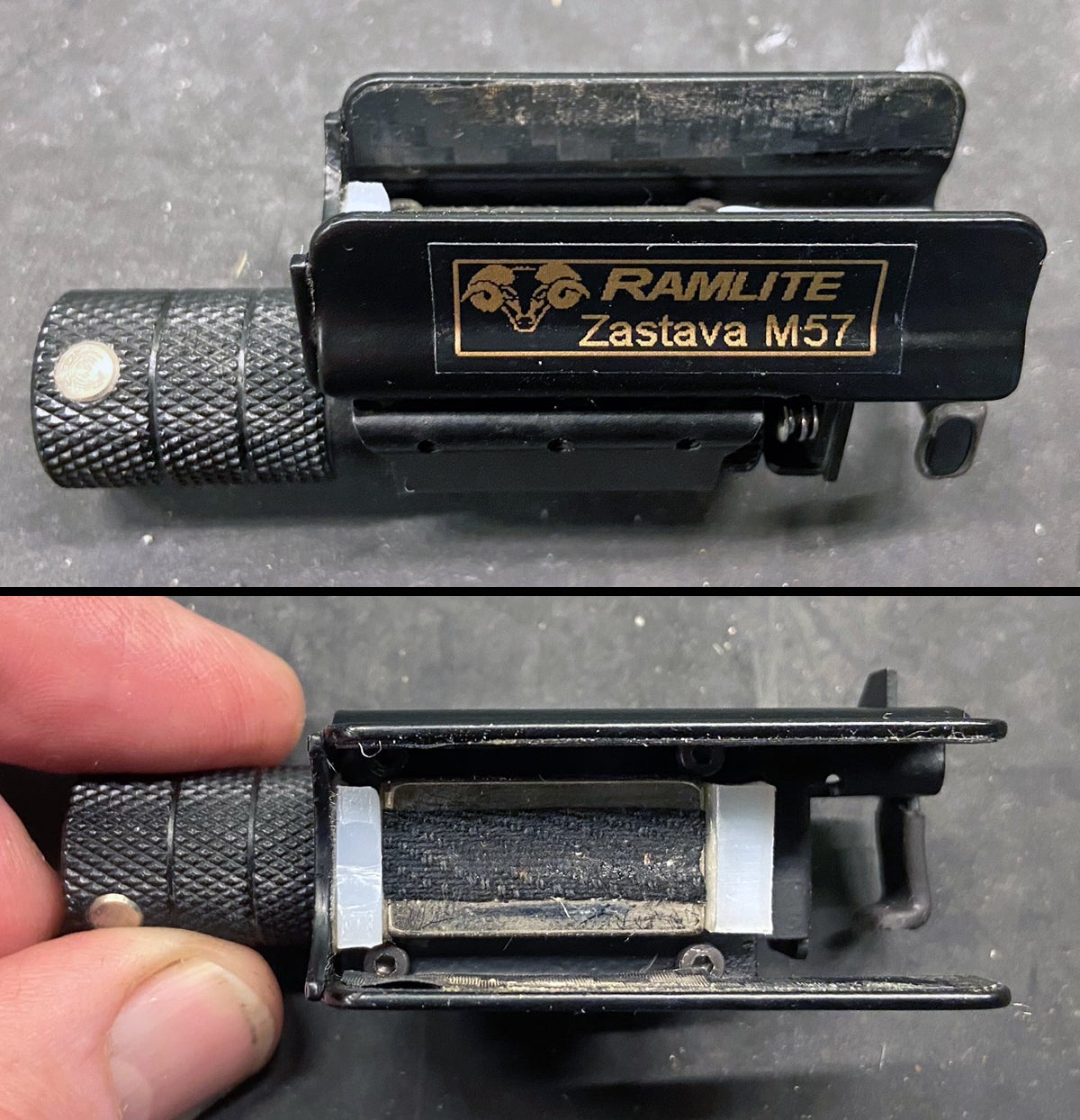 Once I get the rear sight notched — click here to read more about that — I'll get the gun zeroed and seriously test the laser for repeatability.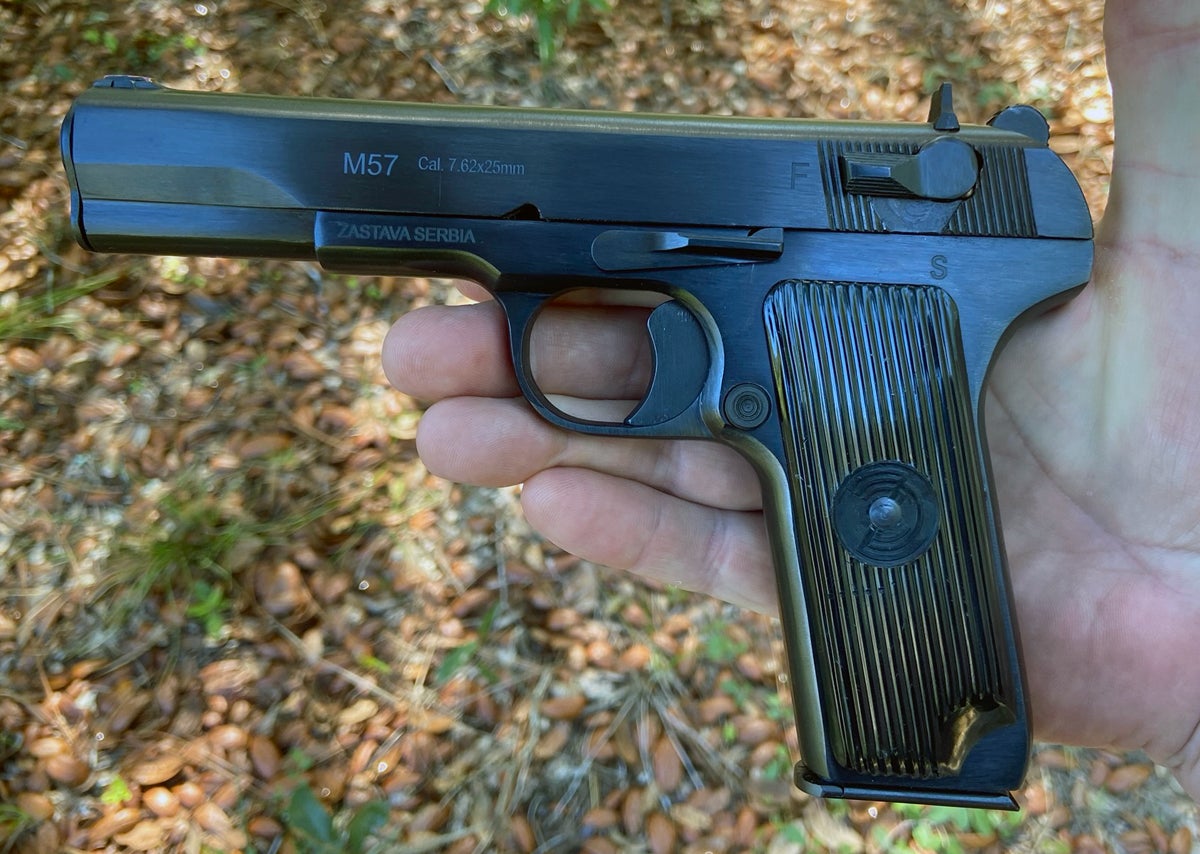 Not all M57s have the slide-mounted safety. This one disconnects the trigger linkage while blocking the hammer when on "safe." The slide release is reminiscent of Colt and also secures the barrel link, as on a 1911. The mag release, sliding steel trigger, and barrel bushing also hearken to Browning's most-enduring handgun design.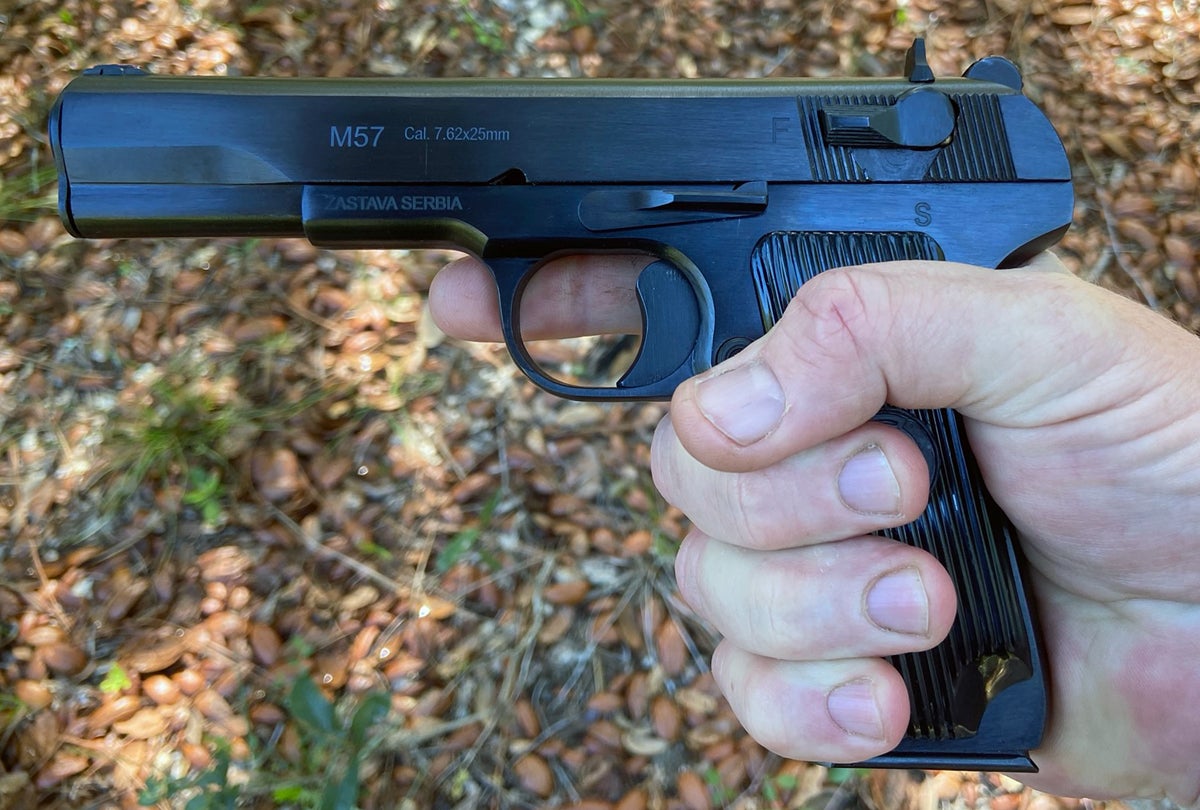 I have always loved the way a 1911 feels in my hand, and the M57 is not far off. Although it's crudely made and kinda rough, I can't help but appreciate its simple reliability and slab-sided feel.
I'm pretty sure I'm going to have a lot of fun with this one. Stay tuned!