North Korean Type 68: 1911 Meets Tokarev Meets Browning Hi-Power
Russ Chastain 05.18.20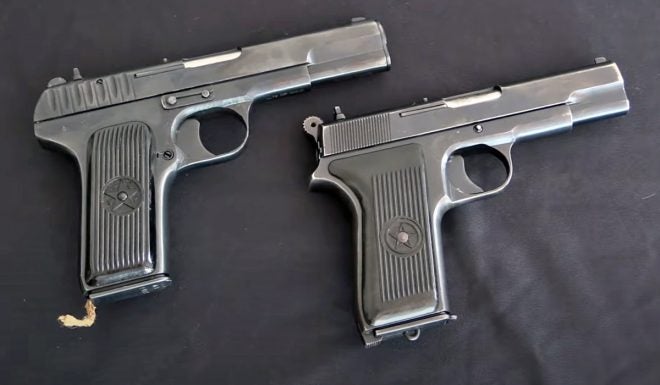 In this video, Ian takes a look at an interesting sidearm from North Korea designated the Type 68, which seems to be an odd hybrid of the old Russian Tokarev's version of Browning's Colt 1911 design, with some interesting differences such as a redesigned grip frame, relocated magazine release, and an entirely different barrel system that's more indicative of the Browning Hi-Power pistol.
The image above shows a Russian Tokarev at top left, with the Type 68 below and to the right.
Like the Tokarev or the many copies thereof such as the Zastava M57 I've been writing about recently, this gun is chambered for 7.62x25mm Tokarev and has a removable modular hammer assembly.
The 68's barrel & slide are shorter, and it doesn't employ the sliding spring clip on the right side of the frame to retain the slide release.
The hammer "spur" is larger than most, making it easier to cock manually.
The grips are of typical Tokarev design & operation.
For some reason, they removed the pushbutton magazine release from the frame near the trigger guard, and employed a heel-type release. In my opinion, that was a large step backwards.
The barrel design seems to be an improvement, though, and I would love to get my hands on this thing to run some of my grossly overpriced 7.62×25 ammo through it.
Anyhow, enjoy the video.