NEW B5 Systems Equipped Springfield SAINT AR-15 Rifles & Pistols
Adam Scepaniak 05.21.20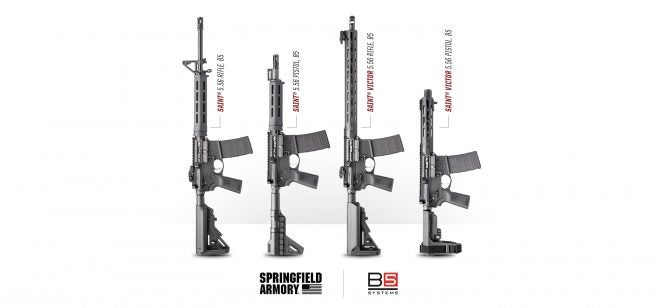 All of us could likely use some good news with quarantine, boredom, and visions of freedom clouding our minds currently. So, courtesy of Springfield Armory we have some good news to announce! Springfield Armory is now offering NEW select SAINT AR-15 rifles and pistols featuring B5 Systems components. In all, they have 4 new firearms that feature B5 Systems handguards, trigger guards, pistol grips, and/or stocks for an enhanced appearance and functionality. These new offerings are a standard SAINT (rifle and pistol offering) as well as a SAINT Victor (rifle and pistol offering). Springfield Armory goes on to more thoroughly explain these new offerings through their Press Release below:
"GENESEO, ILL. (05/21/20) – Springfield Armory® is now outfitting select SAINT® models with furniture from B5 Systems, a highly respected producer of military-grade gear and supplier for U.S. military contracts. The B5 Systems furniture is featured on select SAINT and SAINT Victor firearms and is available now, in addition to the original offerings equipped with BCM furniture.

In the SAINT Victor line, purpose-built with performance upgrades for professional grade reliability, both the 5.56mm SAINT Victor Pistol and 5.56mm SAINT Victor Rifle are now being offered with B5 Systems gear. Both models feature B5 Systems' enhanced Type 23 P-Grip pistol grip and enlarged polymer trigger guard, and the SAINT Victor Rifle in 5.56mm features the B5 Systems Enhanced SOPMOD Stock.

In addition to the Victor line, the SAINT Pistol and SAINT Rifle are also getting B5 Systems enhancements. Both models feature the company's pistol grip and trigger guard, and additionally are equipped with the B5 Systems' Hand Guard — offered now for the first time with M-Lok® slots. These slim composite handguards feature built-in stamped steel heat shields and excellent ergonomics. The SAINT Rifle is equipped with the B5 Systems Bravo Stock.

The Springfield Armory original SAINT disrupted the AR-15 market when it launched in 2016, providing quality features and value in a lightweight, ready out-of-the-box platform. The addition of the purpose-built Victor line further enhanced the company's AR-style offerings.

B5 Systems is an industry-leading accessories engineering company with a dynamic history of supplying U.S. military and aerospace manufacturing. Their rugged components provide the reliability you expect and deserve in your firearm on duty, in the field, and for your personal protection."
As mentioned above, Springfield Armory is not doing away with their BCM outfitted SAINT rifles, but you now have the option of those previous firearms as well as these new B5 Systems ones as well. B5 Systems might not be quite the household name brand that BCM (Bravo Company Manufacturing) and Springfield Armory are, but that is only because they dedicate a lot of their manufacturing to the military. The new offerings with B5 Systems furniture, their associated part numbers, and MSRPs can be read below:
So, at the price-point of roughly $850 – $1,050 you can jump in on some of the NEW Springfield Armory SAINT rifles and pistols decked out in B5 Systems furniture. Out of all of the new models being offered, which one intrigues you the most? Let us know all of your thoughts in the Comments below! We always appreciated your feedback.
---
About Springfield Armory®
In 1794, the original Springfield Armory began manufacturing muskets for the defense of our young, free Republic. The Armory functioned as a firearms supplier for every major American conflict until 1968 when the government sadly closed its doors. In 1974, nearly two centuries after its inception, Springfield Armory Inc. in Geneseo, Ill. revived the iconic heritage of the Armory to carry on its legacy.
We strive to honor this responsibility as guardians of the original Springfield Armory legacy by manufacturing the highest quality firearms to enable responsible citizens to preserve their right to keep and bear arms in the defense of life, liberty and the pursuit of happiness.
With an unmatched emphasis on craftsmanship, performance and exceptional customer service, our mission is to forge superior firearms and provide the tools necessary to defend individual freedoms and equality for those who embrace the rights and principles secured by our Founding Fathers. For more information, please visit us at: springfield-armory.com.