Fisher Space Pen — the only pen that writes frozen, under water, and in zero gravity — will be heading back to space with NASA astronauts tomorrow, if all goes according to plan. And that's what didn't happen a couple days ago, when the SpaceX launch was delayed.
Here's a short video about that and about the company's past & current contributions to the writing industry; the only ballpoint pen that's been on every manned American space mission since Apollo 7, and a newer all-brass pen with antimicrobial properties (popular lately due to the COVID-19 coronavirus scare).
At the 2020 SHOT Show Range Day this past January, I was the happy recipient of a Tradesman Yellow Cap-O-Matic Space Pen, which I immediately put to work.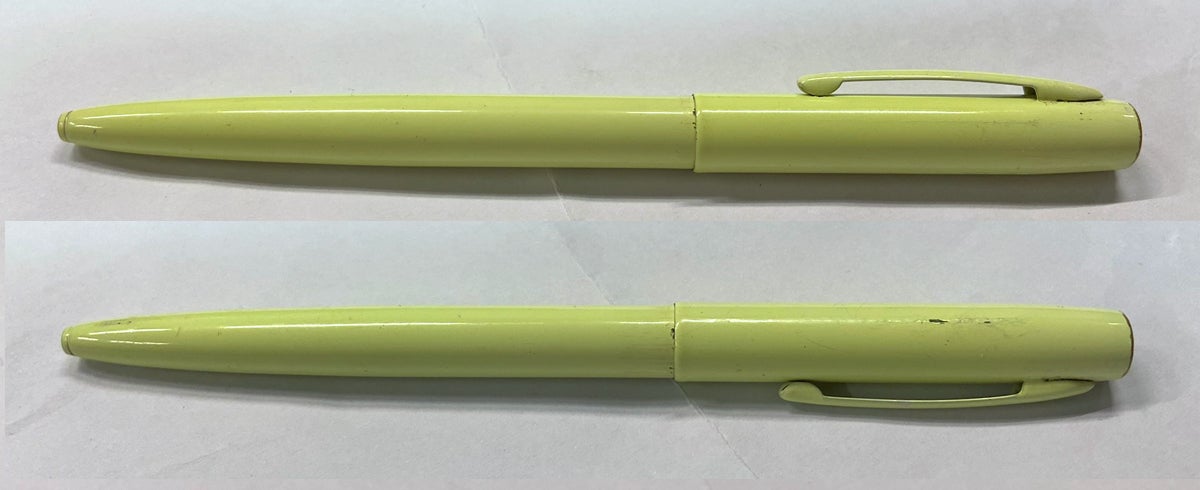 The SHOT Show is a busy time, with dozens of meetings and new products each day. While I keep extensive notes electronically on my phone, there's no substitute for jotting down a quick handwritten note on a business card or pamphlet to remind you of that moment in time once you get back to your room — and eventually back home. After a whirlwind like the SHOT Show, that stack of business cards you amassed won't mean much without those scribbles telling to to send email, write up a new product, or contact the company for a review sample.
My usual drill is to pick up free pens here & there on the Show floor, and find out which ones are useful via "trial by fire." Different pens "like" different surfaces, and not every one will write on every business card or slick printed brochure.
This time, I used my Space Pen almost exclusively for all of that work, with no letdowns. My only "iffy" note was on a very shiny business card, on which most pens won't write well. The Fisher pen wrote well, but the slick surface didn't allow the ink to soak in at all, and some of the ink was wiped off with handling before it dried.
In other words: the Fisher Space Pen is the best pen I've ever owned.

It's the Cap-O-Matic model, which is a click-to-retract style of pen… but instead of a button at the back end of the pen, you "click" the entire rear cap portion (the part with the clip). The entire mechanism is contained in that cap; the lower part is a painted brass tube containing the ink cartridge.
I do a lot of workshop work, which is tough on my things… things like clothes, phone cases, and pens. After 4 months of tough service, my Tradesman pen is doing just fine, with the only casualty being a little lost paint & exposed brass.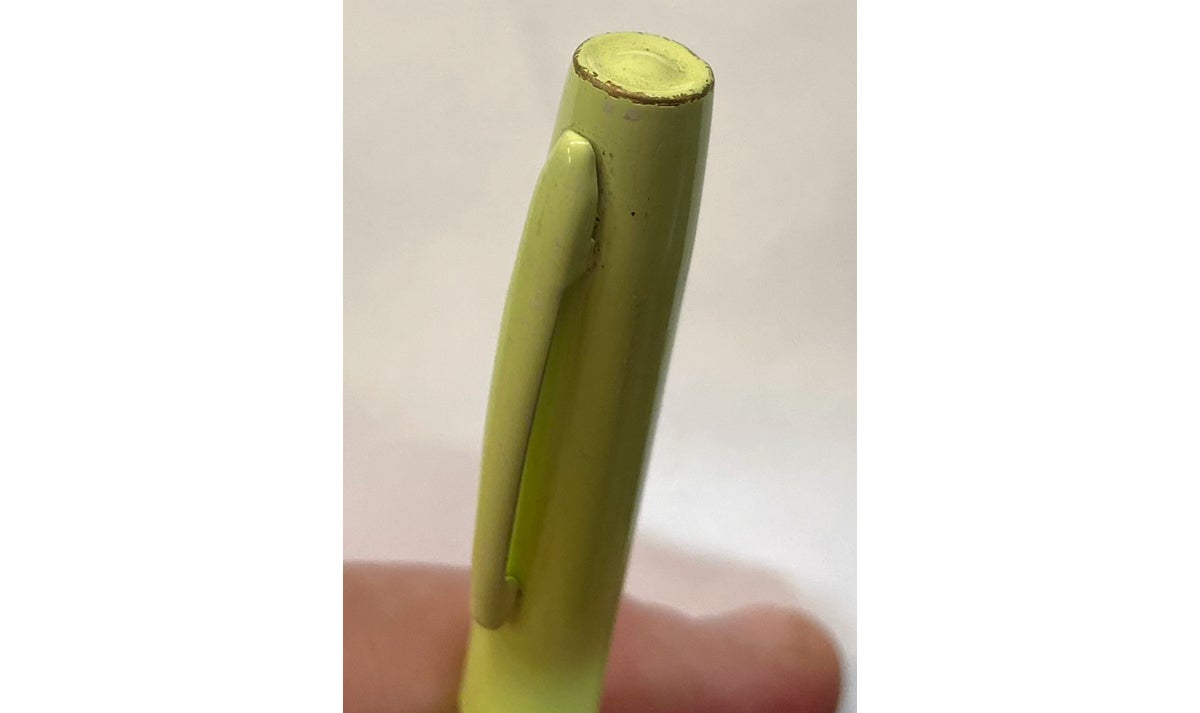 Perhaps best of all, it's easy to spot and easy to identify; there's very little chance anyone can pick it up and walk away with your pen, thinking it's theirs — and if you leave it lying on a workbench or desk, it's easy to spot among the clutter. The Tradesman bright yellow finish is glossy and covers every exterior surface of the pen, including the inside of the clip.
All Fisher Space Pens are lifetime guaranteed for quality against all manufacturing defects.
Company longevity is always a concern when you read the words "lifetime guarantee," but when a company has been making good on their Space Pen products for more than helf a century, you can have confidence in their staying power.
After the Show, I ordered two more Cap-O-Matics; one in TrueTimber Strata Camouflage and one in the Firefighter motif.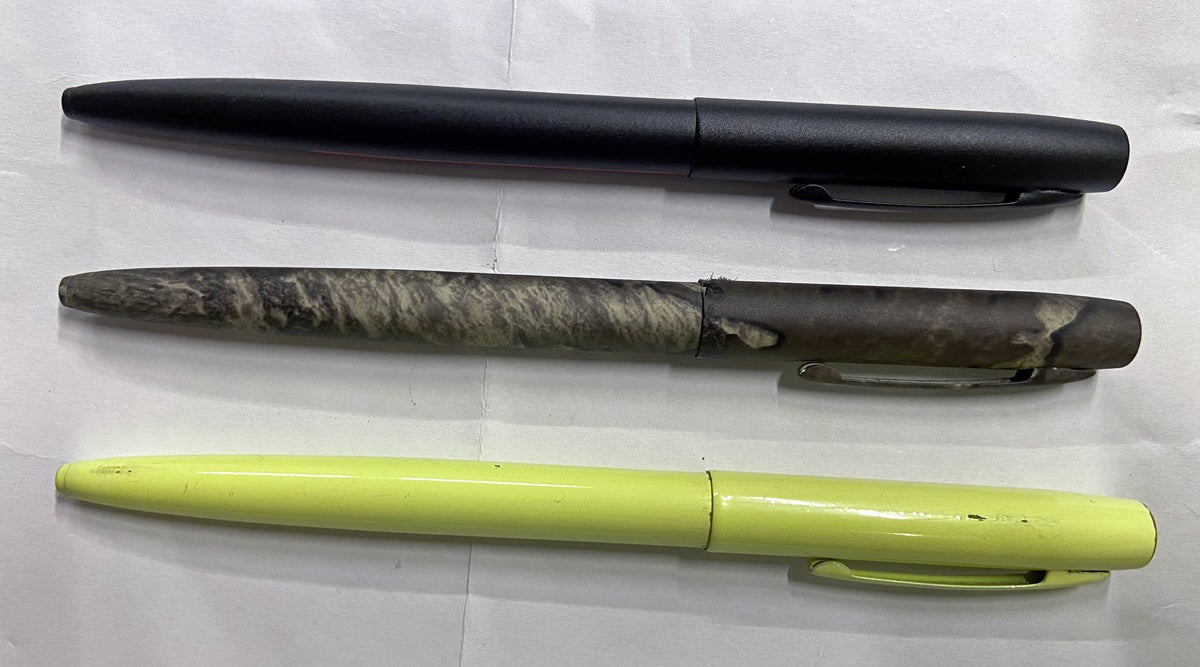 The TrueTimber version is a wrap, which means there's no camo below the clip. It has a slightly-textured finish, which is nice for gripping the pen. This is the pen I can see hunters carrying to fill out their hunting licenses or tags, often with shaking (and possibly bloody) hands. There's no doubt it'll do this job better than most, and should have no problem writing on your tags.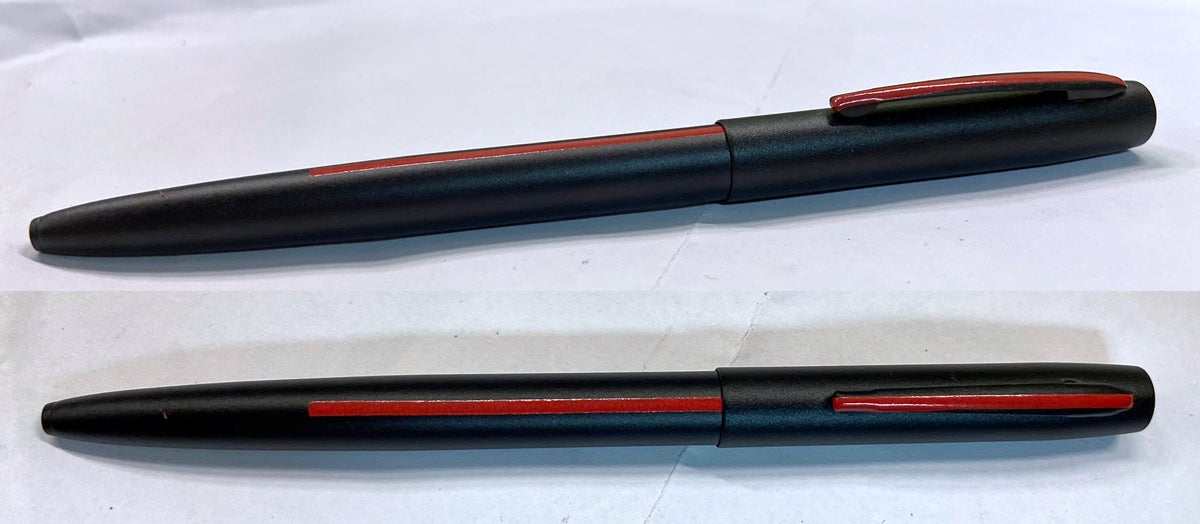 The Firefighter model has an all-over matte black finish enhanced by red lines on the pen clip and the lower body of the pen. It writes like a champ, and for every one sold, Fisher will make a donation to help injured firefighters and their families.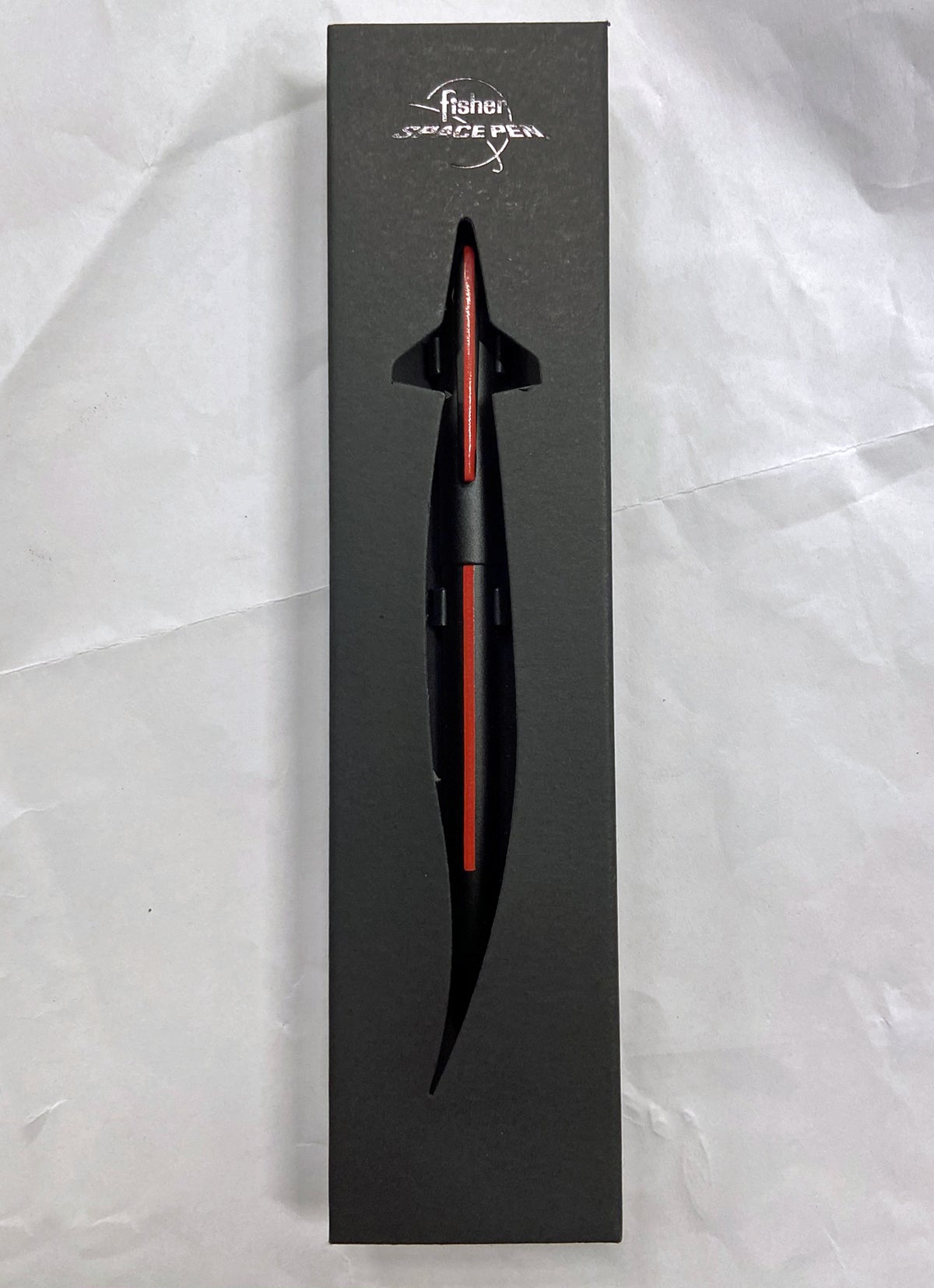 Engraving is available on some models, including the Red Line Firefighter and Blue Line Police models, with the first line free (up to 30 characters/spaces per line). Up to two more lines can be added at $4 per additional line, for a maximum of 3 30-character lines.
Some people don't carry a pen. That's cool; no worries. But I have long been one to carry a pen most of the time. Need to fill out a form or sign a receipt? Use your own pen, not some grubby cheapo that's been handled by every snot-wiping nose-picker who came before you. Need to endorse a check or fill out a deposit form at the bank? Same thing.
Although I don't worry about my current Fishers wearing out, I can't help but drool a little over the original AG7 Astronaut Pen or maybe even the black Titanium Nitride version. Decisions, decisions…
And if you're going to carry a pen, you might as well make it a good one with a lifetime guarantee. That'd be Fisher Space Pen of Boulder City, Nevada, USA.